Say what you want about not out running a bad diet, for a slice of pizza I'll do my best!
We are definitely not foodies in this house. I'm fine with almond butter off the spoon, steamed broccoli, basic grilled chicken and David can't tell the difference between a frozen burrito and a gourmet one…but when you start talking pizza, we're ready to take things to the next level.
If I were trapped on a deserted island with only 1 food forever…pizza.
If I could make any food calorie free…pizza.
If I am dreaming of food during a run…pizza.
And I am not alone! It's one of America's favorite foods. American's eat roughly 350 slices of pizza per second!!!
I really can't even quite imagine what that looks like, but apparently it's 100 acres worth of pizza.
Miles Per Pizza Slice
In honor of National Pizza Day on February 9th, I thought I'd have a little fun with just how many miles we need to run to enjoy some of our most prized slices.
This is not to say you can't enjoy your food without "earning it" so please don't email me with all that jazz. Eat your pizza any time you want, I just think mine tastes better related to a run…in fact, it's my favorite dinner the night before long runs!
National Pizza Day is observed annually on February 9th, how will you be celebrating this most wonderful of national days? Will it be thin crust, Chicago-style, deep dish? Dairy free, gluten free, vegan, veggie, meaty to the max?
Is pizza bad the night before a race?
There are many very healthy runners I know who, when it comes to what to eat the night before a long run, like to have pizza.
Is Pizza Carbo Loading?
But is pizza carbo loading? Not exactly.
Instead, I'd say for many runners it's a comfort food, which leads to feeling relaxed the night before a big run. You are certainly getting a solid amount of carbohydrates from a thicker crust pizza, along with protein, so why not.
It turns out having "Pizza Friday" might be a super smart way to keep your indulgence in check – Jane Ogden, Professor in Health Psychology at the University of Surrey, "If we use food as an occasional reward then the value of the food is increased but it becomes associated with a specific event which is rare and infrequent. This ties the food to a place and time which keeps it limited. So chips on a Friday or cake after the Sunday meal.
Now if it just isn't pizza for you without a cold beer (personally I'd rather have another slice) then Kelly has you covered with this handy little chart.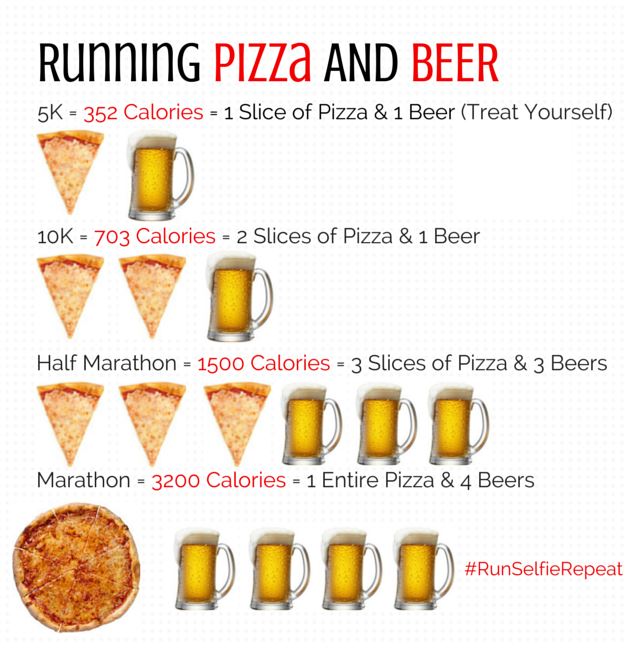 Now because I'm doing to get a bunch of "you shouldn't promote trying to out run a bad diet" comments, let me be clear…I'm still trying. No really, I eat a boatload of fruits and veggies, so I don't feel bad about a weekly slice of pizza and a daily cookie!
AND a study from Cornell University Food and Brand Lab, shows that our obesity epidemic isn't tied so much to what we eat, as HOW much we eat.
Man, I'm just convincing myself more and more that I am in the right to run to eat. Not that you can't find a study to support just about anything you'd like to believe.
Why it's ok to run for food
In fact, I'm going to defend my position that it's just fine to enjoy running for your food.
It tastes glorious after a workout
You're non-sweaty friends are jealous you can "eat whatever you want"
You can still load a pizza with veggies
Life is short
No one meal makes you fat
Good food, bad food mentality is stressful and that makes you fat
Technically this is probably a Paleo diet because it's based on ancestors right? Well they ran to catch their food :)
As with all things in life, there is of course a tipping point where you're running for food is either unsustainable or just unhealthy.
But I think everyone around here gets that I'm promoting a lifestyle of EAT YOUR VEGGIES and don't stress too much about the rest of your food.
More Fun Pizza Facts
And because I can't just leave you with calorie facts, I mean we're here to enjoy food, a few more fun National Pizza Day Facts:
Pepperoni is the most popular pizza at 36% of all pies ordered.
Over 3 billion pizzas are sold in the USA each year.
Add another 1 billion on frozen pizzas
17% of all US Restaurants are pizzerias.
Antica Pizzeria, the first Pizzeria, opened in Naples, Italy, in 1738.
Gennaro Lombardi, the first Pizzeria in the United States, opened in 1895 in New York City.
Americans consume on average 23 pounds of pizza per person each year.
Healthy Pizza Options
All right if you've looked at the mileage above and decided you need to reconsider a few of your toppings, I have good news. There are a bazillion healthy versions out there and I'm happily trying to test as many of them as possible to ensure they are truly worth eating.
My personal method… 1 slice of what I love (weekly) alongside tons of veggies. Beyond that I go in for these healthy options, some of which are insanely creative!! No reason, healthy has to be boring.
What's your favorite topping??
Other ways to connect with Amanda
Instagram Daily Fun: RunToTheFinish
Facebook Community Chatter: RunToTheFinish
Get more running tips: Pinterest
Another fun day Thinking Out Loud.