Did I just say parking garage??
If you're one of the 2 people who haven't heard this story yet, welcome. Come in. Pull up a chair. Grab a drink, you're gonna want it.
Today we're celebrating 10 years of marriage, which felt like a great time to really do justice to our weird, horrible, hilarious wedding story and some other fun facts.
But can we back up because first I want credit for having been together 14 1/2 years!
That's like only getting credit for a portion of your run.
Anyhow, today we celebrate 1o years and we're actually celebrating on the correct day. Of all the things to not remember, neither one of us can remember our actual wedding date…then again the marriage certificate has the wrong date and maybe we don't want to remember the right date.
HA, let's start there. (if you don't want to read it all, skip to the video)
A Beach Wedding Gone Wrong
After months of attempting to plan a big wedding in Kansas City, David and I both agreed that all we really wanted was a few close friends on the beach as we said "I do". Thus the destination wedding planning began!
I found a coordinator on the Internet with a beautiful site and in fact, she had been a contestant on Top Chef which spoke to her food skills. Sounded perfect to me, so we booked our trip to Tybee Island outside of Savannah, Georgia.
The group arrived a few days early for a FANTASTIC couple of days and we were all looking forward to capping things off with the wedding.
All our photos are on a CD… who can still access those?! So bear with me on the variety of quality.
Saturday morning arrived with all the excitement and sunshine you hope for! Looking out over the water I could see the tent for our wedding and the excitement continued to build, heading off to take care of all the hair and make up fun.
2:00 PM
As the afternoon rolled around, we headed out to take photos and noticed three key things:
My wedding tent was being used by another wedding (yup she double booked, only I paid)
My wedding coordinator wasn't responding to any phone calls
The wind was really starting to whip along the water
We ended up moving inland for our group photos and my matron of honor took charge of continually trying the coordinator.
6:30PM
It's now time for the wedding to begin and yet all 35 people are crammed in to my beach condo looking at each other, like what do we do. When the wedding coordinator finally appears.
"There's some bad weather moving in to the area and I think the best option is for you all to comeback."
I'll never forget that statement. As I stood there in my wedding dress, staring around the room at a bunch of blank faces.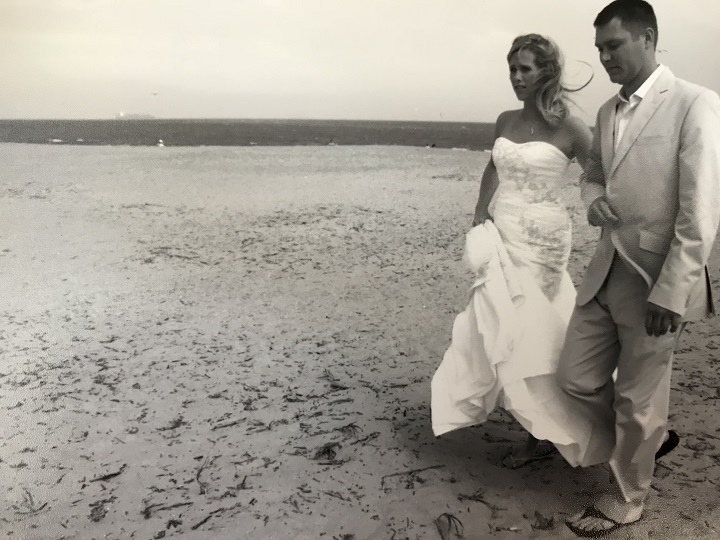 At which point, my personality went in to overdrive and I told her that would not be an option, so she needed to come up with something else. Which lead to this beautiful discussion…
"It's now officially a tropical storm with winds at 35MPH and up, plus potential for lightening and rain. I can not use the tent on the beach, so we have two options. One is a ballroom down the street, but I really don't recommend it…the other is an open space the condo has…it's like a blank canvas we can make it great."
Open space.
That's what she called it.
I didn't know enough to ask more questions, so I just said let's do it!!
Luckily my fabulous friend Jeff stepped in at that moment and told her we would all be heading to the condo restaurant where she would be paying for some food and drinks while we all waited, since the delay was on her. And that is where I spent the next 3 hours watching as my friends and family came dashing in and out of the rain, slowly speaking less and less to me as the time passed.
8:45 PM
My personality re-emerged. Nope, not a single tear, not an angry moment, just let's take action.
"I have no idea what's going on, but it's time to get married. Everyone go sit in whatever seats you've been putting out because we're doing this."
This is when I walked in to the wind and entered the condo open area.
The parking garage. (actual video below)
Yellow paint lines. Oil stains. Pitch black.
Parking garage.
9:00 PM
I take my fathers arm and we walk down the "aisle" in the dark towards David and Captain Tybee Jack. Yup, meet the minister who was wearing Jorts (pleated jean shorts) and had been taking full advantage of the bar.
He pronounced our names wrong, the coordinator interrupted the ceremony and there was a really long weird story about coming from and going back to the sea.
But you know what I remember most vividly, my best friend sang as I walked down the aisle, David was there and we said "I do".
Are you ready for this….really ready??
My HILARIOUSLY awesome friend Ramsey videotaped the wedding on his phone probably because he was drinking which made this all funnier and I only finally watched it a few years ago.

Amanda's Wedding from Ramsey Mohsen
9:30 PM
I had only 3 things I cared about on my wedding day, my father walking me down the aisle, the father daughter dance and my first dance with David. So in the dark, on the boombox of my matron of honor I got my dances.
Then I promptly booked it upstairs to take of my wedding dress before I hurled. While I wasn't crying, the stress was apparently still building.
10:00PM
The crowd gathers round as we cut the cake (yup in my gym clothes) and we do a lot of awkward laughing toasts about how when you start at the bottom things can only go up from there. Here is where I also started to learn more about what had been happening all night long.
Basically my amazing friends and family didn't know what the heck to do when they realized it was the parking garage, so they simply did everything they could think of. Twinkle lights, set up the chairs, find the flowers, help set up food.
In the end, we all made it back to another condo and stayed up til 3AM laughing and enjoying each other. I waited until promptly 3:01 to begin having a total meltdown.
The Postmortem
Now this story is funny, but that took a few years in 100% honest. The following day was a mess of tears as we headed home and I realized I would have to tell everyone about this repeatedly…but now it's just a hilarious part of our lives.
And because it always generates a few questions, I'll just knock those out here:
No I never got a refund, she claimed we were all drunk and told her it was beautiful
No I didn't sue her, it became more headache and stress than worth it
After writing about it, I heard from 10 other brides whose weddings she had ruined
Even the Attorney General wanted to go after her, but couldn't locate her to serve papers (or something weird)
Off and on over the years she has opted to harass me because she wants my posts removed
We ended up being on tv
And here's the hilarious video from how we ended up getting remarried by Jeff Probst, the host of Survivor on his talk show in 2012. It makes me laugh on so many levels to watch.
Is it a nightmare wedding story? Basically.
But also one you'll never forget and one that gives us something to talk about every year on our anniversary and one that proves the wedding isn't what actually matters. I love that man and where we got married was just a piece of the whole pie.
10 More Non-traditional Marriage Facts
In honor of 10 years, I thought I'd share a tad more beyond the wedding story. Why? Because it's become clear that wasn't going to be the only thing we did differently and yet it's all worked so well for us!
I think more than anything allowing each other to be who we are and being comfortable enough to forge our own path has been important.
We had a second small ceremony performed by my Internet ordained brother-in-law a few months later
We aren't having kids and do not call our pets children.
I never took his last name and he doesn't care, but I feel like I kept an important piece of who I am.
He likes doing his own laundry and this makes me supremely happy.
We've lived together in 4 different places.
We definitely didn't register for china, my parents often laugh at our lack of plates and bowls. Minimalists.
David and I are both total savers, yet he 100% supported me when I left my corporate job to blog full time.
Now David is hoping I will soon be his sugar mama, thanks to said blog. I've agreed that if he could learn to do photos, videos or understand the website this is fine. He will continue working in construction.
I refused to move in with him until we were engaged. He proposed the morning after all my stuff arrived (very him).
We're still each others best friends and he still makes me laugh, just like he did to get through that day.
Do you have any "non-traditional" things in your relationship?
Other ways to connect with Amanda
Receive discounts and extra crazy stories in the bi-monthly newsletter.
Instagram: RunToTheFinish
Pinterest: RunToTheFinish