Sponsored by Zappos, all opinions are my own.

In my last ASICS review, I gave you some insight to my previous history with the brand, which is to say they carried me through training for my marathon PR at the NYC marathon in 2013! In fact, I went through two rounds of training for that race because the first year was cancelled due to Hurricane Sandy.
It's funny, how simply pulling on any pair of ASICS can take me back to that same feeling of being in training.
Since, I've gotten consistent requests for more running shoe reviews, I was happy to jump on board with Zappos once again to test out another model and give you the scoop.
I get it! Who wants to plunk down cash on a shoe that you're unsure about. Especially if like me you tend to buy online because stores don't carry your size or they happen to not have the model you're curious about.
Bonus points when you order through Zappos because not only do they tend to have more comprehensive information on shoes than you'll often find on the brand website, but fast, free-shipping for members and 365 return policy just makes it easy.Grab your running shoes and let's chat!
Why Are Running Shoes so Different?
Every shoe manufacturer is slightly different in what they create, which may seem odd because how can you really make running shoes so different?!
It comes down to a few things, which I learned from helping to build out a testing platform for one of the nations biggest brands:
Last: This is the actual mold of a foot used to create the shoe. Every company has many of them and they're all different from competitors. It's why you think some shoes run wider and others narrower.
Womens: Having women specific shoe lasts is something that only started recently!
Technology: They spend an insane amount innovating with each new shoe to make it better, to respond to your feedback and of course to beat the competition
Testing: Every company has their own form of testing, but it's super impressive to see just how far they go with consumer feedback before releasing a shoe.
All of these things mean it's really important you learn how to find the best running shoe for you!
ASICS GEL-Nimbus 22 Review
The heel to toe drop is much higher in this shoe that what I would normally wear, however those of you looking for a shoe to help with Achilles pain when running or tight calves may find this is an ideal shoe. That higher drop is helpful when you're trying not to overstretch that tendon.
In fact, ASICS promotes this as "Heel Gradient shifts body mass forward reducing the strain on lower limbs." Meanwhile the extra GEL cushioning in the heel could be helpful for those of you trying to transition away from heel striking to a better foot strike.
Gel-Nimbus 22 Specifications
The basic details to help you see what this shoe is about. If you were a fan of the Nimbus 21, it does appear they made quite a few changes to the outsole, midsole and upper, so you may LOVE it even more (that's why they change!).
Weight: 9 oz (according to website, 11.2 oz according to Zappos site – feels like 11 to me)
Drop: 13 mm
Neutral to underpronation (foot rolling outward) running shoe
Roomie toebox
Felt true to size
Designed more for the heel striker
Overall Fit
This line is often touted as a cushioned daily trainer. I would say that it's not plush, like oh you sink in to a cloud kind of soft. Rather there is a lot of cushion, but it provides a solid stable ride for those long miles to ensure you don't work in to your low back like a super soft shoe can.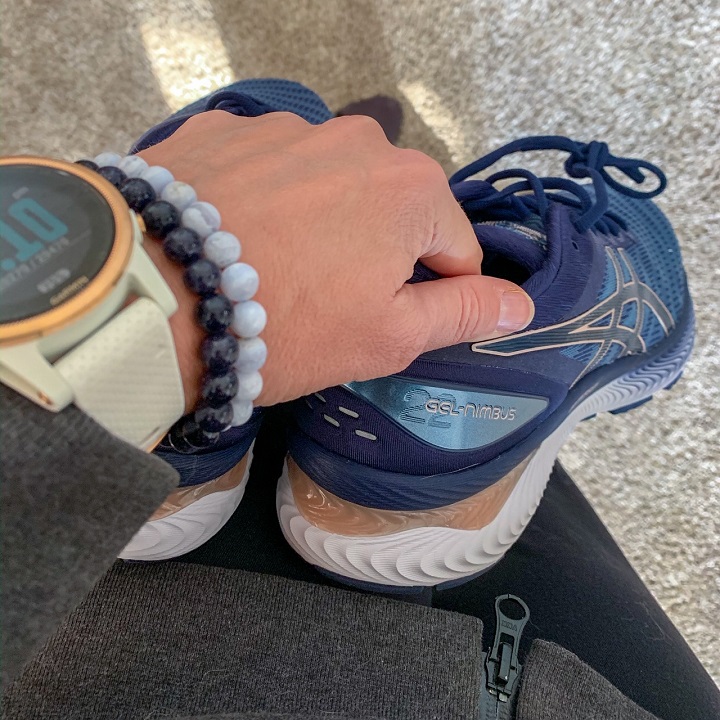 As noted, this for me is a higher heel toe drop than I would do the majority of my miles in, which goes back to it being hugely important for you to pay attention to your gate and what shoes work for you.
As noted, I love being a Zappos VIP because I can test out shoes and if it's just not right swap them out for a different model, takes the pressure off!!
Style
Standard ASICS looks, which I always think make for a classic distance runner shoe! It comes in a few different color ways for the ladies:
Grey Floss/ Peacock (pictured)
Watershed Rose/ Rose Gold
White/ Electric Blue
Meanwhile guys get the black/white or white/electric blue options!
Click here for more details on the ASICS GEL NIMBUS >>
How often do you try a new shoe model?
Other ways to connect with Amanda
Instagram Daily Fun: RunToTheFinish
Facebook Community Chatter: RunToTheFinish
Get more running tips: Pinterest