The air is crisp as you bounce around checking the porta potty lines, checking your watch, checking your watch, anxiety building…it's that start line feeling of in person events. And while you can't recreate it with a Virtual Race, you CAN get some killer benefits from including them in your training.
You do your race registration online, just like normal, but then complete the virtual challenge on your own schedule. It's different, but you'll still enjoy many of the benefits of a real-life competition, including:
accolades
community support (from your online pals)
virtual competitors
the finisher medal BLING
options between races and challenges to keep you motivated
Virtual race medals are a super fun way to motivate yourself and add a little fun to your group workouts.
I've found this to be HUGELY motivational for some of the women I coach who live in areas where there are very few races for a large part of the year. Event signing up for a run challenge to hit a certain amount of mileage over the course of a month will give them a spark again!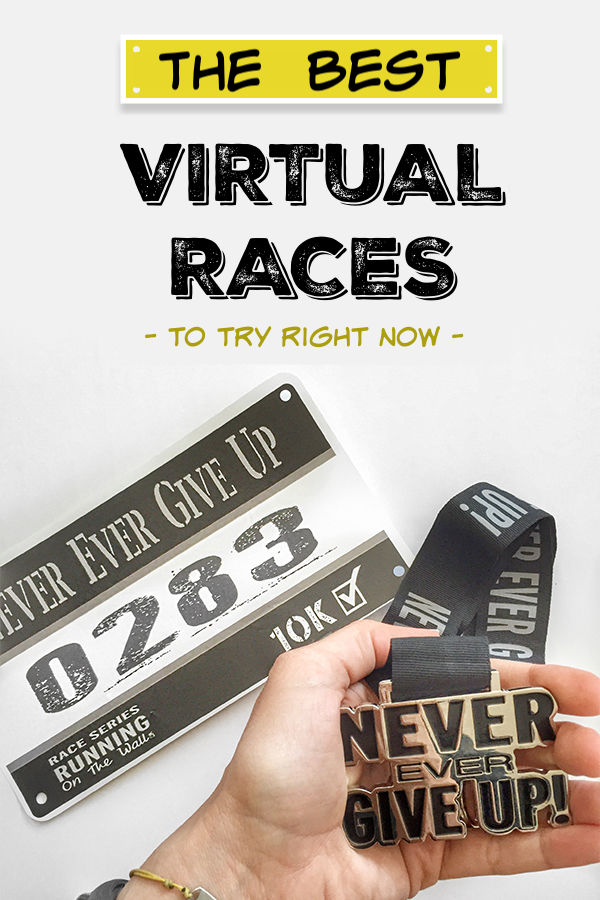 Best Virtual Races with Medals
Let's kick things off with some ideas on where to find virtual run events and then we'll dive more in to the WHY and the HOW.
These are some of the best virtual races with medals and shirts I've seen this year. Walking, running, skipping, however you want to do it, checkout the races offered to find what EXCITES you and get to it.
This brand is one of the top on my list because they go above and beyond, plus team up with some of the coolest themes from Garfield's Donut run to the Home Alone Pizza run!
Garfield creator Jim Davis has decided that he wants to help get more people moving so he's doing it himself while encouraging our famous four legged pal.
"Garfield stayed in bed while I took a 5K stroll through the Indiana countryside this morning. What a glorious day! My time was one hour two minutes which isn't bad for the Geezer Division. Now for that donut!" — Jim Davis
Maybe you've looked in to a Disney Virtual Race because you so love the themes…I gotta tell you this is better.

It's half the cost and the swag is 10x's better than I've seen with say, Disney. Truly they go above and beyond with things like limited edition cartoons or medals that look like a pizza and arrive in a pizza box.
Best virtual race with medal, which you can see in the image below! Currently they're focused on a Grumpy Cat race.
This was one of the first virtual races I ever did (unless you count the fun New Year's Resolution Runs I used to host in the early days of the blog!). I loved this one because they showed up with medals and shirts that said something which I needed to hear like "Never Give Up" or "Always Earned Never Given".
In other words, swag that you'll actually wear and want! (see the medal pictured above!)
Not sure you want to do a specific race? Then perhaps what you need is a run challenge that will give you a new goal.
Each monthly series consists of 4 weekly challenges ranging from short speed distances to 24 hour slog-fests. We have a 5 star rating on Trustpilot plus they're completely free to sign up and take part!
Disney Virtual races have become a big thing in the last few years, but I'm a much bigger fan of the others I'm sharing because the medals and swag are SO MUCH BETTER for the price.
If you aren't going to experience the full RunDisney with characters and costumes, then you might as well get more to love at home.
That being said, if you freaking LOVE Disney, then these might 1000% be what you need because they will provide you with the motivation to show up for your training and really push hard.
Virtual RunDisney races DO sell out, likely because of the medals. So if you want to do one, don't wait.
Medals are shipped after the race time frame concludes
RunDisney does charge you a 6.6% fee when registering…why?! The cost is already so high. Sorry, off my high horse.
One of the biggest around at doing virtual races consistently, they have a smooth, easy to follow process and all the race swag you'd expect from a traditional race. They do one for nearly every holiday there is and then a lot of fun things in between, like donuts and Mom Needs a Run, ha! And they often benefit a charity, which for me is a HUGE reason to sign up for any race.
If you love your frequent bling, they also have race series which gives you discounts and a chance to keep upping the distance or the pace.
This is another place that offers the full medal with registration and usually a variety of distance options for each race. Super low prices and many of the races are benefiting specific charities.
Best Half Marathon Virtual Races
Most of these virtual race coordinators are providing a variety of distances, but it's much easier to find a 5K virtual race than a half marathon, so hopefully these will help you out!
These options are basically a stepped up version because they're done by folks used to hosting LARGE in person races, meaning they have a lot more resources to provide higher quality shirts, medals etc. But do know that because this is a switch for them there could very well be some hiccups.
Virtual Races for Charity
Unfortunately many of the BIG online places that are set up for virtual races year round aren't so focused on charity, which is one of the things I love about live races.
I have a few key recommendations:
Consider running your own charity virtual race with these tips
Go directly to the website for a charity you would like to support, many of them are finding ways to do events
Look for things like #charityrun on Instagram and you might be surprised what you'll discover
I've had a TON of companies reach out to me with charity virtual races, so they absolutely exist.
11 Reasons to Sign up For a Virtual Race
Here are the top 11 reasons I'm recommending more virtual racing to my athletes!
And why I'm going to be using a virtual race to add in some speedwork as I work towards my A races!
1) Flexible Timing
You've got more races that you'd like to do than time and you find races rarely fit in your calendar with work, kids, travel, but you still need a goal to stay motivated.
2) Stress Free
Bad weather? Hit the treadmill.
Feeling lethargic? Just enjoy the miles.
Kids got sick so you didn't sleep? Reschedule.
3) Gear Testing
Not sure about your new Flipbelt or hydration pack? Test it out in a scenario where you're pushing hard and just slightly outside your comfort zone.
4) Food Testing
Your normal oatmeal pre-long run, might turn out to be too much to digest when you turn up the pace. Try out some different ideas for pre-run snacks
5) Intensity Motivator
You might find that you surprise yourself with a distance PR simply because you've been able to get in the racing mindset and you'll be sharing your results
6) Readiness for Your Big Race
Wondering if you can tackle a longer distance? While a big race might add some motivation, it often scares many away from even trying…this is a chance to test the waters.
Everything you need to know to get the most from a #virtualrace - and why you need to do them! #runchat
Click To Tweet
18-24 weeks of training for a single race often leaves people feeling burned out. If you sprinkle in some fun virtual 5k's, 10k's or even half marathons along the way it allows you to work on speed and have additional goals.
8) Community Building
One of the reasons I encourage the annual Resolution Run is because it's a chance to run with those near and dear to you. Sometimes having a goal beyond just a run will excite them and with some of the swag that virtual races now provide it's a major bonus (see below).
Virtual runs for charity are also becoming increasingly common. You'll find a number of them that allow you to make a donation with your registration.
9) Embarrassment Free
One of my favorite, ok I love them all equally, athletes was terrified to sign up for a race. She didn't consider herself a runner though she's faster than many people I know! A virtual race allows you to start treating yourself like the runner you are without worrying about all the logistics or others looking at you.
10) Summertime Activities
Kids going crazy in your house? How about organizing a neighborhood run with a virtual race like Never Give Up where they get shirts, medals, stickers and obviously some bragging rights after they put on that race bib and go!
11) BLING, BLING, BLING
Virtual races have come a long way and now they always include some hardware and great shirts! Virtual races with medals aren't always the case, but I think it's super fun when they do because so many folks LOVE their bling!
"If you're a competitive person, it can be as motivating and fulfilling as a 'real' race," says Matt Dubberley, a former professional cyclist. "The community sees what you do and can be engaged in your activities, even thought they aren't with you while you're doing them." – Outside online
How do Virtual Races Work?
You'll find the whole process is surprisingly simple.
Select a Race on their site and complete your registration
Mark your calendar for the date you'll do the race (give yourself a 24 hour window):

It could be part of your training plan, per your running coach
It could be on a specific day like New Year's or Thanksgiving
It could ask you to run a certain number of miles over a given time period

Run your race
Log your time where required (i.e. Strava or just sharing on social media with the assigned hashtag)
Then enjoy your hard earned medal for Instagram Medal Monday!
Proudly display that medal on your medal hanger!
Let's not over complicate this, that's part of what makes Virtual Racing such a great thing!
Do Virtual Races Count?
This was an important discussion I opened up on social media a few weeks ago. The consensus that was prior to COVID shutting everything down many people would have said no…then they had to start running alone all the time and figuring out how to push themselves.
Then they started trying to run a race without the energy of their fellow runners, without the adrenaline of that morning, without the course support and the tides changed.
YES! Became the new answer because in fact it's much harder to go all out on your own, especially on a distance run!
Feeling a little lost lately with all the changes or wanting some assistance figuring out how to train and what's next?
Checkout the Run To the Finish LIVE group coaching program.
Have you ever done a Virtual Race?
What would get you excited to do one?
Other ways to connect with Amanda
Instagram Daily Fun: RunToTheFinish
Facebook Community Chatter: RunToTheFinish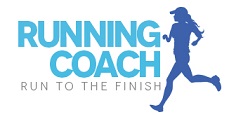 Sign Up to Receive a Weekly Newsletter with Top Running Tips and Laughs