Want to improve your speed, turnover rate, vertical jump, VO2 Max and more without a ton of time or effort? Time to embrace the benefits of running stairs.
Stairs can help runners improve endurance, race times and build strength, to name just a few benefits.
Running stairs may remind you of high school sports practice, and for good reason.
It's a classic workout with huge rewards.
What Does Running Stairs Do for Your Body?
The benefits of stair climbing include:
High intensity training increases cardiovascular fitness
Improved strength and power due working against gravity
Improves running cadence
Plyometric movements build speed, agility, vertical jump, and strength
Can improve VO2 Max because of increased oxygen intake
Can burn 1,000 calories per hour
Engages the brain
Increased range of motion in hip muscles
Stair running uses different muscles than running and therefore counts as a cross training workout. Cross training for runners helps correct muscle imbalances and prevent injuries, among a host of other advantages.
The plyometric movement of stair climbing targets the same muscles used for lunges and squats.
What muscles do running stairs work?
quads
calves
glutes
all of which are essential for strong running
Plyometric movements on stairs can help runners by teaching muscles to exert maximum force in short periods of time, using explosive movements.
This rapid stretch of the muscles builds the fast-twitch fibers that increase speed and power.
A 2005 study in the British Journal of Sports Medicine showed a 17% VO2 Max increase in women after 8 weeks of short stair climbing workouts five days per week.
As you can see, incorporating regular stair workouts can boost running with a minimal time commitment!
Does running stairs burn belly fat?
Yes, but no more than other cardio exercises. We see those big calorie burn numbers and for some reason think that means more of it must come from our problem areas…it just doesn't work that way.
If you're running for weight loss, then it's a combination of easy runs to burn fat, intense workouts to burn more calories and strength training.
Jennifer Lopez made running stairs popular again a few years ago because they are an intense workout and build leg strength! And you might notice that many fitness competitors use it….high burn while still building muscle.
And while I don't love running with a weighted vest, stairs are a place where you can increase your total weight load and keep moving.
Why is climbing stairs harder than running?
The intensity level is immediately higher, engaging all of your major lower body muscles which tells the heart and brain that you're working harder.
Unlike running on a flat road, you're being asked to not just carry your weight forward with some momentum, but to push it upwards.
How Stair Climbing Benefits Runners
In addition to the physical and mental benefits of running stairs, there are a slew of of other reasons to consider adding a stairs routine as part of your training plan:
Avoid inclement weather, like ice and snow
Build balance
Teaches you to pick up your knees, like these running drills
No need for special equipment
Lower impact than running on pavement
Running stairs vs running hills
Since stairs are generally much steeper than hills, they will make hill climbing easier. This is a great option for trail runners who may not live in the mountains or have access to regular climbs.
Both hill running and stair running build speed, power, and strength, however they do use different muscles.
Sticking to hills uses the same muscles used for running on flat surfaces, while stair running puts more emphasis on the quads, calves, and glutes.
Both hills and stairs work stabilizing muscles crucial for avoiding injuries and maintaining balance.
Stairs, on the other hand, can be found just about anywhere. Here are a few places to look:
Apartment buildings
Parking garages
Stadiums
Parks
Pedestrian overpasses
Office buildings
How often to run stairs?
In any endurance running plan the goal is 80/20 of easy to hard days. So you need your stair workouts to be a small part of your total training to ensure you are also doing speed workouts and long runs.
Even a 5 minute stair workout twice a week is going to pack a punch!
If you aren't running very many miles, then you might add in up to 3 stair workouts a week instead of adding miles.
Stair Climbing Workout

If you're brand new to stairs or new to running, start by walking the stairs until you build your cardiovascular system over the course of a few weeks. Increase to a jog before committing to stair sprints.
Start by adding one stair workout per week
Incorporating up to three per week as desired (just remember to alternate easy and hard workout days)
Stair workouts are great finishers to any run and will help build fatigue tolerance by performing a high intensity workout at the end of a run.
Warm Up
As with any workout, begin with a warm up by going for an easy one-mile jog. Then do a set of speed workout agility moves, like butt kickers, high knees, carioca, and strides.
Take care going down the stairs if you have a knee injury, as going down is more impactful than going up. You can go down at a side angle to mitigate any pain.
Basic stair running workout
Look for a staircase with at least 10-12 steps (you're looking for something that will take you about 10-20 seconds)
Sprint to the top of the stairs, then jog or walk back down
Repeat 5 times, resting for about 10 seconds in between each set.
Perform 2 to 3 rounds, with a one minute break in between
Next level challenge: Take the stairs two at a time (decreasing speed as necessary).
If you want to get fancy with your stair workouts, there are a number of ways to make the stairs more challenging. Here are some standalone HIIT workout for the stairs:
Make Up Your Own Stair Climbing Workout
Decide what your major goal is for the workout. Are you focused on building leg strength to power up hills or focused on building that explosive power which will help with speed…possibly both!
Strength focused movements:
Side stepping up and then back down will work those inner and outer thighs that are neglected in the forward motion of running
Calf raises on each step – ensure you lower your heels below the step for a full range of motion
Walking up taking two or three steps at a time
Walking backwards up the stairs (have a railing nearby)
Doing cross over lunges – you'll be standing sideways and use your bottom foot crossing over the front to step up
Speed focused movements:
Sprint up the stairs and walk back down
Stair squat jump from one to the next – go crazy and jump up two stairs
Fast feet on one single stair – stepping up and down quickly for up to 1 minute rounds
Fast feet taps on a single stair – instead of stepping up you are quickly taping the stair with alternating feet
Stair Climbing vs Running Stairs

If you have access to a stair climber machine or prefer it to a staircase, there are both disadvantages and advantages to choosing the machine over a set of stairs.
Advantages of a Stair Climber

Quicker turnaround speed in order to keep up with the machine speed
Lower impact, good for those with knee injuries
Increased likelihood of better form
Choose your own step size
Disadvantages
Requires purchase or gym membership
Can only climb up, but not down
Can be more boring to some
Less versatile
Looking for more training tips? Checkout these ideas!
Have you tried incorporating stair running into your training?
What improvements have you noticed by adding stairs to your running routine?
Other ways to connect with Amanda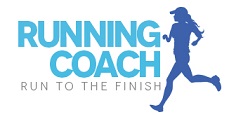 Instagram Daily Fun: RunToTheFinish
Facebook Community Chatter: RunToTheFinish
Sign Up to Receive a Weekly Newsletter with Top Running Tips and Laughs