Rowing vs running: both exercises burn calories and build muscle, but is one better than the other? Find out the benefits and drawbacks of each one to see which one will help you hit your goals…and perhaps how to mix the two!
There's nothing like getting outside in the fresh air to enjoy some miles. Sunshine or snow, I'm nearly always itching to lace up my running shoes and hit the roads (or of course trails)!
But, I'll be honest. There are occasional days when even I don't want feel like a run. 
As a long-time runner, I've learned over the years that runners need to regularly spend time cross training. I generally focus that time on a variety of strength training for runners, including stabilizing our core and improving hip strength.
But, even runners can benefit from other types of cardio.
Cross-training with other types of cardio (such as rowing or biking) combined with strength training will improve your running performance!
There's been a long-standing debate between machine-free cardio and exercise equipment. Which gives you a better workout?
You'll hear hardcore advocates on both ends of the spectrum proclaim their way is the best. I would argue that both equipment and free-style cardio have their benefits. You know I say do what makes you happy, but that's a topic for another day.
Recently, however, I've been hearing this debate center around rowing vs running.
Probably due to a rise in CrossFit and workouts like Orange Theory. Oh and that American Legend, Keira D'Amato, using it as cross training!
So why not look a little closer and see what they both offer and what you need to know!
They're two of the most effective ways to get a cardio workout, lose weight, and get in shape. And they can both be done either freestyle or on machines.
But which exercise is better? As a runner, should you switch to rowing?
I'm going to focus on these two types of cardio today and compare them to explore the pros and cons of each so you can determine which one is better for you.
Spoiler alert: I will always choose running overall, but they're both great options!
What is Rowing Exercise?
We'll be very clear that we are focused on using an indoor rowing machine and not sending you out on the water with a crew. That's a whole different level of awesome.
Rowing machines engage your full body through the motion of sliding forward on the seat, then with back straight, core engaged, you push back first with the lower body, then engage your upper body to complete the movement.
Rowing machines can be as simple as a cheap at home air resistance machine, to a top of the line water/fluid resistance machine.
The type of resistance can impact your workout and for many people how enjoyable it feels. Imagine a shaky treadmill vs a good machine at your gym with a screen that actually works.
Health Benefits of Rowing
I've talked extensively about the benefits of running, which go so far beyond burning calories it's not even funny (think of your brain health). But what does rowing do for you? Is it the same when you're inside?
Low impact cardio workout
Engages more of the upper body than many cardio options
Better cardio burn than other machines (minus running on the treadmill)
Available option for all fitness levels
Useful to build power and endurance
A study from the English Institute of Sport, researchers found that the rowing machine engages 86% of the muscles in your body.
And can I just say…it's hard!
Oh my gosh, this is how I felt when I first started running. It's hard, how do people do this?! And like running, that's why we persist and improve over time.
All right, now that we have a little more understanding of why people are looking to the rowing machine, let's settle another debate.
Cardio Machines vs Outside Workouts
Before we dive into the differences between rowing vs running, I want to take a moment to address part of the debate between these exercises: whether a machine-free workout is better than working out on exercise equipment.
They BOTH have their place.
You know my stance on calling it a dreadmill after all. (STOP!)
Outside Workouts
Outdoor workouts are preferable to many people because of the benefits of changing scenery, fresh air, and sunshine. 
They're also free unless you spend money to go to a particular location, which saves you the cost of a gym membership or large at-home machine expense. You just need to invest in your running shoes or other equipment. 
But there are a few potential downsides to working out outside, such as: 
unpleasant weather
limited timing because it gets dark early 
noise (if you're in a city)
higher impact to joint health
Exercise Machine Workouts
Cardio machine workouts can allow us to put our aerobic systems to the test with intense workouts that also have a hidden benefit of lower impact on your body.
And depending on where the machines are that you use (gym vs at home), machine workouts can be extremely convenient and save you time while still providing a great workout.
Other benefits include:
Workout any time your schedule allows (without concern over whether it's dark outside or there's bad weather).
The ability to change the intensity of your workout through adjusting resistance or incline.
Lower impact is great when dealing with injuries.
The ability to join classes or do follow a program on your machine to boost motivation.
There are plenty of benefits to working out on machines! However, there are a few drawbacks too. Downsides can include: 
Workout feels boring due to lack of scenery. 
The cost of the equipment or a monthly gym membership.
Burn fewer calories in a single workout.
Ok, now that we've covered the machine vs. freestyle workout part of the debate, let's explore whether rowing is a better workout than running.
Rowing vs Running: Which Exercise is Better?
Without a doubt, there are obvious benefits to both rowing and running, such as cardiovascular health and calorie burn. You can get a great workout with either activity! 
But they each have different advantages and drawbacks, so it's worth taking a closer look at both exercises to find out which is better: rowing vs running.
Let's dive in and compare their similarities and differences.
Convenience
When most people think of running, they think about running outside, which is a big draw for many runners. Being outside affords you the ability to enjoy changing scenery (so your run doesn't get boring) and drink in the fresh air. 
On the other hand, most people think of rowing on a machine indoors, such as in a gym or at home. Sure, you can row out on the water, but few of us have access to a nearby lake and boat.
Fun fact: if you go to the gym at busy times of the day, you'll likely find all the treadmills in use. But, you'll probably find open rowing machines because many people are intimidated by rowing!
Rowing vs running winner: RUNNING.
When it comes to convenience, one of the best things about these two exercises is that either of them can be very convenient. I give running the leg-up in this category because it can easily be done from home with no equipment necessary.
Calorie Burn
After convenience of location, the next thing at the top of many peoples' minds is which burns more calories.
Lots of variables affect calorie burn, such as length of activity, intensity, and body weight, so it can be hard to give exact numbers.
However, simply for comparison sake, here's a rough estimate for the relative calorie burn you'll get rowing vs running:
155-lbs person ROWING for 30 minutes – expect to burn roughly 240-300 calories, based on the intensity.
155-lbs person RUNNING for 30 minutes – expect to burn 320-460 calories, based on speed.
Rowing vs running winner: RUNNING
As you can see, running provides a higher calorie burn. But rowing isn't far behind, so it can also make for a very effective weight loss exercise, when you're looking for something lower impact.
Muscle-Building
Running and rowing use different muscle groups.
Running mostly uses the muscles in your legs: quads, hamstrings, hip flexors, calves, and glutes. Your abs are your stabilizing force, and as such, they'll get a little work too. In addition, your biceps stabilize your arms as you run, so they'll get a check-mark in the workout inclusion column too.
However, even though I'm including your abs and biceps on the muscle-building benefits list, they're more passively getting stronger.
In other words, rather than getting a true upper body workout, those muscles get a little stronger simply because you use them to stabilize other parts of your body as your workout.
By contrast, rowing is a full-body workout that uses both upper and lower body muscles. Since the end of each rowing stroke mimics the work of a sit-up, rowing requires more overall core strength. 
Additionally, rowing utilizes the entire core so that the abs and back muscles actively get stronger, in addition to building muscles in the legs and arms. 
Rowing vs running winner: ROWING
While running does build muscle, it's focused mainly on the lower part of your body. On the other hand, Rowing actively works and strengthens a greater number of muscles throughout your body for a whole-body workout.
Endurance
Both running and rowing are aerobic forms of exercise, so they'll get your heart rate up and improve your cardiovascular and pulmonary fitness levels. 
Further, you can increase the intensity of either of these workouts by adding resistance or incline to improve your endurance and performance even more. You can also add intervals to either type of exercise.
Rowing vs running winner: TIE
And of course in both cases, it's going to take time. You need months to build from going a mile to going 3 miles, and you'll have the same experience of extending your time on the rowing machine.
Impact
Since rowing is naturally a low-impact, non-weight-bearing exercise, it's easier on the joints for many people than running. If you are running with arthritis, rowing might be a great cross training tool to give your body a break.
However, some rowers experience lower back discomfort as a result of not using the proper form. So it's not to say that rowing is a perfect, non-injury way to do cardio.
Poor form is a large cause of injuries and discomfort in runners too. That's why maintaining good form is essential to reduce or prevent pain with either exercise.
Rowing vs running winner: ROWING
While we often talk about running as high impact, it's important to know that Doctors still say there is no higher incidence of osteoarthritis in runners than non-runners. And it can be useful to help lubricate your joints.
Cost
Running is free if you do it outside (unless you pay admission to run in a state park, national park, or other location).
Treadmill running and rowing both require equipment that necessitates the cost of a monthly gym membership or the purchase of the machines. If you purchase at-home machines, a quality rower will cost you around $1,000, while a quality treadmill will probably be at least $1,500.
Rowing vs running winner: TIE (unless you solely run outside)
Although the cost of a rowing machine may be slightly less expensive than a good at home treadmill, if you factor in the ability to run for free, these two exercises are neck and neck. Running might even have a slight advantage.
Rowing vs Running Winner is…
Ok, so in the debate of rowing vs running, which exercise is better? 
Well, they both clearly have their benefits and drawbacks, but they come out to nearly a tie when evaluating the overall lists of pros and cons. 
So, in the end, determining which one is better is really up to you and what you're looking for in a workout. And ultimately, choosing just one may prove difficult.
Since they complement each other in terms of benefits for the runner, I say do them both!
How to incorporate rowing and running?
If you're ready to reap the benefits, there are a few ways to add it to your routine.
Active Recovery
Instead of doing a recovery run, you could take it to the rowing machine. These sessions are meant to be steady rowing and not a chance to to intervals.
You'll be getting in the cardio and muscular work needed, but reducing the overall impact of the workout on knees, hips and ankles. Assuming you focus on good form on the rower with your engaged core.
Return to Running
If you're in a period of coming back to running either after time away, having a baby or an injury, then rowing may help you ramp back up while reducing your risk of injury.
If the initial training plan calls for 3 runs a week, try switching one of them to rowing.
Or if all 3 are feeling ok, but you are just itching to do more. This gives you more time to keep building your leg strength and working on your cardio, while also giving your body more time to fully adapt to running. All of your muscles, tendons and ligaments need time to adjust to the pressure.
Too much, too soon is a recipe for a new injury. So cross training is your friend.
Speed Work
If you find that you easily get injured doing speed work, I first want you to look at your form. But also give other types of cross training like cycling and rowing a chance.
You can use them to do high intensity intervals.
It will challenge your full body and absolutely leave you breathing hard.
When doing sprints, you'll be aiming for a stroke rate of 28 to 33 strokes per minute. And you can use it very similar to a basic running interval workout 8 x 400m with 1 minute of recovery.
More Cross-Training Help
Other ways to connect with Amanda
Instagram Daily Fun: RunToTheFinish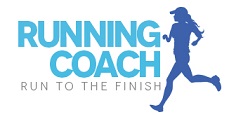 Facebook Community Chatter: RunToTheFinish
Sign Up to Receive a Weekly Newsletter with Top Running Tips and Laughs