As a runner, I've had the pleasure of trying out the Nike ZoomX Invincible 3 running shoe, and I must say it wasn't love at first run. Eiik what a way to start a review!
Could it be that I'm simply not a stability shoe runner? Could it be that my first attempt was on the treadmill because it was a feels like of -10 degrees outside, possibly.
Nike has always been a leading brand in the running industry, and this latest offering continues to showcase their commitment to providing runners with quality and innovative products.
In this article, I'll be reviewing the Nike ZoomX Invincible 3, highlighting its key features and discussing what type of runner would love this shoe.
Hopefully, this will help you to decide if it's the cushioned shoe for you, even if it wasn't the winner for me that the Nike Epic React was (honestly I still cry over that shoe going away!!).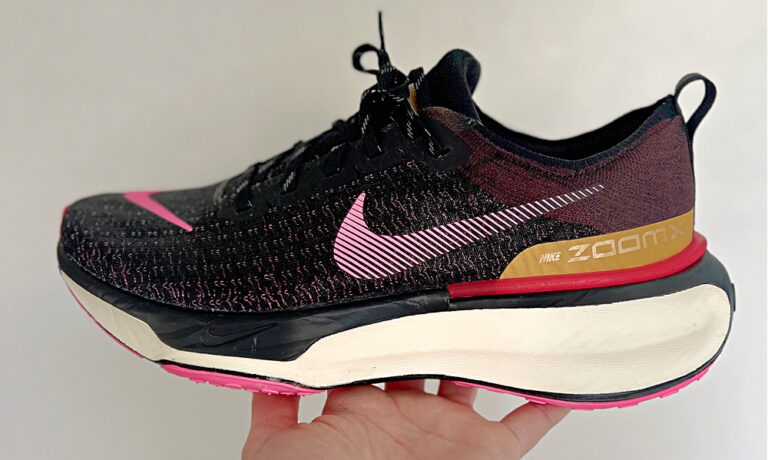 Nike ZoomX Invincible 3 Review
As noted this is absolutely a stability shoe, but it's not going to feel like your old school hard as a rock stability shoe! Instead, this shoe actually feels like it has some bounce to it. Which is all related to the heel.
One of the standout features of the Nike Zoom Invincible is its Zoom Air unit in the heel.
I don't often say a shoe feels springy, but that's the impression. Kind of like a big rubbery marshmallow that bounces back rather than just squishing in…did that makes sense to all of you??!
I've heard someone say this felt firmer than previous versions and I can't fathom how that's possible. It also didn't have the intense high arch feeling of the Vaporfly, but has enough support for a daily trainer.
This technology provides a responsive and cushioned ride, absorbing impact and giving runners a smoother stable stride. The ZoomX  is also designed to help reduce foot fatigue, allowing you to enjoy long runs without feeling the strain.
You wouldn't describe it as plush that you sink in to, but more a bouncy shoe!
The shoe also has a foam midsole, which provides additional cushioning and support for your feet. The midsole is lightweight and flexible, making the Zoom Invincible a great option for those who need support without feeling weighed down.
The outsole rubber of the Nike ZoomX Invincible Run Flyknit 3 features a durable, multi-surface traction pattern. The traction pattern provides excellent grip, making the Zoom Invincible a great option for traction on a variety of surfaces. 100% I'd feel comfortable taking this on crushed gravel, some easy trails and dirt roads.
The outsole is also designed to be flexible, allowing for a natural foot movement and a more comfortable stride.
Find it here on Nike.com for $180, so you can enjoy their 30 day trial policy!
Specifications
Let's dive in with some of the top line info that we all need to know about a shoe!
Stability shoe
Maximal shoe
Max-cushioned
Weight: 10.9 oz men's, 9.1 oz women's
Heel drop: 9 mm
4 colors
Not available in wide
Road to trail running shoe – not marketed as such, but has the traction
I'm not going to lie, my first run in this shoe was an epic fail.
As noted, I am not a stability shoe runner. However, I have tested a LOT of them over the years. I made it about 5 minutes before deciding this was not the shoe for a treadmill run.
Since it was -5 outside, I pulled them on for a treadmill test. But found within those first few strides that I could hear my heel catching with every single step. While the shoe isn't a super high heel drop, something about that back stack height was creating an issue.
Walking in them felt so good, that I was absolutely bummed about that experience. And again could be entirely unique to me and using the treadmill. So once we get some melted slush, I'll head out to some crushed gravel and give them a second go!
Features
Key features of the Nike ZoomX Invincible 3 that set it apart:
Extra wide base for more stability (you'll really see this in the forefoot design)
Road to trail tread
Padded tongue
Removeable insole if you need to swap in your own
No padding in the heel collar (not unusual in Nike, but not comfortable for everyone).
Flyknit upper – one of my favorite styles in Nike run shoes, it's so flexible and light
Smiles for miles inside the shoe always makes me laugh. I've noticed on recent models there's always a place with an added touch like that.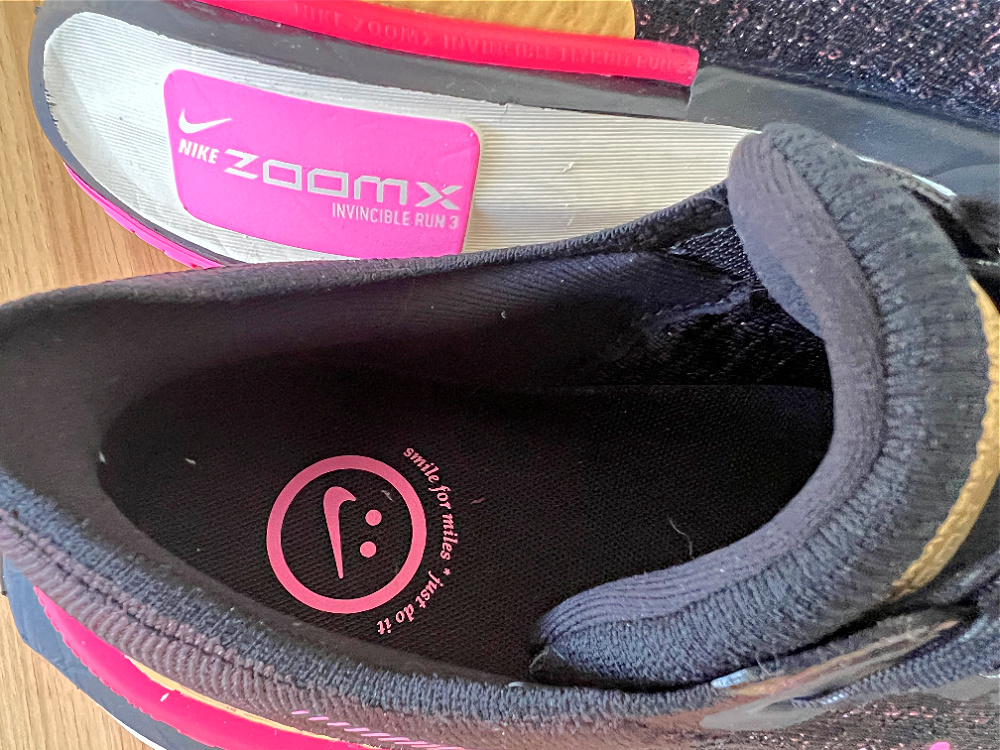 Nike ZoomX Foam
Nike ZoomX cushioning is Nike's latest innovation in running technology.
It's a cushioning system that provides lightweight, responsive cushioning for a faster and more comfortable ride.
Made from a unique foam material that is 30% lighter than traditional foam and is designed to provide maximum energy return, allowing runners to go farther and faster. The foam also provides a softer landing and smoother transitions from heel to toe.
The cushioning is designed specifically for running, providing a more efficient and responsive ride that reduces strain on the body. With Nike ZoomX cushioning, runners can enjoy a smoother, faster, and more comfortable running experience.
The previous foam I was so in love with and still appears in others shoes is the REACT. So this is apperantly a step up from that, where they claimed:
13% more energy return with every foot fall than the Nike Lunarlon foam
11% softer than the Nike LunarEpic
5% lighter than the Nike LunarEpic
Nike ZoomX Running Shoes
Since they also state "Nike ZoomX midsole delivers 85% energy return, the greatest of any Nike foam, to give you a propulsive feeling as you move forward," I thought it might be useful to know what other models are rocking this feature.
What you're going to quickly notice is that it's in most of their racing shoes!
So it's impressive to put it in a stability shoe for the everyday runner.
Nike Zoom Fly 5
Nike Alphafly 2
Nike Alphafly Next%
Nike Vaporfly
Nike Streakfly
Nike Zegma (hugely popular trail shoe)
See all the ZoomX shoes available >>
Cons of the Nike Invincible Run 3
Honestly the biggest drawback is going to be the fit of the shoe. While the wide base provides a lot more stability, it's also a different feeling underfoot and does not lead to any increased room in the toe box.
I saw one review say these are good running shoes for wide feet and that's absolutely false. They clearly had not tried on the shoe. Because while they look bigger, they are not .
All Nike shoes run more narrow. While this isn't generally an issue for me, I was very aware of it in this model. I have a number of running friends who need to look specifically for wide shoes in anything Nike to get a more comfortable fit.
Finally, as noted, I did not love the way the heel seemed to connect first. Could be me! So you have to decide what works for you.
Why I Order Direct from Nike?
One. I look for the older model and it's almost always on sale, where the price has gone up for it on other sites!!
Two. I'm a size 11 and honestly, a lot of running stores just don't stock a ton in my size. Their 60-day return period because it means I can take them on a run to make sure they fit and feel the way I think they should.
All right, I really hope this Nike Invincible 3 review helped you in making a decision! I may not love every single shoe that I test, but I've found that just sharing the details helps you find a shoe that YOU LOVE.
Your comfort is all that actually matters. It's extra important in gear that you'll be using for so many miles.
Looking for other running shoe reviews??
Other ways to connect with Amanda
Instagram Daily Fun: RunToTheFinish
Facebook Community Chatter: RunToTheFinish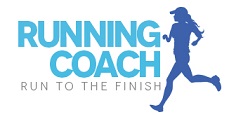 Sign Up to Receive a Weekly Newsletter with Top Running Tips and Laughs