If you've ever finished a long run and struggled to get yourself to eat that's common and we've talked about how to help. But if you're having issues with nausea after running, it's time to check some potential issues and put a stop to it!
While running our body is diverting muscles from the digestion to our muscles, which is part of what causes runners trots and other running stomach ailments.
But the urge to vomit is a different level of ick.
Let's review what might be causing it and find out if we can improve both the run and your recovery!
Nausea After Running – 5 Common Causes
As with all issues consider seeking medical advice if this is happening consistently and nothing seems to be helping.
It is NOT an issue you should have all the time.
Remember that while you are running blood is diverted away from your digestive system to your muscles. That means anything that aggravates your stomach could be worse because the body isn't dealing with it.
Vitamins Before the Run
This will vary by person and by what the supplement is, but specifically taking iron before a run has been shown to cause intestinal issues. The good news is that you actually want to take it within 30 minutes of finishing a workout for maximum absorption…so we're just switching up the timing!
Other runners have reported that taking any of their vitamins pre-run, almost always leads to stomach pain after.
do not take iron before a run
if having issues move all vitamins to post run
Some vitamins are water soluble, while others are fat soluble.
That means they need sufficient amounts of those in the body to be absorbed and used. Perhaps by sitting in the gut when things are not being digested as normal, they irritate the stomach.
Too Much Fiber or Fat
You've often heard people mention going a bit lower in fiber the days before a race to prevent runners trots, but for many runners you need to look at fiber pre-run all the time.
DO NOT cut all fiber from your diet as this will result in a lot of health issues and slow down the good gut function that we want.
Evening runners may need to eat fewer cruciferious veggies at lunch (think broccoli), instead eating them post run.
Morning runners may choose to eat oatmeal post run instead of pre-run.
While many of us love nut butter before a run, some runners find that fat makes them feel unwell.
Keep a log of what you eat before runs to see if a specific food might be causing the issue.
Additionally, make sure you checkout how long to wait after eating to exercise >>
Drinking Coffee
Don't throw things at me! I know many of you NEED your pre-run coffee.
But if you're constantly feeling nausea after running then this is another one that you need to test.
Coffee can increase stomach acid
Again your body is not dealing with digestion while running
This leads to the stomach feeling irritated
Overexertion
The most commonly accepted reason for nausea after running is simply running too hard. It's why we have that urge to vomit at the end of an all out mile race or 5K.
But it can also happen with long runs.
I read one article that said vomiting after running is common for new runners. I BEG TO DIFFER. You should not be throwing up, that's a clear sign you are not running easy enough, which is necessary to increase your endurance.
Dehydration is the main culprit with most races or long runs. Sweating heavily and not taking in enough electrolytes can lead to an imbalance that creates that sick feeling.
Build of up metabolic waste that the body cannot deal with because all your energy is going to your muscles.
While intensity is needed as a stimulus, you shouldn't be going to this level all the time.
Heat
Last but not least is the heat.
We already know that running in heat and humidity increases our heart rate. But you may not also translate that to mean that you may have stomach issues.
The body is working harder with every mile to cool itself, to maintain an electrolyte balance and to keep pumping oxygen to all of your muscles.
That means the big overexertion issues listed above are going to pop up again even at easier levels of training.
If you start hitting that vomit point while running in the heat, STOP. That's a sign you are trending towards a bigger issue.
What do to if you get nauseous after running?
If you finish a run and are feeling ready to toss your cookies, there are a few things that can help. How quickly they work can often depend on how depleted you are or how intensely you went.
Slow down. You may not want to simply sit down, but instead try a very slow walk.
Try taking slow and deep breaths. If still feeling bad after the walk, lay down with legs up the wall.
Start sipping electrolytes. Don't guzzle them, that could lead to different gut issues. But the sipping will help get you hydrated and help get the body back in balance.
Sucking on a peppermint or ginger chew is another way to start sending some soothing signals.
Work on calming your nerves. This is one that impacts more runners on race day than they realize. Start implementing some tools to deal with race day nerves or worries about specific workouts.
As noted keep a journal to help you better identify what might be causing your issues. And then start adjusting your fueling plan or your workouts to lessen those yuck feelings.
Looking for other stomach related solutions?
Other ways to connect with Coach Amanda
Instagram Daily Fun: RunToTheFinish
Facebook Community Chatter: RunToTheFinish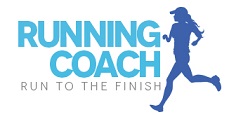 Sign Up to Receive a Weekly Newsletter with Top Running Tips and Laughs