This year I've slapped a wide variety and brands of running watches on my wrist to cover thousands of miles. Coros Pace 2 is a new budget friendly running watch that still has the features most runners need.
One of the first things I noticed about this watch is how light it feels. I guess I never realized other watches felt heavy until I picked it up! Largely due to the watch itself, but certainly some because of the nylon wrist band instead of rubber.
Coros Pace 2 Review
This is a definite upgrade from the original Coros Pace with a number of enhanced features that put it inline with the Garmin 45s. I note the S specifically because I do love the smaller size of this watch.
With the nylon strap I could easily tighten it to my small wrist and the watch did not overwhelm me. That sounds like a small point, but I'm often asked about watch size because it does matter when you want to wear it all day long.
A quick rundown on features:
Optical wrist based HR
GPS, GLONASS, BDS satellites
30 hours (full GPS), 60 hours in ultra max mode
Multisport for running, biking, swimming
Training plans and structured workouts
Sleep tracking, recovery advisor
Stride algorithm, cadence, VO2 MAX, running power
Compass, altimeter
Smart phone notifications
Customizable screens for each activity
It covers all the bases for a new runner GPS watch.
And in my testing this time, I found the GPS to be very accurate and in line with the other watch I was wearing to double check data.
Coros Pace Vs Apex
If you want to level up or spend a lot of time on the trails, checkout my Coros Apex Premium review.
Apex is going to be a better trail running watch
Apex allows for importing maps for on screen navigation and back to start navigation
Apex is a larger watch
Apex has winter sports
Apex has sapphire glass making the screen more durable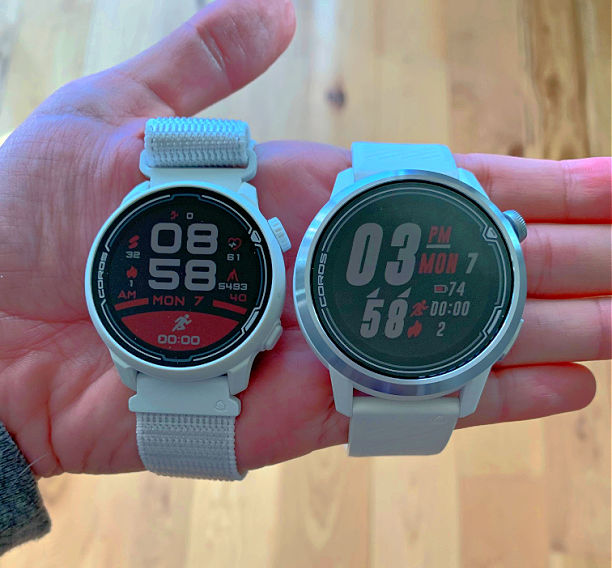 Size
As noted above, this is one of the lightest GPS watches on the market. It comes in at 29 grams and most are 45+.
The watch face is plenty large enough to see all of your data, but is also smaller than many of the higher end or more rugged watches.
And with the nylon strap it seems to more easily fit a smaller wrist. Of course it means that nylon will hold water for a bit after your swim or shower, not a deal breaker for me. I couldn't get the Apex to tighten down enough on my wrist, so I'm a big fan of this strap.
NOTE: If you do not have small wrists, I would opt for the standard band because you may have trouble getting this watch off over your hand. You can't fully undo the nylon like you do a normal buckle.
Using the Coros Pace 2
On the right side you'll notice a dial and a button. That's it!
In the app set up, you'll determine which wrist and which side you want the dial on, which will then orient the screen for you to begin scrolling.
For those who have always used a Garmin, it's going to take a second to learn to navigate this way. But it's a favorite feature of many Coros users who find it more intuitive than needing a bunch of different buttons.
Click down on the knob and you'll see available activities
Click run and you can then start or set up a basic interval (or change settings)
Once it finds your HR and Satellite, you press the button again and boom off to run
When you're done, you press the knob again to pause. Then have the option to resume or hold down to finish and save.
There you go the basics of starting a run is really simple!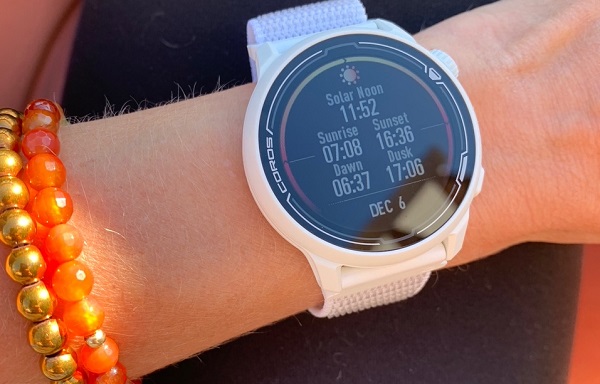 Using the knob
I turned off the autolock feature after my first run, realizing it mean I had to scroll a full circle before I could change the data screen while running.
I also adjusted the direction of the scroll and that made things much easier.
No confusion about what button to hit to start or stop, you just push the dial.
After the run, data is easily synced via Bluetooth to their app upon opening it. Which is also where you can change your watch screen or the individual workout screens.
Training with Coros
This multi sport watch will get you through any run, bike or swim.
You can set HR zones and alerts if you don't want to go above or below a certain threshold.
Utilizing the structured workouts, you'll be alerted when it's time to speed up, recover, etc.
Via the app you can create strength workouts for specific body parts or using certain tools – it's super impressive and a great guide for those needing strength help.
Start the metronome under run settings to help you work on cadence on certain runs.
Also provides running power as a training option without needing any additional sensors – I think this might be more valuable than normal since the HR was so off.
Battery Life
As noted, many watches now, including the Pace 2 have an Ultramax option. In other words, a setting you can adjust to extend the life of your battery during workouts.
In order to achieve this, you'll be losing some data. The GPS tracking will go from every 30 seconds, to every 2 minutes, which could mean over or under calculating your final time.
It's a nice feature though if you realize you're low on battery and want to run or are heading out for an epic day and just want to be sure it doesn't die!
Where to Buy the Coros Pace 2?
I'm not sure if it's because this watch is still newer or simply not as high end, but it's much harder to find in the places I'd normally look like REI, Road Runner Sports and even Amazon.
At $199 your best bet is to order directly from Coros.
PROS of the Coros Pace Watch
A few of the features that I really love:
Lightweight and great on a smaller wrist
Night Mode means I can see my data for the entire run
It has all the features most of us need to train with a good battery life
The Coros App provides great detailed info and is easy to use with the watch
They're really great at adding features based on user feedback. And they update your firmware, so those features are generally provided to older watches.
CONS of the Coros GPS Watch
I ran in to one very notable issue for me…heart rate.
It wasn't accurate. Not even close.
I had this issue with the Apex and was really hoping to find it would not occur here.
On an easy run it would swing from 160-135, while my other watch would show me holding 135-138.
My husband wanted to do suicide drills in the driveway and so away I went, sprinting back and forth…98 BPM.
If HR is inaccurate that's going to change all the data you get on recovery or VO2Max, etc.
Coros has stated they recommend a chest strap, which is absolutely acceptable as that is considered the standard. But frustrating for someone like me who uses HR all the time and doesn't always want to wear a strap.
My only other issue remains that I'm a bit torn on the dial. It's a cool feature that makes them stand out, but for winter runners it means every time my glove moves it switches the screen…unless I lock the screen and then I'm unable to switch screens to see other data.
Looking for more reviews to find the best things for you run?
Checkout our full page of my must have running gear reviews and guides to save you time searching and money! I share what's worked for me and fellow runners, along with what wasn't worth the price tag.
A few common requests:
Other watches you want to know about? Let me know!
Other ways to connect with Amanda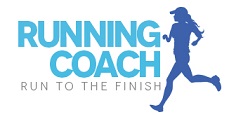 Instagram Daily Fun: RunToTheFinish
Facebook Community Chatter: RunToTheFinish
Sign Up to Receive a Weekly Newsletter with Top Running Tips and Laughs