February might be most well known for National Pizza Day, no no sorry I mean Valentine's Day.
But for runners it's the drawing of the NYC marathon lottery. The moment where you find out if you need to revise your fall marathon training plan year or if you get to pound the pavement through one of the most well known cities in the US.
If your name wasn't pulled this year, have no fear! You can still enjoy an early fall marathon to keep you on the same training schedule, have fun and possibly BQ if that's your goal! Nope this list doesn't include Chicago either, let's think outside the big lottery races to give you a better chance at planning.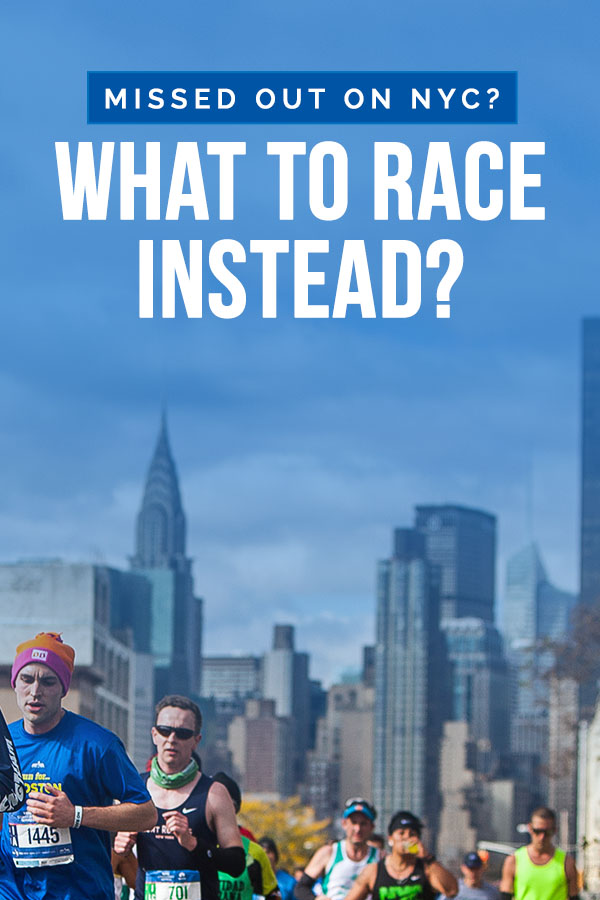 Instead of just providing a list of options, I tried to find feedback from those who have run each race to help you decide if it's right for you! Because sometimes a location sounds great, then you find it the course description is a little different than expected.
Best Fall Marathons
Charlotte Marathon
Bonus: Great fall colors, good expo, well run
Downside: Hilly, tough course – great if you want a challenge
Here's what Peanut Butter Runner has to say about the race:
The first few miles of this race are pretty chill as they feature a lot of downhill. This is a huge tease for ALL.THE.HILLS that you have to run to get back into Uptown at the finish. Downtown Charlotte is called Uptown because it's built on a giant hill and is elevated above most of the city.
Indianapolis Marathon
Bonus: Flat course is great for a PR attempt
Downside: Expo closes early and downtown parking can be tough
Here's what Detroit Runner has to say about the race:
I originally chose this course because it was so flat. There were a few rolling hills but really you could not get much flatter of a course. There were spectators throughout the whole course but more so as you made your way back downtown.
At mile 11, there were some really nice homes in the area. In fact, there was not really much of the race that was not in a nice area. It really showcased the city's great parts and whoever designed the course did an excellent job.
Time to think beyond Chicago and NYC for your fall marathon!! #bibchat #bqchat
Click To Tweet
Savannah Marathon (Rock N Roll Race)
I'm going to be honest, I've read a lot of less than stellar things about this race. Some of if it can't be controlled like the heat, but I've also heard the course isn't at all what you'd expect for such a beautiful area (you end up in some rather run down spots for much of the race) and there were multiple issues with water stops.
That being said, if you're in the South and want a race that's easier to get to than others…it's flat! You'll get the Rock N Roll bands throughout and a finish area with beer and the ever cool Rock N Roll Medal.
Santa Clarita Marathon
Bonus: Gorgeous California views, cheap entry, a few early small hills
Downside: Smaller race, less spectators
Here's what Chic Runner had to say
The course was pretty and had many beautiful fall accents, which I loved! There were not many spectators at all, but the ones you did see were awesome and all the water stations were great.
The one thing that was kind of a bummer is that the finish line is SO small that there really aren't many people there :( So you finish and it's a little anti-climatic.
Hartford Marathon
Bonus: Beautiful course, candy aid station around mile 21
Downside: 8AM start could be late if temps are warm, limited post race food, etc.
Confession this one is on my possible list!! It just seems so pretty!
Here is what Live Run Grow had to share:
One of the things I really liked about this race was the on course support on bikes – there were actually volunteers biking up and down the course not just as course monitors, but they had gels, medical supplies and water readily available if you needed it! At around mile 20 I asked one if he had Vaseline or glide since I was chafing a bit and he said he didn't but he'd go get some and come back – he biked away and 2 minutes later he showed back up and handed me a little packet, it was awesome!
Gear check was up a hill towards where the starting line was and I was not particularly looking forward to that walk – not that it was long, it was just up a hill.
Well, that Hartford Marathon had thought of that too! Right at the bottom of the hill there was a line of golf carts giving rides up the hill to bag check – seriously one of the best race day runner services I've ever seen!
Richmond Marathon
Bonus: Fleece finisher blanket, amazing crowd support
Downside: Smaller race if you're looking for that big atmosphere and definite hills
Here are some thoughts from The Right Fits:
The course has some serious rolling hills and a significant uphill around mile 16, but there was also plenty of downhill. In fact, the finish was a CRAZY downhill- LOVED it! The course went through some very beautiful neighborhoods with some gorgeous historic homes. It also showed off all the fall colors along the James River. So pretty. It crossed over two bridges, which were a little tough mentally (and very windy!) but still a really nice course.
Philadelphia Marathon
Bonus: It's a fabulous course for spectators, it's fairly flat
Downside: It's not a huge race if you prefer that
My personal favorite marathon of all that I've done!!! Yes, I'd even choose to do it again over Honolulu. But here is what Run With No Regrets had to say
Not too crowded. Apparently, there were less than 9,000 finishers. I like that they split up the marathon from the half. I don't think I would have enjoyed seeing even more people heading to the finish while I still had 13 miles to go!
Good course. My understanding is that Philly is a good course to BQ. It's pretty flat overall and the hills just help keep things interesting. It doesn't have as much of a city feel as the Broad Street Run, but it's not bad. If we didn't have the awful wind, the fall foliage would have been really pretty.
Out and back course. Being a local, the last half is a bore, even though Manayunk helps break the monotony.
Post-race food. A lot of Philly races just get it wrong when it comes to food, so it's not a surprise for me at this point. (agree with this it was pretty bad)
So there you have it. Some options to still get your racecation on for 26.2, have a great time and look at it as practice for hopefully getting in to the lottery next year!
What do you do if you don't get in to a race lottery that you wanted?
Other ways to connect with Amanda
Instagram: RunToTheFinish
Facebook: RunToTheFinish
Get new posts via BlogLovin