Applying sunscreen for runners is as important as wearing the right pair of running shoes when you head out for miles anytime of year.
But while we runners focus a lot on our shoes, we tend to not focus as much on skin protection from excessive sun exposure. Sunscreen is essential to protect our skin from the harmful UV rays that can cause serious damage over time. And thus, we can also put to bed the yearly social media talk that running makes you look older.
Sigh. No.
After some great discussions on Instagram about my own past hormone issues and learning more about how what's in our products can impact our thyroid and adrenals, I got 15 direct messages within an hour asking about my best sunscreen for runners.
That's usually a sign to me that a full on article is needed because I can provide more information and do some extra digging to learn more myself!
There are products I'm already using, but I know that one size does not fit all, so first let's talk about WHY this came up and then the best all natural sunscreens for different uses.
Why Use Sunscreen While Running?
Applying sunscreen while running is just as important as wearing the right pair of running shoes, regardless of how sunny or not-so-sunny it is outside.
The general rule is that if you're heading outside, you need to apply some sunscreen.
This is because clouds don't stop harmful UVA and UVB rays from penetrating your skin. In fact, according to the Skin Cancer Foundation, clouds block less than 25 percent of the ultraviolet rays that cause skin cancer.
Even if you feel cooler on a cloudy day, your skin will absorb the majority of UVA and UVB rays.
As runners, we experience prolonged sun exposure while running so it's imperative to wear sunscreen while running. In fact, this is one of the reasons you might hear about runner's face – or that runners look older!
Best Sunscreens for Runners
Sunscreens come in different comes, and for different purposes. Here I've broken it down by category to make it super easy for you to find the sweatproof sunscreen that's right for you.
If you just want a quick and dirty, here are my top picks!
Let's dive in to each of these sport sunscreen options, plus others in more detail.
#1 Moisturizer Sunscreen – Beautycounter

This Dew Skin Tinted moisturizer is super light with an SPF 20 means you're getting it all in one product so you don't have to remember anything extra later. Even in the winter we need SPF, so it's a great year round option.
I like this option because it becomes part of our daily routine and we no longer need to remember something else. Plus, it's got a bunch of benefits from being both natural and fantastic.
#2 Face Sunscreen for Runners – Coola

As many times as I was told to apply sunscreen to my face, I found myself not because I would sweat.
It would run. I could taste it. And I gagged.
Luckily for you, I kept on testing things throughout my years living in Florida and now I'm a big fan of Coola Organic Face. I've been using it for the last few summers and I'm very happy indeed, it's fragrance free and I haven't had issues with it running in to my eyes.
They also have a moisturizing version and a BB cream version that many love because it means a two in one product.
With both Coola and Beautycounter face options, I had no issues with clogged pores. One key to this is washing your face before and after you run to ensure any dirt is quickly removed and won't cause breakouts.
#3 Powder Mineral Sunscreen – Colorscience

Many of you (like me) have a moisturizer that you already love, which makes this option another easy one to add to your existing routine. I have tried a few different versions, but in all honesty I don't wear foundation or powder unless it's a big video shoot day.
But a great one that has over 2,500 five-star reviews on Amazon is the Colorescience Sunforgettable Total Protection Mineral Brush.
It's available in four different shades and you can use it by simply dusting it on before you head out. What's best is that it's also safe for acne-prone or sensitive skin.
#4 Lip Balms with SPF for Running

Since many of you like me swear you can't live without a chapstick or lip balm of some sort, a great reminder that your lips absolutely need the SPF love too!! I have tested some really popular brands and honestly the fact that I can TASTE the chemical of the sunscreen while running was just too much of a turn off.
eos Active Lip Balm has SPF 15 and will carry you through up to an 80 minute sweat session, they also have a higher level SPF 30 but I don't trust that I won't be tasting it on the run.
Burt's Bees all weather natural lip balm is also SPF 15 and feels more like a standard chapstick to me, so that is something I can put in my hydration pack to carry with me.
Coola tinted lip balm with SPF 30 is once again also a winner in my book. Love that it's smooth and with a little tint, maybe you'll wear it ALL the time for complete protection.
#5 Spray Sunscreen for Runners

As noted previously, not a fan on sunscreen on my hands so I do use the spray 90% of the time.
Counternatural Mineral Spray is reef-safe sunscreen relies on non-nano zinc to offer water-resistant UVA and UVB coverage. It's a great must have for everyone in the family!! Grab it the face SPF and stick at the same time to save money.
But if you happen to LOVE a good scent, our Ragnar team went bananas over the Pina Colada Coola Spray because it makes you feel like you're at the beach! There's also a Peach Blossom that's 70 SPF for those who need more protection.
The lightweight formula goes on evenly and offers broad spectrum coverage while buriti oil, meadowfoam oil, raspberry seed oil, and prickly pear extract strengthen the skin barrier and fight free radicals.
#6 Travel Friendly Sunscreen

One of the worst things about flying is all the stuff that you can't bring without buying additional travel size options.
And because I HATE the feeling of sunscreen on my hands, I'm a big, huge, happy fan of this Counternatural Mineral stick sunscreen.
Sweat and water resistant for up to 80 minutes means it will carry me through a lot of runs, but also stash in my hydration pack to apply again for long trail days.
#7 All Natural Sunscreen Lotions for Sport

If you don't have the weird thing I do about lotions, then they're one of the best options because you can really ensure full coverage. I have been known to miss a spot with the spray…though I can also largely get my own back with the spray!
Finish off your whole sun collection from Countersun with this Mineral Sunscreen that won't leave a chalky residue.
A great mineral based sunscreen like this helps to create a barrier between your skin and the suns rays. I also like that it absorbs quickly.
This non-nano zinc and California Poppy, this physical SPF 30 formulation provides an effective shield from UVA and UVB. Or I've heard good things about Blue Lizard as well.
#8 Baby Approved Natural Sunscreens
I'm not a mom, so I went out and did some research to see what the environmental testing group approves for the littlest member of your family. Because if they're along in the jogging stroller we know they need protection too!
Badger – Baby Sunscreen Cream Broad Spectrum SPF 30 Protection, Chamomile and Calendula Formula has just six simple ingredients and is water resistant for 40 minutes. A great reminder we have to keep reapplying our sunscreens.

Aveeno Baby Continuous protection was also frequently in the top 10 list.
Why runners need to pay more attention to whats in our sunscreen
Click To Tweet
What's the Difference Between UVA and UVB Rays?
Unfortunately, most people are unaware of the difference between UVA and UVB rays but it's important to know the difference.
SPF (Sun Protection Factor) measures the ability of a sunscreen to protect against UVB rays. These are the harmful sun rays that cause skin cancer and skin burns.
So, when we check for a sunscreen's SPF rating, we're checking for its ability to filter these ray
UVA rays have also been linked to skin cancer and premature skin aging, which also known as photoaging.
Unfortunately, many sunscreens don't provide UVA protection. Only the ones labeled 'broad spectrum' sunscreen protect against both UVA and UVB rays.
What Should You Look for in a Sunscreen as a Runner
Sunscreen or sunblock should be worn by everyone to protect themselves from the sun's harmful rays.
However, because running causes you to sweat, your requirements are different from those of a typical person. Here's what you should look for:
Sweat-Resistance
You already know that runners work up a sweat a lot. Unfortunately, no sunscreen is truly 'sweat-proof.'
Instead, look for ones that are labeled 'sweat resistant.' The maximum time for sweat or water resistance is 80 minutes. Or as noted in some of my picks below use natural ingredients that don't burn your eyeballs!
SPF Number
It's important to understand what the SPF number means when looking for a sunscreen.
As I mentioned above, SPF stands for Sun Protection Factor. It indicates how long your skin will be protected from sunburn.
Sun exposure has different effects on different skin types. The SPF number is merely a guide to the product's level of protection.
The time it takes for you to start getting burned can range from 5 to 30 minutes on average, depending on your skin type, where you live, and the time of year.
To understand how that works, let's say you start getting sunburned after five minutes in the sun without sunscreen.
If that's the case, applying an SPF 30 sunscreen will protect you for 30 x five minutes (or 150 minutes) before you start burning.
On average, SPF 15 protects us from about 93% of rays, SPF 30 protects us from about 97% of rays, and SPF 50 protects us from 98% of rays.
Unfortunately, no sunscreen will ever protect you a 100% but that's no reason to not protect yourself against the 90-something percent it does.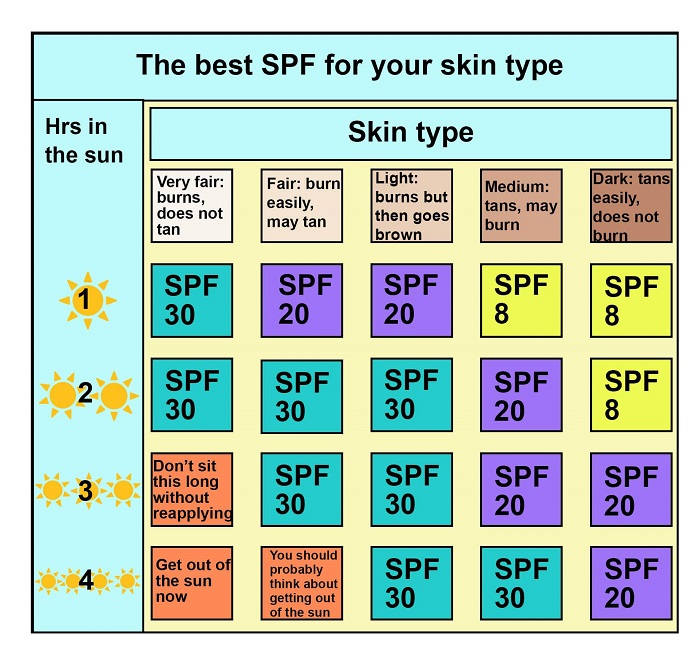 Broad Spectrum
You want to protect yourself against both UVA and UVB rays. For this reason, look for a sunscreen labeled 'broad spectrum'.
Type of Sunscreen
There are two main types of sunscreens: mineral and chemical sunscreens.
Mineral sits on top of our skin while chemical is absorbed by the skin. In this way, mineral sunscreens form a layer over our skins and reflect the UV rays away from the skin. This is why they're generally known as 'sunblocks'. Mineral sunscreens use zinc oxide and titanium dioxide as the main active ingredients.
Chemical sunscreens, on the other hand, work differently. They require 'chemical reaction' to keep these sun's harmful rays from affecting your skin.
Active ingredients in chemical sunscreens include oxybenzone, avobenzone, octisalate, octocrylene, homosalate, and octinoxate. Unfortunately, some of these chemicals can be harmful not just for your skin but also for the environment.
In recent times, many sunscreens with the chemical benzene were recalled after the American Cancer Society found that it can cause cancer – which happens to be the very thing we're trying to protect ourselves against when using sunscreens!
So, it's generally recommended to look for natural, mineral sunscreens when finding the right one for you.
Should I Wear Sunscreen When Running?
Ideally, the answer is always yes. Even if it's just what is inside your daily moisturizer. We don't want to spend all this time working on our fitness and getting healthy only to have unhealthy skin!
Get the most out of your sunscreen with a couple very easy tips:
Find face lotion with SPF in it so you don't have to remember
Don't forget your ears and gents some of you need to slather up that noggin
Put on sunscreen 30 minutes before heading outside to give it time to absorb
Remember you can get a ton of sun even on cloudy days
Hats are a great tool, but don't actually mean we can get away without sunscreen
Sun reflects more off sand, snow and water, so definitely lather up those days!
What about Vitamin D?
Since I tend to run low on Vitamin D and we know the sun is a great source, I thought maybe I should just skip the sunscreen? But that's not exactly right!
15 minutes of exposure without sunscreen is great for Vitamin D levels
Specifically you want to get the sun on your chest and face (why I read a book outside for a few minutes!)
Also, few of us are using enough and consistent sunscreen application to truly block all the UV rays and thus Vitamin D
Why Do We Care About All-Natural Sunscreen?
I covered a lot of this in my post on hormone disruptors, but a quick recap! Many of the common ingredients, which we absorb through our skin have some serious potential side effects.
Oxybenzone: known to disrupt normal hormone cycles
Retinyl palmitate: found to accelerate the rate of certain skin cancers
I mean ya gotta be kidding me…we're using it to prevent skin cancer! And that's not just marketing hype.
A new FDA study found that ingredients can enter the bloodstream within one day at levels that far exceed its recommended threshold without a government safety inspection. They also said they have a lot more testing to do to be fair!
Want to learn MORE about safer skin care and home care?? I've got a weekly newsletter with tips! JOIN HERE >>
Is coconut oil a good sunscreen?
I mean it works for about 8,000 other things according to the Internet, but NO do not rely on it for sunscreen.
Coconut oil is used for cooking, so it will help to bake your skin!
What is Considered a Safe Sunscreen?
I think the FDA conclusion that we could see chemicals seeping into our skin makes if fairly clear that we want to look for ingredients which aren't harmful to our health as noted in hormone disruptors.
But, the term has also been used to refer to reef safe sunscreens, one's that won't damage the ocean. Many of the ingredients we want to eliminate for our own health will also be helping the Earth! For example, Oxybenzone and octinoxate are two ingredients believed to contribute to coral bleaching which essentially kills it and thus kills off a major food source.
Want to learn MORE about safer skin care and home care?? I've got a weekly newsletter with tips! JOIN HERE >>
Sunscreen for Runners Application Tips for Maximum Protection
While sunscreen is an effective way to protect your skin, it's still important to keep in mind that you have to properly apply it for maximum protection. Here are some tips to help you apply sunscreen correctly:
When to Apply Sunscreen
It's important to apply sunscreen at least 15 minutes before heading outside to allow it to absorb into your skin. This will make sure that the sunscreen is fully effective when you're exposed to the sun's rays. If you wait until you're already outside, your skin will be exposed to the sun's harmful rays before the sunscreen has a chance to work.
Remember to reapply sunscreen every two hours, or more often if you sweat or swim. Even if you're using a waterproof sunscreen, it's important to reapply after swimming or sweating to ensure that you're fully protected.
How Much Sunscreen to Use
Most people don't use enough sunscreen.
A good rule of thumb is to use one ounce, or a shot glass-sized amount, for your entire body. This may seem like a lot, but using too little sunscreen will reduce its effectiveness.
Don't forget to apply sunscreen to your lips and ears, as well as the tops of your feet and any bald spots on your scalp.
When applying sunscreen, be sure to rub it in thoroughly to ensure that it's evenly distributed. Don't forget to apply sunscreen to hard-to-reach areas like your back and shoulders. Consider asking a friend or family member to help you apply sunscreen to these areas.
Reapplication During Long Runs
When you're out on a long run, it can be challenging to remember to reapply sunscreen. Consider using a spray or stick sunscreen that is convenient to apply on the go. These types of sunscreens are easy to apply and won't slow you down during your run.
Wearing a visor or running hat is another effective way to protect your face and neck from the sun's rays. A hat with a wide brim will provide even more protection, shielding your face, neck, and ears from the sun. This has been a go to move for me the last few years, which also means containing my crazy fly away hairs.
Also, don't forget some running sunglasses while you're at it! This is going to protect that skin around your eyes (aka crows feet).
Ok I hope this answered your safe sunscreen questions!! Have questions on other clean products, let me know!
Looking for other running beauty tips?
Other ways to connect with Amanda
Instagram Daily Fun: RunToTheFinish
Facebook Community Chatter: RunToTheFinish
Sign Up to Receive a Weekly Newsletter with Top Running Tips