Whether this is your first 10K or your hundredth, it's useful to have a 10K Pace chart to guide your training and race day pacing.
In the chart below you can either look for your goal race finish time and find the associated per mile pace. Of if you're new to running, you may simply look at your current mile time to see how long it will take to run a 10K.
What is a Good 10K Time?
The age old question of what's a good pace. As always the answer is it depends on a lot of factors from your experience level to the race course and even the weather.
The 10K is an interesting distance because at the elite level it's most often run on a track! And while it's an endurance event, it's still considered part of the standard track and field line up, unlike the half marathon and marathon which are done as road races.
The 10K world records are:
26:211 (4:13 mile) by Joshua Cheptegei from Valencia in October 2020
29:17 (4:43 mile) Almaz Ayana of Ethiopia from Rio Olympics in August 2016
Meanwhile the average runner is going to be closer to a 8:00 min to 12:00 min per mile pace, which equals from a 45 minute to 75 minute 10K finishing time.
According to data from 2019 RunRepeat, the average male road racer finishes in about 56 minutes (9:02/mile pace). For that to be the average there are a lot of folks finishing both slower and faster than that!
Meanwhile for women the average finish time is about 1 hour and 3 minutes (10:15/mile pace).
You could break down a good time by age, gender, experience and so much more. It's important not to worry about what "good" is for anyone else and instead to focus on running your best race!
10K Pace Chart
You can checkout this pace calculator for more detailed numbers, but this pace table will help you find your average pace for your goal time.
The chart is going to list your average pace per mile or per KM, to provide a correlated finishing time.
The great thing about this is that for most runners, a steady even pace from start to finish is the best way to achieve a Personal Best or finish the race feeling strong. That's right, going for a negative split isn't actually ideal because we're assuming we'll have more energy in the second half, which isn't usually the case.
The following paces are providing in average mile time. Find your goal finishing time, to see the goal pace.
Or start with your current easy run pace to see where you might finish.
Remember this doesn't take in to account any specific type of course (hilly, lots of turns, hot, weather conditions). It's simply providing a per-mile time to hit that finish line.
All right now that you've got this useful tool for figuring out your goal pace. It's time to fine tune your training to get those race results. That means appropriate training with intervals sessions, strength training, core workouts, good fueling and enough easy miles.
Looking for more training tips?
Other ways to connect with Amanda
Instagram Daily Fun: RunToTheFinish
Facebook Community Chatter: RunToTheFinish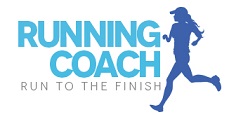 Sign Up to Receive a Weekly Newsletter with Top Running Tips and Laughs