You finished off the year with few fun Ugly Sweater Runs and Santa Hustles, which means you can now sit back, kick up your feet and skip out on any of these crazy winter weather runs!
There's nothing wrong with an off season, but make sure it truly aligns with your goals.
Have a spring or summer PR in mind?
Winter is a key training period. This is the time where you embark on what is lovingly referred to by running coaches as "maintenance mode" or "base building". This seemingly easy part of training, could be more important than any speed workout you do, as it set you up to prevent injury and run strong!
This is another in the Road to a PR series. This time addressing the age old question of when to run and when to call in sick on your training plan and for how long.
Goals of Winter Maintenance
Why are we even talking about this? Can't you just keep on running?
Of course you can, but a good maintenance plan is going to set you up for a fantastic and HEALTHY year of running!
Here's what you should expect from a few months of base building workouts.
•Flexibility in training to allow for changes due to weather/life
•Improve running economy (making you more efficient at running)
• Correct muscle imbalances and minimize injury-risk
• Improve our breathing during running
• Maintain or improve body composition
• Improve mobility and stability
• Provide psychological benefits
• Improve endurance
• Prevent loss of muscle mass
A good plan is going to incorporate the trifecta of happy healthy running: strength training, cross training and easy running!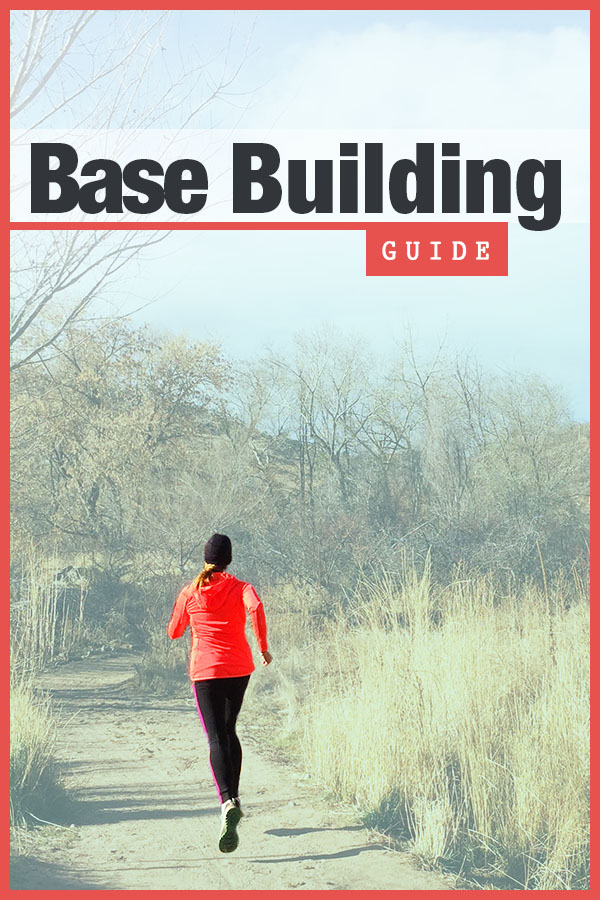 Since every runner is different and the mileage for a seasoned marathon runner, wouldn't match up to a new 5K runner there are no set rules for mileage, instead here are the guidelines for creating your running winter maintenance plan.
Why your winter training is so important for a PR's in the Spring #runchat
Click To Tweet
Base Building Plan Guidelines
Duration: 6-8 weeks
Could be longer if your goal race isn't until summer, but this is a minimum time frame for a solid spring race to ensure you have the needed endurance and muscle strength to prevent injury.
You'll notice this plan is about far more than just a bunch of miles. The goal is to create a well-rounded body, so that when you enter intense training and may have less time or energy for other pieces, your body is primed to handle it.
Runs
2-3 per week – think back to the weeks 1-3 of a new training plan.
Generally no speed work, easy miles, with your long run being usually half of your goal distance or less. Half marathoners might find 8-10 miles is their sweet spot for weekend long runs that feel easy and maintain endurance.
Much like LHR training, the goal of this phase in running is to build your anaerobic base. We want your body to consistently feel strong and that the same pace is requiring less effort over time.
At the end of this phase, you should be ready to add hills, speed workouts and tempo runs per a structured training plan.
Cross Training
2-3 sessions per week
– Great time to test out some classes or programs like DailyBurn
– Increases your stamina in different ways by engaging other muscles
– Utilizes new muscles
– Do whatever you enjoy! Swimming, stair master, biking, skiing, snowshoeing (this is on my list!). It's all going to benefit your running in the long term.
Checkout the best cross training for endurance athletes>>
Strength Training
2-3 sessions per week, often on the same day as a short run or cross training session. Here are a few different options and the benefits:
— Yoga:Not only will you be surprised at the strength you can build, but you'll improve your breathing and learn how to work through discomfort, which will benefit you on the run. You can either do an athletic yoga workout or go with a restorative session, in fact it would be best to do both!
You'll also get a ton of mental training benefits from slowing down.
Here are some key moves for runners >>
— Pilates: If you don't know yet that I think working your core is a KEY component of training…you must be new here. Pilates is an amazing way to build strength through a complete focus on utilizing the core, which doesn't just mean your abs. These moves are going to strengthen your hips and engage your glutes, which we know is a primary cause of injury in runners.
Learn more about it and an at home workout>>
— Heavy Weights: Unfortunately distance running can eat away at muscle mass, which is why many runners find themselves in the odd place of being fit and yet a bit fluffy. Heavier weights are going to help build the muscles that burn the fat, that keep us strong and get the "bodies" many runners desire.
Try 2 sessions a week of just a few exercises:
chest press
rows,
shoulder press
tricep pull downs
lunges
squats
deadlifts
— Lighter Weights: High rep weight training can benefit endurance runners because this is in effect another form of endurance. It's going to help you continue to pump your arms when tired during the final miles of a race and maintain good form.
Usually best as a full body workout: Shoulder flys, tricep dips on a bench, push ups, bicep curls, IT Band Lunge Matrix + core
Checkout this round up of body weight workouts for runners>>
What is base building? Find out how to do it right this winter #runchat
Click To Tweet
Treadmill Notes
Personally I love treadmill runs, so if icy roads or frigid temps push you indoors that's ok!
Incline: For easy runs use at least 1%, for hill workouts it's going to vary depending on what you are used to, but generally 3-4% for long inclines and 5-6% for quick hill springs.
Speed: You might feel like the treadmill is easier or harder than running outside. Some of this is mental and some of it is the consistent pacing provided by a treadmill, which many newer runners aren't used to. For easy runs, play with the pace until you find a speed that feels comfortable (defined as something you could hold, it's not forcing you to breathe too hard and yet not so slow you could file your nails).
Read more about treadmill training to hit your next PR >>
Do you stick to your runs in the winter?
What changes in your off season?
MORE ROAD TO A PR
Selecting a goal race pace
Should You Run With a Cold?
Busting your common running excuses
Other ways to connect with Amanda
Instagram: RunToTheFinish
Facebook: RunToTheFinish
Get new posts via BlogLovin