Getting my ass over the pass has resulted in a….sore ass. I believe this is actually due to getting in an out of the mini van 682 times rather than the running. I was very happy to complete 17.7 miles in 24 hours considering my last long run was only 11 miles…average pace was 9:30…also great since it was at altitude and previously I was doing 10 minute miles!
There is so much to tell you about this race that I really don't even know where to start or stop.
The 12 of us seemed like old friends almost instantly, which I entirely attribute to runners being the most awesome people on Earth. :)
Step 1 Decorate Van…we just used some fun paint to put on our states…8 of them I believe…but others had some very amausing vans…

Step 2 Run in amazing places. Blue sky…moutains all around…llamas…horses…dirt roads…I was in love with every step of my run. I felt very fortunate that the altitude wasn't bothering me and that I didn't have any super horrible uphill runs. Just one steep downhill to shred the quads.
Step 3 Cheer on teammates…water stops…dancing on the side of the road…music blaring…ahh good times.
Step 4 Mark van with roadkill…number of people you passed
Step 5 Pass off to next runner!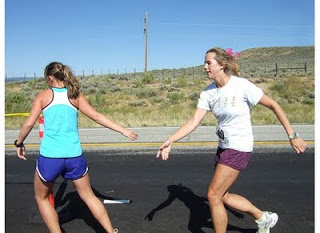 Step 6 Gear up for night runs…chilly while waiting. Vest, headlamp…blinking red light…lookout world here I come!! Running in the middle of nowhere colorado at night was such a cool experience. I only had one freak out when I could hear an animal…then saw a big black shape…EIIIKKKK it's a bear! No it was a horse.
Step 7 Sleep in a crazy school cafeteria with tons of other people on the floor. I didn't actually sleep…but I was happy to not be in the van for 4 hours.
Step 9…FINISH..SHOWER after 33 hours…EAT a real meal… SLEEEEEEEEEPPPPPP.
The ONLY bad thing to happen was I lost one of my diamond stud earrings…BOOOO. I didn't let it spoil the trip, but it sure was frustrating to do something like that!
Unfortunately I have some crazy work today and tomorrow so not as much sleep as I was hoping for…but hey Thursday is my birthday so whatever it's still a great week!!!!