Are you ready to transition from walking to running, but feel unsure how to do it without walk breaks? You're not alone!!
It's a common question for novice runners, and it's important to approach the transition correctly to avoid injury and burnout. Luckily, I've got experience coaching thousands of runners and writing thousands of researched articles to help guide you through this process.

I still vividly remember when I made running a mile with no walk breaks my big goal. It was MOMENTOUS when it happened and created such a feeling of pride, that here I am over 20 years later still running.
We're going to start with some of the major fundamentals you need to put in place to go from walking to running, then look at some specific steps and walk-to run programs.
If you just want a plan, jump to the end and there's one you can download!! The goal of the plan is simply to give you the confidence to start! It's a walk to run program designed to start from scratch with more walks than runs.

10 Tips to Transition from Walking to Running
A study conducted by the American Council on Exercise (ACE) found that transitioning from walking to running can improve cardiovascular health, increase calorie burn, and enhance overall fitness.
The study followed a group of sedentary individuals who transitioned from walking to running over a 12-week period. The participants showed significant improvements in cardiovascular health and overall fitness, as well as a significant increase in calorie burn.
So let's do this!
1. Start Slow
Both in terms of intensity and time.
Don't rush into running. It's important to slowly build up your endurance and mileage. Start with a run/walk combination and slowly increase the amount of time you're running.
I'm a big fan of working on being able to power walk 3 miles each at a 15 minute pace before you transition to a run/walk interval.
From there we'll start to work on taking out the walk breaks.
One of the biggest mistakes beginners make is trying to run too fast, too soon. This can lead to injury and discourage you from continuing your running journey. Start slow and gradually increase your intensity over time. A good rule of thumb is to increase your running time or distance by no more than 10% per week.
2. Spend Time on Your Warm Up
If my athletes learn just one thing, it's the value of a warm up. I certainly hope they learn more, but for many this little change to their routine has a massive impact.
Warming up before running is essential to prevent injury and improve performance. A good warm-up should include dynamic stretching, such as leg swings, high knees, and butt kicks, and some light cardio, such as jogging or jumping jacks, to get your heart rate up.
See a full dynamic warm up routine >>
3. Learn to Listen to Your Body
It's important to listen to your body and take rest days when you need them. If you're feeling tired or sore, take a break for a day or two.
Your body will give you signals when it is time to take a break or slow down. Obviously this process is going to include pushing your comfort zone and that could mean a little discomfort. But the discomfort of doing something new is different than sharp pain, gasping for air or feeling absolutely wiped out from every workout.
Pay attention to these signals and listen to your body.
4. Track Your Progress
Tracking your progress can help you stay motivated and on track. Use a tracking app, like Strava or just a good old spreadsheet, to track your runs and measure your progress.
Don't get to hung up on any certain number. Instead, this is simply about having a log you can refer to and see progress OVER TIME.
Yup, running is a process of consistently showing up week after week. Sometimes it will feel like you make big gains and sometimes it won't seem like anything is happening. But keep tracking, keep showing up and all of a suddenly you'll see another shift.
5. Do Different Activities (Cross Training)
Increasing your overall aerobic capacity is going to improve your endurance. The benefit of cross training is getting your heart rate up without the pounding of running.
Running is a high intensity activity. It takes time for the muscles, bones, joints and tendons to adapt to that intensity. So spending time biking, swimming, hiking, doing yoga or Pilates is a great way to continue moving your fitness forward as you adjust.
Plus, it's fun! It gives you time to do things with friends and remember that there are a ton of ways to improve your fitness.
6. Spend Time Strength Training
If I could go back and tell my 20 year old self one thing, it would have been to start strength training right from the beginning.
Strength training is an important component of any running program. Incorporating strength training exercises, such as squats, lunges, and plyometrics, into your routine can improve your running performance and reduce the risk of injury.
Not sure where to start?
Bodyweight! Focusing in the core, hips and glutes is a primary way to prevent injuries. That means you can train more consistently and make progress.
Checkout the 30 Day Core Program – 10 minutes a day for big results!
7. Mix Up Your Running Workouts
Doing the same thing every day is a good way to initially create your habit. But once you're ready to start progressing the program it's good to throw in variety to keep you interested and challenged.
Add in more hills to challenge yourself in that power walk and build your leg strength
Try going some new places so it's more exciting
Extend your total walk time once a week (runners call this their long run day)
8. Recovery
Getting proper rest and sleep is essential for recovery and injury prevention. Aim for 7-9 hours of sleep per night and allow your body to rest and recover between workouts.
Whether you're walking, run/walking or running, this is a massive one. Numerous studies have proved that sleep is a performance enhancer.
So if you want to go from walking to running, make sure you're getting those zzzz's.
9. Have a Support Network
Surround yourself with supportive people who can help you stay motivated and accountable. Join a running group or find a walking buddy who can help keep you on track.
Remember it's ok to have variety in your week. So grab a friend for your walk days where you feel ok to chat away and go solo when progressing to run/walk if that feels tougher.
A lot of running groups have walkers, so check with some of your local running stores to see what their group is like. And 100% YES you can buy running shoes at a running store. They help tons of walkers and may even have some suggestions to find you a buddy.
10. Get a Coach
If you're struggling with your transition from walking to running, consider seeking professional help.
A running coach or physical therapist can provide you with a personalized training plan and help you address any specific issues or concerns.
Over the last decade, RTTF has coached thousands of runners and walkers. That's right! We have folks who walk marathons and folks who start out walking and progress in to straight running.  It doesn't matter.
A plan that is developed for you and your life, can really help you to see progress.
Walk-to-Run Program
All right, let's talk about some concrete schedules and ideas to help you make this transition.
Making the transition from walking to running without walk breaks can be daunting, but it doesn't have to be. With the right approach and these tips, you can make the transition easier and become a stronger, more efficient runner.
Snag a free printable 10 Week Walk to Run Program >>
This program is set up in a Google Spreadsheet, so that you can make a copy and then edit it as needed to fit your life! If you're already doing more than what's listed in the first few weeks feel free to skip ahead.
This plan is 10 weeks starting with all walking.
This is truly a 100% beginner plan. If you're already doing run/walk checkout the Couch to 5K Plan.
Try working on your walk pace. Can you work on building to a sustained 15 minute mile.
Do a warm up before starting to improve performance and prevent issues like shin splints
You should do at least 2 days of strength training as noted, here are some free online strength training ideas
3:2 – numbers like this indicate minutes run: minutes walk
Your longest days will be on Sunday, with Monday reserved as a day of complete rest. You can move this around to make your long day Saturday and rest on Sunday.
Main Features of the Walk to Run Program
This walk to run program is perfect for beginners and lays down the entire training schedule you'll need to successfully go from all walking to using run/walk and aiming for that big goal of running 1 mile without stopping.
Let's look at the main components of this training plan to understand it better:
Weeks 1 – 2: Focus on building endurance and getting comfortable with walking.
Tuesday, Thursday and Saturday are listed for walks, but you can add days or adjust days.
Wednesday and Sunday are planned strength days.
Monday is set to rest and Friday for cross training.
Week 3: Start introducing short intervals of jogging.
You'll see these listed as running intervals like 3 x :30 seconds, which means 3 repeats of 30 seconds of running. You'll have a brief walk break between those intervals.
Remember it's ok to walk more than listed, but on the specified walk days think about it like a workout. Think about pushing your pace.
Weeks 4-6: Continue to build endurance and gradually increase the amount of time spent jogging.
This is not a Couch 2 5K plan, so we aren't doing a ton of running. We are really focusing on building a strong aerobic base so that when you decide to go longer distances the run/walk will feel much more like an easy run.
Too many skip putting in the time to build this base and always struggle with running feeling too hard. I get it, you're probably thinking about calories. But you burn roughly the same amount walking or running a mile, one just takes longer.
Weeks 7-8: Adding in some small bouts of speed work, which will also help endurance.
In this case, we're going to initially focus on using hills. They reduce our chance of injury and are a proven way to help you get faster!! Think about all the work your glutes have to do to power up a hill and it makes sense.
Weeks 9-10: Final recovery and testing your minutes of continuous running to see progress!
This test is simply to help you see where you are! Remember that the run walk method is valuable for every distance from the 5K to marathon. A lot of speedy runners still use it on recovery days and other runners love it for all runs for life.
Congrats you've made it through a walk to run program!!!
Looking for more tips?
Other ways to connect with Amanda
Instagram Daily Fun: RunToTheFinish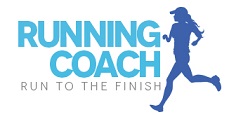 Pinterest to find more Running Tips: RunToTheFinish