Since moving to Colorado, one of the most frequent questions I get from those who will be visiting is what are the best trails near Denver?
It's important to know that the closest trail to downtown Denver is at least 20 minutes and you might be driving closer to 40 to get to some of the true favorites that will give you the Colorado experience.
The great news is that it's easy to turn any trail morning in to a day of adventure.
Some would point to downtown trails like the Cherry Creek Trail or the path along the river. I LOVE running on beautiful paved paths, but if you're actually looking for running trails those won't cut it.
Best Running Trails Near Denver
Here I'm focusing on trails for running or an easy hike, these are not big hikes like you might find if you head out farther in to the mountains to say Frisco or Winter Park.
North Table Mountain
South Table Mountain
Flatirons Vista
Marshall Mesa
Bobolink Trail
Red Rocks
Closest Good Hike or Bike: North Table Mountain
This trail starts with a steep incline, then leads to a large flat mesa for miles of exploring. You won't get some of the sweeping vistas that you will from Boulder areas, but you'll absolutely know you're in Colorado.
The trail is not technical, so besides the steep incline to start you should find most of it runnable. It doesn't have a ton of signage, but also not a ton of trails, so you can always quickly orient yourself by looking towards the foothills.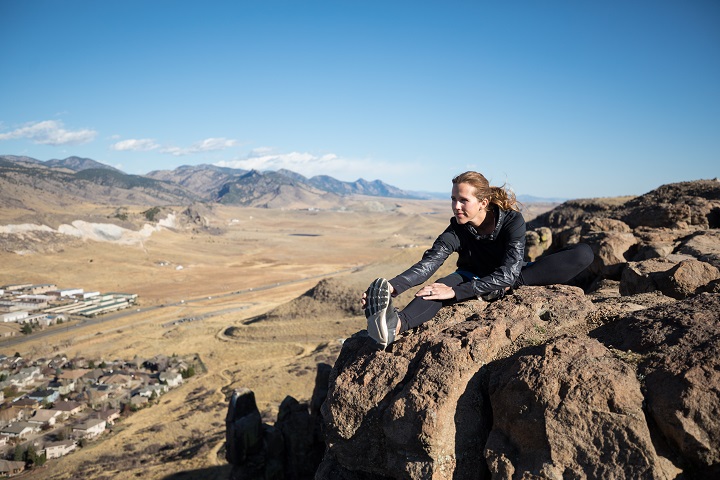 Directions
Take I-70 from downtown to Highway 93 and you'll be in Golden. The bonus of this run is that downtown Golden is a great place to stop post run for brunch!
West Trailhead: 4788 CO-93, Golden, CO 80403
Parking
There is one large parking lot that fills up quickly. You need to go early to get a spot and by early around here we mean before 7 am in summer and probably before 8 am in winter.
Closest Easy Run or Bike: Green Mountain in Lakewood
Not to be confused with Green Mountain in Boulder, this one is much more runnable for those who are new to elevation and trails. It's not technical, but does involve some small climbs and descents.
In on direction on a clear day you can see all of downtown, while in the other you'll be able to look out over Morrison and the foothills.
Trails are well marked, but I still recommend one of the apps from "how to find running trails" to keep you going exactly where you think.
Directions
Take I-70 from downtown and then south on 470 to the first exit to Alemeda.
Parking
There are actually 3 or 4 parking options, which help when one is full. Right on 470 to the right is the first large parking lot (called Rooney Road Trailhead), but another that I like is going left down Alemeda and parking at the dog park (Fosberg Iron Spring Park). Then taking the paved path under the road to the trails.
Family Friendly: South Table Mountain
A lesser known trail that we personally love. It's flatter than most, crushed gravel and the easiest of the trails you'll find. You can take it all the way out to the most western point and overlook all of Golden. It's a beautiful overlook and in early summer you'll see plenty of wildflowers.
Trails have been cleaned up recently with excellent signage, though again not really telling you where they go. But you'll easily be able to stay on trail.
Directions
From downtown you will take Highway 6 and once again end up in Golden, but on the side closer to downtown so you'll avoid a lot of traffic.
Parking
Our recommended parking spot is 16699 Golden Hills Rd, Golden, CO 80401. It's a small lot, but you can park along the road if they happen to be taken.
Family Friendly Views: Flatirons Vista
Now we're getting to the trails that are closer to Boulder and will offer you some truly epic views of the Flatirons. You won't see the same mountains as say Winter Park here on the Front Range, but the Flatirons are spectacular.
This trail is crushed gravel and large rocks. It's got a few decent inclines, but it's wide and not technical. You can do the main loop staying on the front side or venture for many, many miles on the trails that are all connected from here.
Directions
From Downtown you'll take HWY 36 and get off on the Interlocken Loop and work your way over to the trailhead.
Address: 3663 CO-93, Boulder, CO 80302
Parking
This is in Boulder, so it's a paid parking lot. Bring cash to fill out the envelope and trust me it's worth paying because rangers are in the area frequently to ticket. ALL trails near Boulder fill up fast, so again this is a get out early to get parking situation.
If the main lot is full, then you can go up to the closest stoplight and you'll see one additional parking lot on the right side. It's called the Greenbelt Plataeu Trailhead and you can cross the road to quickly get right back to the Flatirons.
BONUS: Marshall Mesa Trailhead
Just up the 93 from Flatirons is Marshall Mesa which is a great hiking or mountain biking trail. New trail runners might find it too rocky or rolling, but it often has more parking available thanks to a ski lot across the road and it's another beautiful trail.
You won't be as close to the Flatirons, but you'll still enjoy some great views.
Easy Long Run: Bobolink Trailhead
This doesn't qualify as a trail to many folks because really it's a nice flowing crushed gravel path. But it gives you views of the Flatirons, hits some running water, cows and just is generally an enjoyable flat place to run in Colorado.
This trail is one of the closest to Boulder that I've listed, which makes it a great option to explore the town while you're here.
This is not a super long trail, so you'll be doing an out and back, but may choose to then hop on some pavement and add miles going farther in to Boulder.
Directions:
From downtown you'll take I-25 to HWY 36W, all the way in to Boulder. Roughly a 30 minute drive.

Parking:
The main Bobolink parking is small and full easily by 6AM, so here's the locals tip. Park at the East Boulder Community Center and you'll simply cross the street to a paved path (clearly marked), which connects to Bobolink.
Tourist Spot: Red Rocks Park
If you've heard of the epic Red Rocks amphitheater, this is your chance to have something extra to do once you reach it and realize there's not much there. You can run the stairs for a killer workout, but usually one round at elevation is plenty for many!
It's cool to see the big amphitheater, but spend another hour doing the easy hike right there and you'll really get to appreciate the beautiful red rocks.
Trading Post Trail is the actual name of the trail, which you can start from the Trading Post building. It's a 3 mile loop that's going to give you some slick rock and lots of beautiful red rock.
It's not ideal for strollers and a little technical for some runners.
Directions
From Downtown you will take HWY 6 to Red Rocks Amphitheater – there are lots of brown signs leading to this spot.
Parking
There are a ton of huge lots here, so you should not run in to issues with parking unless there is an event. Definitely LOOK AT THEIR EVENT page before you go or you won't be allowed to park.
Bonus Denver Trails
If you're will to drive a bit father, there are so many more options.
Waterton Canyon is a large dirt road, but beautiful along the river with a great chance to see big horned sheep.
Stauton Park is going to get you up higher, providing some beautiful views and a nice flowing trail.
Craddleboard Trail is for those who want a seriously flat crushed gravel path and some beautiful views off in the distance.
Other things to do in Colorado:
Other ways to connect with Amanda
Instagram Daily Fun: RunToTheFinish
Facebook Community Chatter: RunToTheFinish
Sign Up to Receive a Weekly Newsletter with Top Running Tips