NYC
Run To The Finish

Book tour
NYC
CANCELED
The last time I was in NYC was for the marathon, so I'm thrilled to be coming back for some much more low pressure running.
I know many of you are dealing with cancelled race plans and I've been there (hurricane Sandy!), so let's connect for some fun running and talk about how we handle setbacks of all kinds.
Location: Jack Rabbit Time Warner
Address: 10 Columbus Cir, New York, NY 10019
Date: Saturday, March 14
Time: 9AM
DETAILED EVENT INFORMATION
9:00 AM – We'll gather up to head out for a 30 minute out and back run. That means all paces are welcome as we'll start and finish together!!
9:45 AM – Fill your water bottle, grab a snack and settle in for a quick chat from Amanda on handling the mental side of running.
Enjoy some NormaTec boots, Thera guns and discounts!!
**SKIP THE RUN. If you're just not up for it, then join us for the talk, the treats and the community.
WATCH your email for details on accessing the building on a Saturday Morning
PLEASE NOTE ANY BOOK ORDERS AFTER 3/11 WILL BE MAILED VIA AMAZON.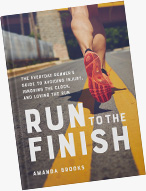 About the Book
Run To The Finish: The Everyday Runner's Guide to Avoiding Injury, Ignoring the Clock, and Loving the Run – is more than a training guide, it's a reminder that we don't always have to chase the fastest times to be a great runner. It's a laugh out loud look at our running, followed by tips that will help you continue running for many years to come.