Miami
Run To The Finish

Book tour
Miami
Did you know that I lived in the 305 for 4 years?!Oh yes, I remember watching Mr 305 (Pitbull) himself perform after the Rock N Roll Miami Half! And of course I earned myself one of those spinning Miami marathon medals.
I absolutely cannot wait to get back to those beautiful water views and re-connect with so many runners from years gone by….and meet new runners like you!
Location: Industrious Co-Workout Space
Address: 1111 Brickell Avenue
Miami, FL 33131
Date: Wednesday, March 18
Time: 6:30 PM
BONUS: One registrant (with book) will win a custom We Run On Art drawing, and two more will win a pair of Goodr sunglasses.
Winners will pick up prizes at the event, nothing to be mailed.
DETAILED EVENT INFORMATION
6:30 PM – We'll gather up to head out for a 30 minute out and back run. All paces! We're out to have fun and connect that evening.
7:15 PM – Fill your water bottle, grab a snack and settle in for a talk from Amanda on the whole idea of feeling like a runner, how to get more people excited and love you run.
**SKIP THE RUN. If you're just not up for it, then join us for the talk, the treats and the community. Thanks so much to Inudstrious for hosting us, I have a feeling some of you may just decide it's where you need to start working in the future!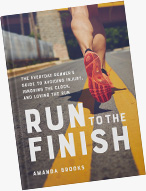 About the Book
Run To The Finish: The Everyday Runner's Guide to Avoiding Injury, Ignoring the Clock, and Loving the Run – is more than a training guide, it's a reminder that we don't always have to chase the fastest times to be a great runner. It's a laugh out loud look at our running, followed by tips that will help you continue running for many years to come.