Kansas City Event
Run To The Finish

Book tour
Kansas City
Did you know that I grew up in Kansas City?! I enjoyed living there for almost 26 years and cannot WAIT to comeback for a run with some familiar (and new faces).
Over those many years, I was lucky enough to see a lot of different places around the city, which means I know you're ALL OVER THE PLACE. Luckily, Garry Gribble's on Ward Parkway is that perfect middle of the road spot for us to meet up for a fantastic Saturday morning!
DETAILED EVENT INFORMATION
9:00 AM – We'll gather up to head out for a 30 minute out and back run. All paces! We're out to have fun and connect that evening.
9:30 AM – Fill your water bottle, grab a snack and settle in for a talk from Amanda on race goals, plus plenty of Q&A!
**SKIP THE RUN. If you're just not up for it, then join us for the talk, the treats and the community.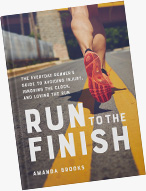 About the Book
Run To The Finish: The Everyday Runner's Guide to Avoiding Injury, Ignoring the Clock, and Loving the Run – is more than a training guide, it's a reminder that we don't always have to chase the fastest times to be a great runner. It's a laugh out loud look at our running, followed by tips that will help you continue running for many years to come.