Denver
Run To The Finish

Book tour
Denver
This is the OFFICIAL kick off night of the Run To The Finish book tour. It's the first day the book is on the shelves in stores and we're going to celebrate!
Location: Berkeley Running and Book Bar
Address: 4280 Tennyson St, Denver, CO 80212
Date: Tuesday, March 3
Time: 6PM
DETAILED EVENT INFORMATION
6:15 PM – Easy 30 minute group run will leave from Berkeley Running Company
7:00 PM – Talk will start at BookBar, followed by Q&A and book signing for anyone interested in my scrawl.
Berkeley: 4568 Tennyson St, Denver, CO 80212
BookBar: 4280 Tennyson St, Denver, CO 80212
**SKIP THE RUN. If you're just not up for it, then join us at 7:00PM for the talk, the treats and the community. It's going to be a celebration and I would love to have you there.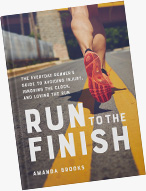 About the Book
Run To The Finish: The Everyday Runner's Guide to Avoiding Injury, Ignoring the Clock, and Loving the Run – is more than a training guide, it's a reminder that we don't always have to chase the fastest times to be a great runner. It's a laugh out loud look at our running, followed by tips that will help you continue running for many years to come.