DC
Run To The Finish

Book tour
Washington DC
What's a great reason to run on a Monday? HANGING WITH ME!!!! And oh yes, I know it's the day before St Pat's, so we'll have a little extra fun because that's what running is all about.
I am so psyched to be partnering with Potomac River Running because we share the philosophy that every runner is a real runner and I can't wait to spend an evening with you.
Location: Potomac River Running Company
Address: 919 F St NW, Washington, DC 20004
Date: Monday, March 16
Time: 6:00 PM
DETAILED EVENT INFORMATION
6:30 PM – We'll gather up to head out for a 30 minute out and back run. All paces! We're out to have fun and connect that evening.
7:15 PM – Fill your water bottle, grab a snack and settle in for a talk from Amanda on the whole idea of feeling like a runner, how to get more people excited and love you run.
**SKIP THE RUN. If you're just not up for it, then join us for the talk, the treats and the community.
PLEASE NOTE ANY BOOK ORDERS AFTER 3/12 WILL BE MAILED VIA AMAZON.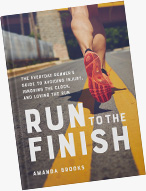 About the Book
Run To The Finish: The Everyday Runner's Guide to Avoiding Injury, Ignoring the Clock, and Loving the Run – is more than a training guide, it's a reminder that we don't always have to chase the fastest times to be a great runner. It's a laugh out loud look at our running, followed by tips that will help you continue running for many years to come.