Boulder
Run To The Finish

Book tour
Boulder
During the Denver book launch, I got a lot of questions about when I would do Boulder…and I was holding out only because I wanted to make it another super special event!!
We're going to have the honor of a LIVE podcast with Another Mother Runner. Oh yes, there will be running and swag and food…but talking hosted by the experts. You don't want to miss out on this fun morning.
Location: Boulder Running Company
Address: 775 Pearl St, Boulder, CO 80302
Date: Saturday, April 28
Time: 8:00AM
DETAILED EVENT INFORMATION
8:00 AM – We'll gather up to head out for a 3 to 6 mile run (the store hosts these every Saturday!). All paces! We're out to have fun and connect.
9:15 AM – Fill your water bottle, grab a snack and settle in for a LIVE discussion with the Another Mother Runner Podcast
**SKIP THE RUN. If you're just not up for it, then join us for the talk, the treats and the community.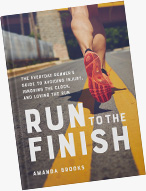 About the Book
Run To The Finish: The Everyday Runner's Guide to Avoiding Injury, Ignoring the Clock, and Loving the Run – is more than a training guide, it's a reminder that we don't always have to chase the fastest times to be a great runner. It's a laugh out loud look at our running, followed by tips that will help you continue running for many years to come.