Atlanta
Run To The Finish

Book tour
Atlanta
This is a SUPER special event because we have so many wonderful people involved and things going on, as we all come together to celebrate the Olympic Marathon Trials!!! I figured with all that mojo going on, what better place to kick off this book tour and with some extra special bonuses turning this in to a MUST NOT MISS RUNNING EVENT.
Charlie Watson of The Runner Beans, who recently released her cookbook, Cook, Eat, Run: Cook Fast, Boost Performance with 75 Ultimate Recipes for Runners, will be co-hosting this shindig!! PLUS, our friends from Inside Tracker have some extra special things planned for the day as well.
Location: House in Atlanta
Address: 124 Thirkield Avenue, Southeast, Atlanta, GA 30315
Date: Friday, Feb 28
Time: 2:00PM
Register Now
Atlanta Event
THANK YOU FOR ATTENDING!
Every Ticket Includes:
A copy of Run To The Finish (if purchased)
An easy 30 minute group run
A post run talk
Food to refuel
DETAILED EVENT INFORMATION
This event will be different from other cities, so here's the run down!
2:00 PM- Gathering at the house
2:15 PM – Charlie and Amanda hosting discussion on not just our books, but around some common sports nutrition questions.
2:45 PM – Easy group run. 100% open to all paces, no runner left behind!
3:15 PM – Finishing up run, grabbing food, drinks from Core Power and more.
4:00 PM – Happy hour hosted by InsideTracker, Rabbit and GU! There will be Normatec boots, libations and grub!
BOOKS
If you register with a book order for this event, I'll be reaching out to collect a mailing address because the actual in store date is March 3 and they won't let me give out physical copies until that date.
Cook, Eat, Run: Cook Fast, Boost Performance with 75 Ultimate Recipes for Runners will be available on site for $10 and of course that means you can get Charlie to sign it for you…but personally, I'd make her record a video with you so you can listen to that great accent over and over!

As always you are welcome to skip the run if needed and simply join us for the chat. Charlie and I can't wait to connect with so many of you in person and of course we need some runfies or groupifies or whatever sounds right for Instagram these days. :)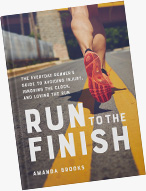 About the Book
Run To The Finish: The Everyday Runner's Guide to Avoiding Injury, Ignoring the Clock, and Loving the Run – is more than a training guide, it's a reminder that we don't always have to chase the fastest times to be a great runner. It's a laugh out loud look at our running, followed by tips that will help you continue running for many years to come.