When it comes to training there are always going to be things that work for someone that don't work for you, but these top running tips are the things you've been searching for most and the articles you've messaged me that made a difference!
N=1 is the scientific way of saying we're all an experiment of one.
Just because the Hanson method worked for your best friend and running in the dark saves your bosses sanity doesn't mean they're required for you.
Top Running Tips of the Year
These must read running articles answer lots of training questions and serve up extra motivation for your new year of goals, dreams and running because we can.
As always, hit me up if you have questions about anything you haven't yet seen on RTTF!
Are you ready for this?
From funny to functional, you guys loved a wide variety of running topics this year!
1. Running Meme's
We laugh as friends mock our desire to spend hours hoofing it "farther than they drive", but the truth is we know we're a little bit crazy.
And even though we pretend otherwise, we secretly embrace our culture of pushing just a little too far for no particular reason.
These meme's, Instagram images and quotes are some of the best I've seen lately to give us all a much needed laugh and reminder that we are indeed special.
On day you need a laugh see which running meme is most you >>
2. Best IT Band Stretches
In 2017, I finally released the 75 page Ultimate Solution to IT Band ebook and you guys have been swearing by it, which makes this runner hear grow 10 sizes.
One of the things featured in that ebook are some of the best stretches you can do to help relieve a tight IT Band.
Get these IT Band stretches now >>
3. Working Out but Gaining Weight
Why on Earth does your weight go up after a long run?
How could you be doing more and weighing more?
First, let's just clear up that muscle does not weight more than fat! 1lb=1lb. But it does take up less space and perhaps your workouts are breaking down your muscles causing some weight gain (breakdown to grow!)
Learn more about why you gain weight after hard workouts.
4. Before Your First Half
Ever look back and think, "ahh if only I'd known"? Sometimes I'm glad I don't know what I'm getting in to when it comes to running…
On the other hand, over the years I've learned a few things that would have saved me a lot of angst, injuries and time. Since many of you have been sending in questions about how to have your best race, I thought they might be helpful!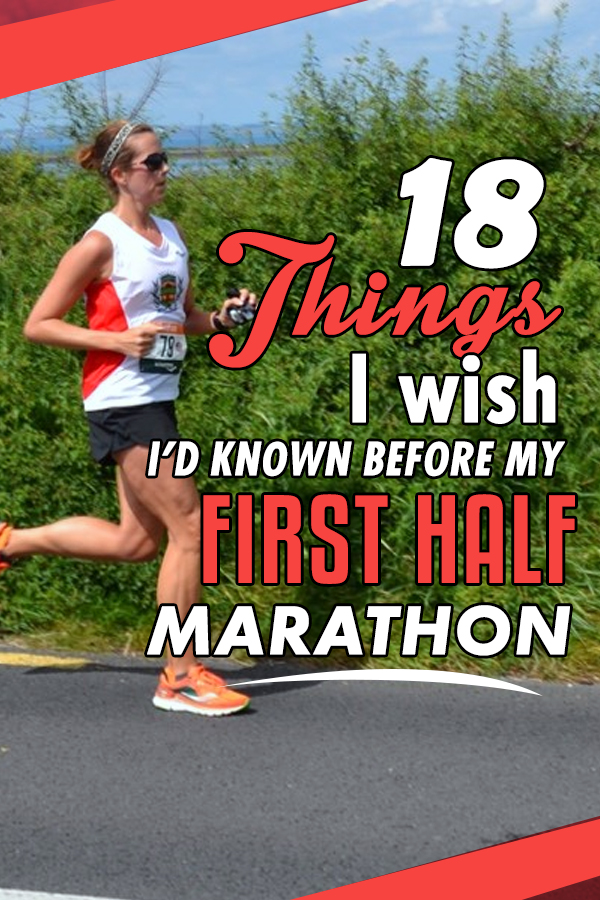 Read the full 18 Tips for Running Your First Half Marathon>>
5. Best Virtual Races
I really never thought one of my top running tips would revolve around virtual racing, but that's what 2020 gave us and of course no one is sure what to expect going forward.
It turns out you can find some great motivation with a virtual race, especially if you make it part of a doing something with a friend. Our Virtual Run Club did a group 5K and it truly helped us all push harder knowing others were out there doing it!
Best virtual races – whether you want a medal or not>>
6. Race Sign Ideas
Nothing about being a race spectator is easy.
The credit usually goes to those on the course, but a lot has to be said for the friends, family and volunteers who get up at dark o' thirty to stand around for hours. For those excellent spectators here are sign ideas from funny to motivational to match your spot on the course.
Get 50 Race Spectator Sign Ideas (funny to motivational) >>
7. Low Heart Rate Marathon Training
With plenty of time for base building, a TON of you got excited to learn more about LHR. Finally understanding how to implement easy runs for maximum benefits.
I've answered so many questions and of course our Virtual Run Club is filled with LHR runners meaning ongoing support and answers to help continue making progress.
Learn more about Low Heart Rate Training >>
8. Eating Plant Based for Performance
Turns out TONS of you are looking for ways to eat a more plant based diet this year! It's all about upping the nutrition, decreasing inflammation, cutting out known allergens like dairy and enjoying your food.
This post includes recipe ideas for every single meal of the day and additional resources.
Read how to transition from a fully meat diet and get some recipes!
I'm not sure anything makes me happier than to see someone sharing an article because they got something useful from it! I've been at this a long time and it's not always easy to tell when articles are truly helpful because we zip through and rarely comment anymore.
MASSIVE thanks to all who have shared, commented and read this year!!
Ready to take your training up a notch in 2021? Must read #running tips
Click To Tweet
9. All the Running Gear
A few more of the articles that got your attention (turns out you had some gear questions!):
10. Coaches Choice
Because I have to call out a few of my favorite running tips, even if they didn't hit the big time…
What would you like to learn about in 2018?
Will your training change next year?
Other ways to connect with Amanda
Instagram: RunToTheFinish
Facebook: RunToTheFinish