What to do the day before a half marathon? When do you run, what do you eat? What do you need to know race morning to finally hit that PR or simply finish your first half marathon?
Training is supposed to be the hard part and race day the celebration, at least that's what we're often told. But for many runners, race day is filled with nerves or they cross the finish line knowing they could have done better…but how?
Here are a few strategies for having your best half marathon.
Pre-Race Strategies
We'll get to the actual race, but first let's start with everything we're doing in the 48 hours before the race. Because if you make a mistake here like eating fried catfish because you're trying to please your future husband…let's just say that you could end up seeing a lot of the Nashville Rock N Roll porta potties on the course.
1. Meal Planning
Don't be like that 25 year old version of me who was starving by the time we found our hotel after the expo and just needed to eat, which lead to finding the only place nearby.
Granted we didn't at the time have awesome tools like Yelp, but I could have done so much more to avoid the situation!
Research nearby restaurants for your dinner and consider something light and eat early.
Bring your pre-race breakfast with you or plan to swing by a grocery store to grab your bagel and nut butter.
Double check that you've packed all the race fuel that you have previously tested on your long runs, including electrolytes.
We LOVE grabbing groceries for the trip overall because it ensures both pre and post race stomachs remain happy and nutrition on point.
2. Start Line Planning
Have you ever had the dream where you're fighting to get to the race, but everything is against you and by the time you arrive everyone has already started? Yeah, most of us have.
Which is why we want to spend a little time planning ahead, to help alleviate that fear and get a better night of sleep.
3. Finish Line Planning
It seems like at this point all you need to do is sit down and eat your free banana. But alas, I've spent many a race wandering around for 30 minutes attempting to find my well meaning spectators or friends, all the while getting colder and hungrier.
Checkout the finish area map and pick a spot to meet your friends and family. Help them understand that it might take a bit for you to get out to them.
Go ahead and check that bag at the start line with some body wipes and dry clothes to change at the finish line. It'll ensure you can hang out and enjoy the atmosphere.
If you have a finicky stomach, then have some of your trusted food ready in that bag or have a plan to find some green juice and a meal.
Start Line Strategies
Now that race day has arrived, you first need to go through my post on managing your race day nerves. Get that under control and then it's time to plot out how you'll be spending that time milling about the start area.
Just get in line. Don't kid yourself, you'll absolutely go and you might as well get through the line sooner rather than later. If you find yourself having that "do I need to pee or not?" feeling as the time ticks down, know that it's most often nerves and once you start running your body has a mechanism to put that on the back burner!
So if you have time, line up again, but if not then don't sweat it.
Don't Skip the Warm Up
As you're standing around with hundreds or thousands of other runners, it can be easy to get lost in the moment and just skip your warm up, but that's a major no-no.
Your warm up is doubly important on race day! It's telling your body that it's time to go, to do what you've repeatedly trained it to do and to ensure that all your muscles are warm and ready to go the second you cross that line.
Go through the dynamic warm up and then spend just a few minutes jogging. The longer the race, the less running around you need to do prior to the race as you can allow your first mile to serve as a warm up.
Where to line up?
Of all the race day mistakes that I've made and learned from there is only one that I continue to make…lining up too far back. This comes down to trusting yourself and your pacing, while also not trusting any of the runners in front of you, ha!
Most often I'll see a pacer that's in line with my goal and line up somewhere in front of or behind them. But invariably, a lot of folks who are going to be walking or going much slower have gotten nervous and decided to start way too far forward. I get it, nerves are taking hold of everyone.
But when you spend the first few miles weaving in and out of people, you add steps to your race and waste a lot of mental/physical energy. Try lining up just a bit farther forward than you think you should if you're going for a PR.
When you're new, make sure you really look for those pacers to help you decide if you're too far forward. It's also no fun to have people whipping around you non-stop for the first few miles, when you're working hard!
Handling the first mile
It's happening, your wave of runners is finally going from a weird run, trot, walk through the corrals and across the start line. This is when a bizarre sprint begins and people completely abandon their race goals to just fly.
Nope, not you.
You know that by holding back in that first mile, you'll get to catch and pass those runners later in the race. You don't want to skyrocket your HR immediately and burn through fuel, along with fatiguing your legs.
Feel like training always goes well, only to have things fall apart during the race?? Then you need to read these Race Strategies! #runchat #bibchat
Click To Tweet
Race Strategies
Let's talk about the smart choices you're going to make with pacing and fuel to stay on track for the duration of the race.
Dialing In the Pace
The first thing you need to know is that more studies are showing that EVEN pacing, not aiming for a negative split is the best way to hit a PR. I think this is because you dial in to a pace and instead of needing to push harder when tired, you simply maintain it.
The goal is to keep it in control during the first mile and from there dial in to your goal race pace. This should feel like you're pushing yourself, but not that you can't maintain the pace for many miles to come.
As you hit the final 2-3 miles of the race, you can start to push the pace if you're feeling good. Just remember that 3 miles is still a long ways to run, which means you need to keep your pace increase small and sustainable.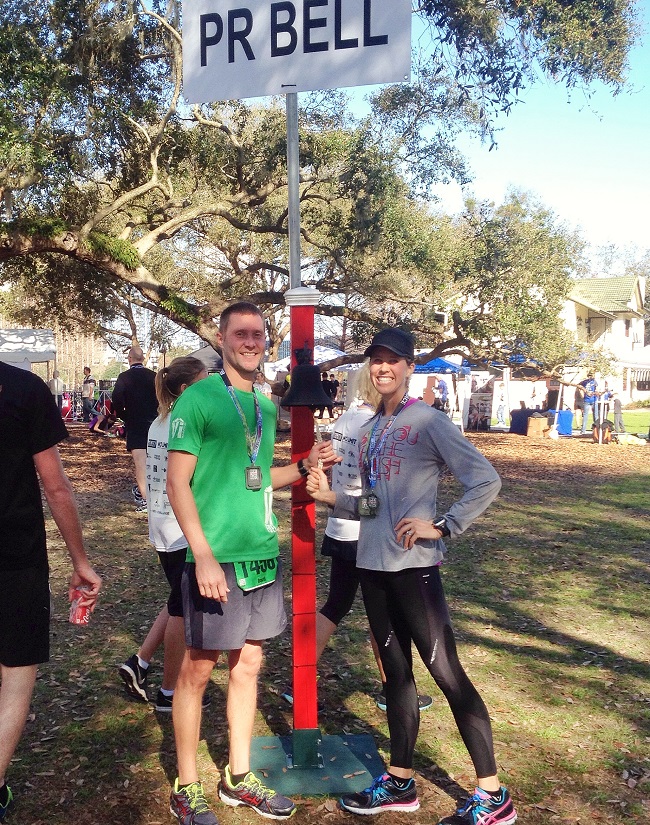 Pay Attention to Effort Levels
Finding our exact pace is really hard!! One of the best ways to do this is to stop worrying about your watch and start focusing on your effort levels.
The first few miles of the race should almost feel too easy
The middle set of miles should feel like a push, but not hard to maintain.
The final set of miles should feel like you're pulling out all the mental tools to hold on, but without feeling like you're on the verge of a complete break down!
Looking at your watch can often prevent you from hitting a new PR. You freak out about the pace, even if it feels sustainable and then you hold yourself back. One of the reasons I often prescribe workouts for the runners we coach as medium or hard effort, is to help them learn just this feeling!
Fueling the Right Way
The final piece to a quality run is learning to fuel from start to finish the right way for your body! This is a massive and detailed post that I've previously written, so head over there for all the tips and some stomach friendly fuel.
What's been the biggest race strategy that's helped you hit a goal?
Other ways to connect with Amanda
Instagram Daily Fun: RunToTheFinish
Facebook Community Chatter: RunToTheFinish
Sign Up to Receive a Weekly Newsletter with Top Running Tips