Are you looking for a lightweight, yet cushioned shoe to carry you from 5k to half marathon. Let me introduce you to the Skechers Razor Excess.
Over the last 14+ months I've had a chance to test out a wide variety of the Skechers performance shoes. The one thing you'll find me saying on repeat is "but they're so light!"
I don't know that I realized my other shoes were potentially heavy, until I picked these up. It's a feature of all their shoes thanks to the Hyperburst cushioning, but in models like the Excess they take it even farther.
Skechers Razor Excess Review
I admit that the first time I run in a new shoe, I'm usually not impressed.
My feet are comfortable in their current cushioned world, which includes a lot of miles in the MaxRoad….but this time, I thought hmmm this feels familiar.
If you like a more minimal lightweight shoe, that has some cushion (like the Saucony Kinvara) this is going to be a winner for you!
I ran in that model for many years, and after a month running in the Excess can tell it's going to be an ideal half marathon shoe.
Loved the weight of the shoe
Loved the light amount of cushion – it prevents you from sinking in to your low back while running
Loved the low heel to toe drop – it's so good for IT Band
Wished I could take out insole to put in a insert
I haven't noticed any issues with rocks getting stuck in the soles, which is something I am aware of with a number of other brands and find it…annoying.
Skechers Razor Excess Specifications
The basic details to help you see what this shoe is about.
Weight: 6.3 oz
Drop: 4 mm
Neutral running shoe
Felt true to size
Toe box is narrow to normal (not wide)
Padding along the top of foot, but not the top of the tongue (truly they cut weight everywhere)
Sole is not removable
SUPER breathable upper (will be quick drying if wet or summer runs)
Goodyear tread for grip, but no big spots that are going to result in rocks getting stuck
Here's where you can Buy the Skechers Razor Excess!
How does it stack up compared to other shoes?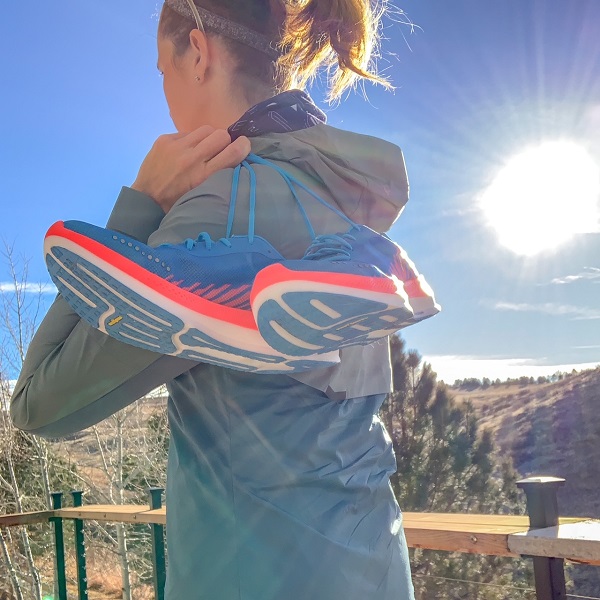 The Razor Excess is a more narrow shoe, so I wouldn't opt for it if you have a wide foot. But it fit me great.
What's the tech look like?
Hyperarc – helps with that roll from midfoot to toe off. I know all Skechers have a small amount of rocker too them, but I don't really notice it. Which is exactly what I'd prefer.
Hyper Burst – This is how they manage to make cushioned shoes that are so stinking light! And it's more resilient than the EVA you find in many shoes (yes your shoes need to recover from workouts too!).
Goodyear Outsoles – Yup same traction as the tires! But they keep it very thin, so again not adding weight.
I know many of you haven't yet tested out Skechers for your runs, but there's a reason that Meb and Kara both happily wore them for so long!
And indeed, I wore the MaxRoad for half of my first Ultramarathon and would fully anticipate you'll be seeing the Razor Excess at my next half marathon (whenever that might be!).

Hopefully, this helps you get a better idea of fit, feel and function because I think you'll be just as happily surprised as me when you put them on and go for a run.
GIVEAWAY
Want to try a pair of Skechers for yourself? Here is your chance!
a Rafflecopter giveaway

Looking for more reviews to find the best things for your run?
Checkout our full page of my must have running gear reviews and guides to save you time searching and money! I share what's worked for me and fellow runners, along with what wasn't worth the price tag.
A few common requests for running accessories:
More gear you want to know about? Let me know.
Other ways to connect with Amanda
Instagram Daily Fun: RunToTheFinish
Facebook Community Chatter: RunToTheFinish
Get more running tips: Pinterest
This post is sponsored by Skechers, but all opinions are my own.