A RunToTheFinish Original
Filmed over 10 minutes, this real-life thriller follows a run gear junkie who, while exposing others to the benefits of running, becomes a addicted to high quality gear.
Making a Run Gear Junkie chronicles the cotton and dry fit years of Amanda Brooks in her quest to enjoy the run. Let her lessons be a warning…you to can get sucked in to a world of beeps, blings, tagless, seamless, chafe free gear.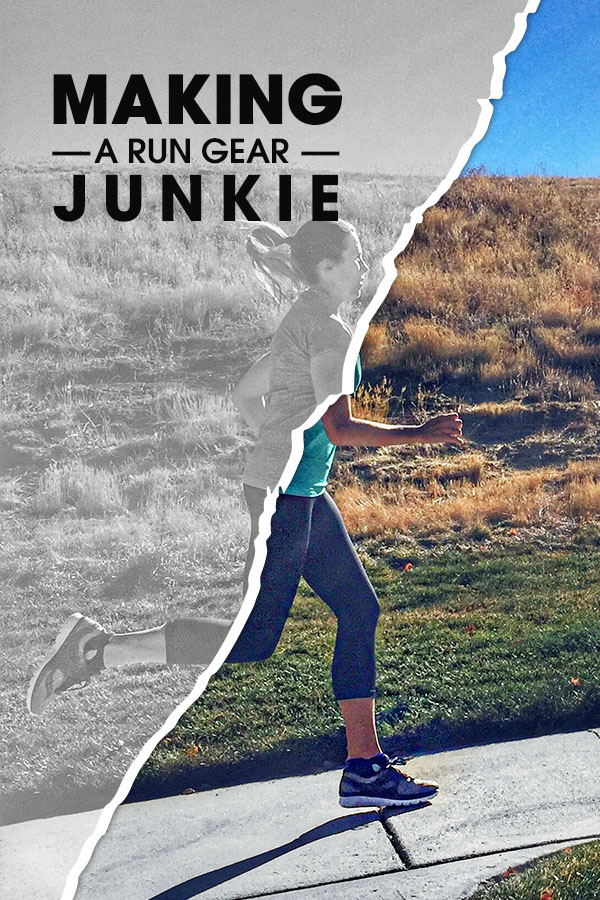 Episode 1: 19 Years Lost
She grew up a normal little girl, wearing pink fluffy rabbit slippers and pigtails. She ran around barefoot in the grass, playing tag and the infamous don't touch the ground because it's lava on the swing set.
She wasn't concerned with pace, dry fit, toe boxes or any other detail of running. It was really just about using up endless amounts of childhood energy.
But maybe that's because she simply hadn't been exposed…yet.
Episode 2: It Begins
What comes first the running or the gear obsession? In her case it was 100% the run.
She didn't know that the right shoe meant no blisters.
She didn't understand that dry fit meant feeling more comfortable.
She didn't know you could find shorts you didn't have to roll the top down on.
And it was 2002, so like cell phones, running gear was just beginning to take a turn to the future with an eye on technology. As the miles increased, she began to seek out tools to enhance her joy of the sport. Anything that would give her data, help her runs feel easier and more fun.
Then a tall burly friend convinced her to run the Oklahoma City Marathon in 2005.
After months of coming home to map out runs on the computer and find out if she hit her mileage goal, it was time to shell out moola for that first GPS.
It was a downward spiral from there. Her gear love became well known and suddenly her closets overflowed with new GPS watches, high tech fabrics and varying sizes of running shoes. But her minimalist nature won over and eventually she paired down, said no and found her favorites.
Need a good laugh and some new gear? Checkout Making a Run Gear Junkie #runchat
Click To Tweet
Episode 3: The Unboxing
2016 brought a relapse. It was both a bright sunny Fall day and a dark day in the Brooks house when the doorbell rang and on her doorstep sat the new Saucony RunBox.
I think the joy you see in this video, will prove that these boxes are dangerously awesome…you'll love it all and want more!

Saucony RunBox. Shop Less. Run More.
The motto says it all…her gear loving nature had no chance. Suddenly it's easier than ever to get the goodies she wants! No spending hours researching and ducking into the cold dressing room where you try to pull everything off without touching ANYTHING…we're back to don't touch the ground of her childhood.
Instead for $200 a great RunBox filled with at least 1 pair of running shoes, 2 tops, 1 pair of shorts or capri's and even sunglasses will show up ready to set your next run on fire. Who can resist?! The prices and details of the included pieces in my box are listed below (and in video) to give you an idea of the value.
Triumph iSO3 Marle Edition ($150) – A neutral running shoe, that is award winning. I've run in past versions and still love the cushion.
RunStrong Sportop ($80) – Winter training isn't so bad when you've got the right gear! This is soft, cozy and still performs well!
Dash Seamless Short Sleeve ($54)– I'm all about the seamless shirt! It means less chance to chafe and just looks good!
Scoot Capri ($55) –  Snug fit provides plenty of support and some pockets for keys, gels or other whatnots.
Good Running Sunglasses ($25) – No slip, no bounce, all polarized, all fun with the Saucony logo etched on the front.
Now because it's the holidays, she's thinking of others and feels confident she can pull herself back out of this gear junkie spiral.
Happy Turkey Day my US friends! Hope this made you laugh a little, as it was fun for me to think out loud today!
Have you tried any boxes like this?
What gear motivates you the most?
Other ways to connect with Amanda
Instagram: RunToTheFinish
Facebook: RunToTheFinish
Get new posts via BlogLovin
This post is sponsored by Saucony, they definitely want you to know the rest of this nonsense is all my own thinking.