Every runner has a story.
I'm fascinated with learning them.
Digging in to that unique moment that made someone decide to lace up and do something that the rest of the world frequently reminds us is HARD. These stories confirm that running is about more than a finish line time, a distance or a look…it's a life.
But for many of us, our running story is intermingled with many of our other stories…it's only once we finally embrace being a real runner that the other stories start to lose their hold.
My Weight Story
I've maintained my weight loss for so many years now with ease that I really don't talk about it much. It's not because it was easy breezy, no, no I went through years of mentally beating myself up and trying what I thought were "perfect" training plans to get that dream body.
In fact, sometimes I don't talk about my weight loss because it was JUST 35 pounds. That's right, I look at people sharing their Transformation Tuesday stories of hundreds of pounds lost and think "man maybe I could reach more people with my running changes you message with a bigger story!"
But really, the weight loss isn't my story, it's a chapter.
An important chapter that shaped in many ways, but not the one that drives my running or the woman I am now.
I have a proven system that's kept me in a happy weight for 13 years now, when I spent the previous 10 frustratingly attempting a million different things with lack luster results. I just don't spend a whole lot of time dwelling on the weight because now it's all just habit.
My story is about the run.
My story is about nights of teenage angst worrying that the reason a blue eyed boy wasn't "in" to me had to do with the size of my jeans.
My story is about a college girl seeking acceptance, who sweated 80 hours a week in the HOTLANTA sun, knocking on strangers doors to sell them educational books because of a new blue eyed boy.
My story is about being an athlete who never really owned my full capabilities because I wasn't the best on the team.
My story is about the moment I decided I was a runner and it flipped everything I thought I knew about myself.
My confidence soared, my body image shifted, the weight started to disappear for good and I suddenly knew that I was capable of more. And yes, it was after that I met the blue eyed boy who would become my husband and love me for that drive and confidence.
Because of running so many things in my life have changed and I've shared much of that here over the years, so instead I want to open this up to other stories.
What's Your Running Story?

It's time to look beyond pace and distance to the real stories of why we run.
Previously on Instagram and Facebook I asked for your stories and I want more!!!
I want to further our community of support, since we don't all have it in person.
I want to feature them to remind us all of WHY we run.
I want us to find the power in putting one foot in front of the other, regardless of pace.
When I put the call out, a few of you stepped up to the plate, ready to bare your runner sole (common that's funny).
I hope you'll read a few, find a few people who inspire you and if you've been too afraid to start running…realize it's never too late and you're never too slow.
rachelanne_n
I just started running this year! I Am a mom to two very busy little girls, run breaks help me keep a clear head! I had the goal of running a 15km race, which I did. And that wasn't enough! So I am now training for my first half, which I am excited and nervous about. I am looking into picking my races for next year too! Planning to run my first out of province race in Arizona in feb! And adding a full marathon into the mix next!
lindsayloveslettuce
I started running a year ago to lose the baby weight and now I'm addicted! I used to hate it, but now I see it as the best "me" time I can have as a mom.
Have a running story that needs to be told? Here is your chance! #runchat #FitFluential
Click To Tweet
byewarren
Started running after I had my daughter. Did my first ever 'race' 5kms earlier this year, then a few months later did my first ever half marathon! I struggle to find the time to run being a working mum but love it all the same! ? I love the story (or stories!) that come with every race!
The people you meet, the smiles you see, the heartache in some, the community of running and people coming together.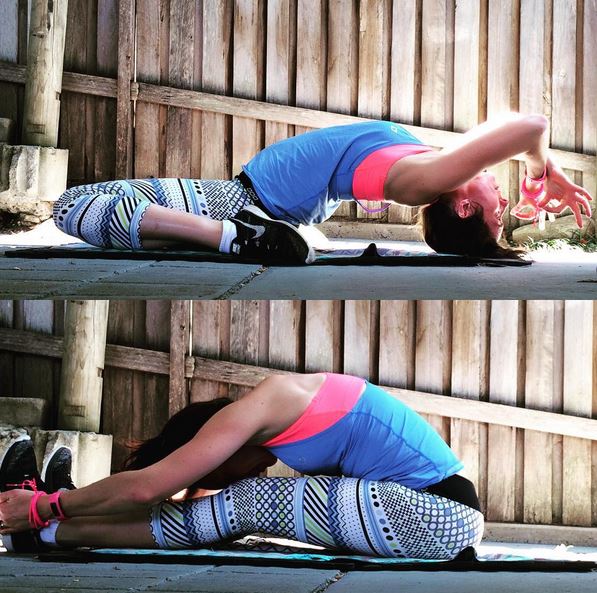 bits_of_everything
I've been a runner since I stepped on the track my freshman year of high school which led me to running competitively at the D1 level and now I just run for fun with no actual goals but to have fun with it which has been a nice break from the intensity for so many years!
andystitt829
Lost my Dad in June. Wanted to take my walking to the next level. Friend pointed me to a 5K mud run in September that's a fundraiser for leukemia, which is what killed my Dad. Been training for the past month. Did half a mile day one, did 2.21 miles today.
jessicadee
I started running after I had my 2nd child (6 years ago) & made it a goal to lose the baby weight by doing my 1st half marathon. I loved it & love races, running is now my favorite. I'm running my 2nd marathon this year & I'm so excited!
stephmariecarlson
I was diagnosed with high blood pressure with no known cause at the age of 26 and was put on 3 medications to control it.
I did some research and found running helped lower blood pressure so I jumped aboard the running train and haven't looked back since. After three years I'm down to 2 meds, completed 2 half marathons, a couple 5Ks, a 10K and completed my first marathon in April. I've had a hard time getting back to road running since the marathon, but discovered trail running and love it!
I will be getting back to road running soon as I will be completing my first Ragner race in October and deciding on the next marathon. I have made amazing friends through running and found my better self along the way! Cheers to new running friends!
Stuck? Tired of not making progress? It's time to get fired up and this will do it!
Click To Tweet
Maggie
I quit smoking…then i thought…if i can do that and all my co-workers are still alive…what else can i do? So i started running figuring i might lose some weight…i lost 40lbs…what else can i do? I was pre-diabetic and had high blood pressure…so i kept running…i don't have those ailments anymore…what else can i do?
Do you ever think about how fitness has changed your life?
Have a story I need to share??
Leave me your story below with how I can contact you! If I can share it, I'll reach out to grab photos or with extra questions.
If you know someone who is stuck right now in fitness, health, business…I hope you'll share this. It's a reminder to us all that doing hard things isn't the worst thing in the world.
Other ways to connect with Amanda
Instagram: RunToTheFinish
Facebook: RunToTheFinish
Get new posts via BlogLovin