If you like running at night, or during low-light conditions such as dusk or dawn, making sure you're visible with reflective running gear is something you should never compromise on. Honestly, who hasn't seen the sun rise on a run and thought, yup super worth starting in the dark?!
While I admit to enjoying the initial cooldown of fall mornings for a run, I don't love the increasing darkness. Beyond a headlamp to help me see, a big factor in becomes reflective running gear.
I know you love your black workout clothes, so we're going to find some pieces that aren't neon, but still reflective!
Wearing reflective clothing helps you stay visible, and safe, helping you enjoy your runs fully.
In this article, you'll learn all about reflective running gear you can use for 360-degree visibility.
Why Wear Reflective Running Gear?
If you happen to love running early in the morning, or running late in the evenings, then you're running during a time when visibility is low.
This makes it absolutely essential to be seen by oncoming traffic so that you're safe when running.
Practicing running safety becomes paramount in such situations, and that's why I always recommend runners look into reflective running gear to ensure safety.
Is It Safe to Run At Night?
Running at night can be safe as long as you take some precautions. And in fact, it's necessary for those doing ultra runs or even practicing for night legs of a Ragnar relay.
One of the most common recommendations is that you should run in well-lit areas with lots of people. But as noted for trail runners that may not always possible or you might live outside the city.
SO then we need to focus on doing your best to make sure cars coming the other way can see you.
Even if you are wearing reflective gear when you run at night or in low light, just assume that no one can see you and be aware at all times.
Also, make sure you don't listen to music that's so loud that you lose situational awareness. It's simply too important to be aware of what's going on around you.
This early morning view is what gets me out of bed. And makes it worth spending a couple minutes to find some gear that helps me be visible when a runner or mountain biker might be headed my way on the trails.
What to Look for When Picking Reflective Running Gear
Everyone wants to look good in their running gear, whether it's reflective or not. When exercising outside, reflective running gear is essential for visibility.
Keep the following factors in mind when picking your reflective running gear:
Lightweight and Breathable
To make a material reflective, micro glass beads designed to respond to incoming light are applied to the surface of the material.
This coating is suitable for most materials, including polyester and spandex, which are frequently used for lightweight running gear.
Adding reflective elements to your running clothes should be a simple change that doesn't add any noticeable weight.
In the same way, reflective gear doesn't need to make you extra sweaty. Look for moisture-wicking materials as you normally would when picking running gear.
Features like mesh panels for breathability are always a good idea for added ventilation, especially if you're running in humid conditions. Reflective running gear can offer 360 degrees of visibility without being a pain to wear during runs.
Type of Material
There are many times of reflective materials. The more common one that we've seen people use at construction sites is known as high visibility (hi-vis) material. It utilizes contrasting bright colors to improve visibility from every angle.
The other type of material is made of a high-performance fabric that reflects light from your immediate surroundings.
When the reflective material reflects the light back in their direction, a driver will notice a runner. Remember that it will only work if a light shines on it.
This is Safety Skin stick!
Waterproof or Sweat-Resistant
Reflective materials are frequently waterproof due to their coating. When running outside, you'll never regret not having a water-resistant hat, jacket, and pants.
Moisture-wicking materials also help you feel less sweaty, making the running experience a lot more enjoyable.
Storage and Other Functions
Some reflective accessories also function as storage. Visibility is important, but safe storage is also important when running outside. Reflective vests can be a great idea in such situations.
Similarly, think of any other function your reflective running gear can wear. Many bands, pants, shirts, beanies, headbands, etc. exist on the market. As runners, we have a ton more options now than decades ago.
Durability
Buying reflective running gear that you won't be able to use in just a few months is never a good idea. Make sure to always buy gear that's durable and can last through your runs.
Durability doesn't always mean you have to pay a hefty amount for your gear. Many of the options in this article are affordable for all types of runners, even students working part-time jobs.
I would, though, always recommend focusing on your safety and never compromising on being safe by wearing reflective running gear.
What's Best Reflective Running Gear in 2022?
Let's go from head to toe! While many pieces have small bits of reflective stripes, we're going for a little more full on vision here!
Many of you are not in to neon, so you'll find the majority of reflective running apparel options here are about the reflection that happens when hit by light, rather than the always visible neon yellow. Though you'll find some of that too!
Look for ✅ to find things that I've loved or have gotten great recommendations on from other runners.
Have tried to list most recent prices, if you see a sale GRAB IT! Good running gear ain't cheap.
Reflective Beanie for Runners
Morning runners know that a beanie becomes a standard part of the attire for a good portion of the year. I figure if it's something I know I'll be wearing then I could make it do double duty.
This ponytail hat has a reflective logo and cover stitching to complement the solid black fabric. During dark winter runs, these accents improve your visibility on the road. It's made of a light reflective material and costs $26.
This beanie features reflective graphic detailing for visibility in low-light conditions. It's lightweight and warm offering 360-degree reflectivity and is the reason why I wear this during winters.
It's also priced at only $9!
When you don't need warmth, this is great with lots of reflective dots. It features a white moisture-wicking fabric with silver reflective printing that is intricately designed. It's a great hat that will keep you safe and visible at night on the trails and roads.
It costs $16.
Reflective Neck Gaiter for Runners
While a neck gaiter isn't normally on my list, many of us are now running with them more than ever to protect those around us. They may not be as effective as a mask for indoors, but seem to still be a good option for outdoors.
ASICS Hybrid Lite Gaiter: This gaiter features an all-purpose, multi-functional design for versatility. Use it however you like and it'll do the job well!
BUFF Reflective: This is a one-size-fits-all, breathable gaiter that also offers sun protection at UPF50+.
Reflective Elasticated Bands for Runners
Elasticated bands are an excellent way to improve the reflectiveness of your running gear.
These reflective bands come in a variety of shapes, and sizes, and have many color options. Plus, they can be worn over your existing outfit.
Because the elasticated material ensures a good fit for the majority of users, these pieces of running gear are a universal and affordable way to promote visibility without investing in a new outfit.
Reflective bands from YOA are stretchable and visible from up to 700 feet away. Three horizontal stripes run through their design. Two are luminous yellow, one is reflective silver, and all promote visibility.
Because these bands are made of elastic material, they are adaptable to all runners and can be worn on the wrists or ankles. They cost $6.95 for a pair.
Reflective Jackets for Runners for Runners
Reflective running jackets can run from those that are full on YOU WILL SEE ME to many using high end fabrics to create jackets that look stunning in the daytime and brilliantly bright at night. Thanks to the different things they weave in to the fabric which make it light up when hit by headlights.
Since moving to Colorado I've become obsessed with finding great running jackets, they just make life so much easier. Most of these are lighter weight, so you can wear them starting in the fall.
✅Brooks LSD Running Jacket – A not in your face reflective jacket you can wear when it's cool, but it's a basic jacket with no hood or pockets. ($45)
Reflective Running Pants
Reflective leggings tend to have a small piece around the ankle, maybe something along the calf most of the time. I like that these pieces have more reflective hits and yet if you're simply wearing them around you won't even realize it's there!
✅New Balance Reflective Heat Tight – Fantastic winter option, I've run in other tights of theirs ($98)
The mad dash is reversible and the black pair has a reflective strip along the ankle.
Reflective Running Shirts
If you can get your hands on any SeaWheeze running gear before it's out of stock, you'll find they have a variety of pieces that are reflective and of course the great Lululemon style we love. Just be willing to pay that exclusive SeaWheeze price…ouch.
BONUS: Since most shirts just have the small piping, consider this Safety Skin stick!! Yup, you just swipe it on like you would your glide, but it's going to make you reflective.
Reflective Running Vests
If you'd prefer to keep your reflective gear to accessories, then let's talk about reflective running vests you can pull on over any outfit to keep you safe.
Nathan Runner Vest – my entire Ragnar team used these multiple years, works great ($30)
NoxGear Visibility Vest (and they have one for the pup!!) – For me this feels like too much, others couldn't recommend it enough! So see if it's for you. ($54)
Amphipod Vest – I like that it's not neon, though neon does add another layer of visibility! ($29)
Of course these are just some of the base ways you can be visible!
It's never a bad idea to grab a blinky light (or go crazy with reflective calf sleeves), to run in lit areas if possible and ALWAYS RUN TOWARDS traffic. You need to see them, so you can move if necessary.
In fact, it's the law for you to run against traffic if using the road.
All right, now that you have the options, NO EXCUSES!
Wear your reflective running gear.
Be visible.
Be safe.
Don't let the dark hold you back from enjoying your runs.
And of course consider a good headlamp for runners, so that you can see as well as be seen.
Looking for more reviews to find the best things for your run?
Checkout our full page of my must have running gear reviews and guides to save you time searching and money! I share what's worked for me and fellow runners, along with what wasn't worth the price tag.
A few common requests for running accessories:
More gear you want to know about? Let me know.
Other ways to connect with Amanda
Instagram Daily Fun: RunToTheFinish
Facebook Community Chatter: RunToTheFinish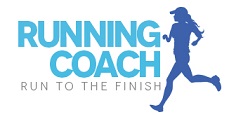 Sign Up to Receive a Weekly Newsletter with Top Running Tips and Laughs