After months of training and hours of running it seems you're finally free of following a plan, tracking your life and worrying about making the right choices…
But smart runners know a post race recovery plan is a key factor in ensuring you're able to come back strong, spend a little less time wobbling down stairs and don't find yourself on the injured reserve list.
Why do we need time off after a race?
Recovery is important for both the novice and elite runner because the toll of 26.2 miles on the body is just the same regardless of finishing time.
One study showed that it takes a minimum of 14 days for muscle inflammation to decrease and return to full power, while other studies have proven it can compromise the immune system for the same period of time.
Why don't we take time off post race?
The race didn't go our way and we want to try and cram another one in soon
We started running to lose weight and fear weeks of not running
We are afraid of losing all our fitness
We are totally addicted to the endorphins
Unfortunately without good recovery all of our initial reasons for not recovering can lead to injury and burnout. Following is a guideline to maximize recovery in the first two weeks post race.
Immediately post race
Begin refueling with whatever food your body can tolerate, but ideally a sports drink to replenish sodium and electrolytes, along with a high quality carbohydrate and protein. Often the easiest choice is a green smoothie, until hunger fully sets in later that day!
Carbohydrates – your muscles are primed to replace depleted glycogen which will speed recovery so grab that banana or head out for your celebratory pancakes
Water – Most of us are not able to maintain complete hydration, so start sipping and keep sipping. Don't feel compelled to guzzle as this could lead to an upset stomach.
Keep moving – Try not to stop and sit right away, the slow walk through the finishers chute is good to keep the legs from freezing up.
Ice or Epsom salt bath – Studies go both ways on this, I prefer a nice hot epsom bath to loosen muscles, but an ice bath can be great after hot races.
One Day Post Race
Get in some movement to loosen up the muscles. Consider getting a light massage to simply encourage blood flow to the muscles which along with compression will help encourage recovery. Do not get a deep tissue massage that will only further inflame the muscles at this point.
Continue to focus on enjoying high quality anti-inflammatory foods. It doesn't mean you can't enjoy any treat meals, but the more greens, veggies and quality proteins you ingest the quicker your body will repair. If you are feeling a lot of soreness consider using tumeric capsules in place of an over the counter medicine.
Sleep – You've heard it before, but sleep is one of the best recovery tools available. If you are traveling and having trouble consider taking melatonin (natural hormone).
Compression – I'm a HUGE fan of compression for recovery. It simply increases blood flow to the area which promotes recovery.
Heat or Ice – If you're having pain use ice for swelling and heat for tightness.
When can you start running again post marathon? Find out and stay injury free
Click To Tweet
Two-Three days
Keep the movement easy with some walks or restorative yoga. This time is all about slowing down, taking time to relish the culmination of months of work and continuing to treat your body well.
Even if you are beginning to feel better, resist the urge to run.
Your muscles have more microscopic tears than you realize and the added rest will help ensure you don't jump back too quickly leading to injury.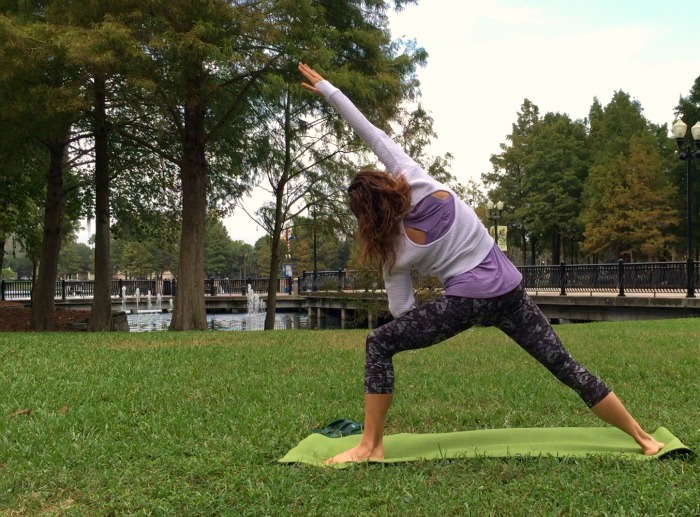 Four-Five days
Add in light cross training if desired, but this isn't the time to head to your first CrossFit class no matter how good you might be feeling. This is also a good time to schedule a deeper massage to flush out the muscles and break up any adhesion's.
Schedule a deep tissue massage
Walk, yoga, easy swim
Recap your marathon for friends at least one more time
Six-Thirteen days
Let your body be your guide to exercise, but keep the intensity low and only run if nothing hurts. All runs should be done at a very easy, relaxed pace.
This is the perfect time to get back to that cross training you may have neglected like riding the bike, swimming or lifting weights (focus on upper body only workouts for a bit, they will make you a better runner).
Most runners will find that the longer they have been running, the sooner they can resume running because their muscles are used to hard efforts.
Researchers from Ball State University compared a group that didn't run for a week with a matched group that ran easily for 20 to 40 minutes a day. The non-runners scored better in tests for muscle strength and endurance 10 days after the marathon.
Sample Recovery Week

Monday: Restorative yoga and a little walk
Tuesday: Walk and more restorative yoga
Wednesday: Walk and upper body weights/core work
Thursday: Walk and Vinyasa yoga
Friday: Walk and Pilates
Saturday: Walk and yoga
Sunday: Easy 1-2 mile run and walk
What is restorative yoga?
It's usually the nemesis of runners who prefer to be moving quickly and working up a sweat. However it's a great tool that can be used throughout training and in particular during the first week post race to help the body settle back in to alignment and release tightness without overstretch or over exerting the muscles.
Following are a few restorative poses that help to release a tight low back and de-stress the entire body:
Legs against Wall – Performed with bolster under your legs, hips or back.
Supported Child's Pose – Sitting on knees, press backwards so you are folded over your legs with a bolster under your chest.
Reclining Bound Angle – Laying on your back with knees bent and feet together, then allow knees to fall out to the side.
Hip release – Laying on your back in corpse pose (fully relaxed all limbs straight), place a block under your hips.
Why all the walking?
Complete rest post race can cause the body to feel stiff and tight. Walking is a great way to get the blood flowing and many find it reminds them to slow down and enjoy things they are often striding past while buried in their headphones.
How long do you take off from running after a race?
Ever had post race blues?
Other ways to connect with Amanda
Instagram: RunToTheFinish
Facebook: RunToTheFinish
Get new posts via BlogLovin