Feeling inspired by watching not only the elites, but the everyday runners who have pushed themselves to attain the requirements for Boston made me put to the side any scientific writing today and focus just on a little bit of motivation.
If Boston got you to thinking about your own big running goals, I hope these might help keep you going!
If you're in need of a mantra, rather than a quote, checkout this list>>
Runner's World – Desi Linden
"You have to forget your last marathon before you try another. Your mind can't know what's coming" –Frank Shorter
"If you want to become the best runner you can be, start now. Don't spend the rest of your life wondering if you could do it" –Priscilla Welsh
"In running, it doesn't matter whether you come in first, in the middle of the pack, or last. You can say, 'I have finished.' There is a lot of satisfaction in that." – Fred Lebow – New York City Marathon co-founder
Saucony (they do some great quotes!)
"Ask yourself: 'Can I give more?'. The answer is usually: 'Yes'." – Paul Tergat – Kenyan professional marathoner
"The race always hurts. Expect it to hurt. You don't train so it doesn't hurt. You train so you can tolerate it." – can't find original quoter
"I always say if the marathon is a part-time interest, you will only get part-time results." Bill Rodgers
Oiselle athlete Kara Goucher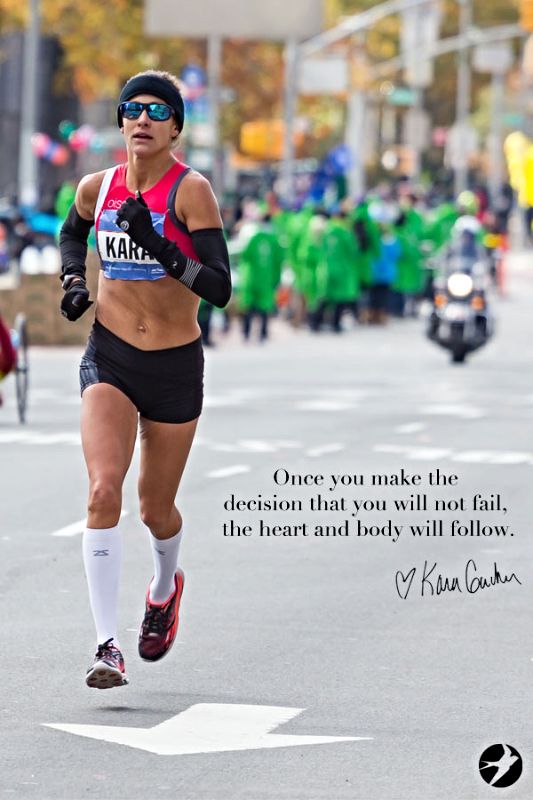 "Never underestimate the power of dreams and the influence of the human spirit. We are all the same in this notion: The potential for greatness lives within each of us." Wilma Rudolph winner of 3 Olympic gold medals
"All you need is the courage to believe in yourself and put one foot in front of the other." Kathrine Switzer
"Some of the world's greatest feats were accomplished by people not smart enough to know they were impossible."   – Doug Larson
Dean Karnazes (original photo source unknown)
"Confidence is not some nonphysical quality snatched from the spiritual dimension and installed in the mind. It is the feeling that arises when the body's knowledge of itself is in harmony with a person's dreams."  – Matt Fitzgerald
"Most of us have enough areas in our lives where we have to meet others' expectations. Let your running be about your own hopes and dreams. -" Meb Keflezighi
From the Mayor of Running Bart Yasso at Runner's World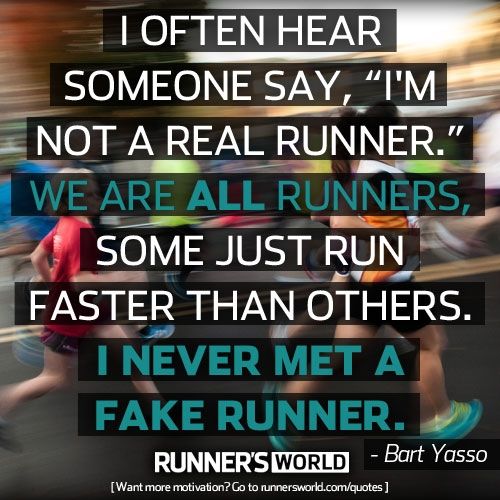 "A goal is just an awesome way to force growth on yourself." Deena Kastor
"When you run the marathon, you run against the distance, not against the other runners and not against the time." Haile Gebrselassie
"It could all end tomorrow, so enjoy what you have and never take it for granted. And never forget to take an easy run for yourself once in a while and just remember why you love to run." Dathan Ritzenhein
"When you recognize that failing doesn't make you a failure, you give yourself permission to try all sorts of things." Lauren Fleshman
"Winning has nothing to do with racing. Most days don't have races anyway. Winning is about struggle and effort and optimism, and never, ever, ever giving up." – Amby Burfoot
Original source unknown
"For an athlete, the biggest pressure comes from within. You know what you want to do and what you're capable of." Paula Radcliffe
Did you watch Boston?
Do you have a big running goal?
Other ways to connect with Amanda
Instagram: RunToTheFinish
Facebook: RunToTheFinish
Get new posts via BlogLovin