After 5 years of blogging and attending conferences for my job as a consultant, I have been on the fence for years about the value of attending a blogging conference. Now I'm at my second one in a matter of months and have plans to be at more! Turns out a blogging conference is a million times different than one for business and for the cost of the ticket, it's a great time.
First everyone wants to be there, which seriously changes the atmosphere. Second you're surrounded by like minded people which means the creativity starts flowing almost immediately. For me the most exciting thing at both HLS, FL Blog Con and Fitbloggin is all the inspiration to take your blog in to the real world!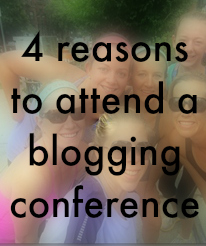 Whether that means freelance writing, a full time job or simply interacting more with your community. Here is why I think these conferences are a must for newbies or long time bloggers:
Friendship: After we leave school it becomes harder to find true friends, but these conferences are filled with people who share the same interests! It makes connecting easy and definitely adds a new dimension to reading their stories.
Networking: Even if you aren't trying to grow your blog in to a mega site, meeting great people and brands will help you enjoy the process more! When folks ask me how I work with such amazing brands, this is it. I took the time to get to know them and them me, thus we could decide if it really was a great fit.
Inspiration: I have a list of story ideas a mile long now for RTTF. Inspiration goes well beyond story ideas. It's connecting with readers, making a difference with your blog, using your blog to land a dream job(besides blogging), being more efficient and spending less cranking out a great stories…see inspiration on many levels!
Affirmation: I think every blogger has had a moment or two of "aw chuck it, why am I doing this". A weekend with many fearless, strong and kind ladies reminds you that no matter how big or small your corner of the world, blogging opens you up to new amazing opportunities!
EVERNOTE
One tool that I love for conferences is Evernote. This is a free app that I use all over the place because I can sync it from my phone, iPad and computer.
–Make notes on people you meet so you can remember them later.
–Record the speaker and make notes at the same time. It will then time mark where you made the notes so you can go back and correlate what they said with what you wrote. Because don't you always have that moment later where you look at a note and think WTH was I trying to say?!


–No Internet required, so you can catch up on notes on the plane, then sync later.
Any tools you love for conferences?
Have you been to a blogging conference yet?
Still unsure? Checkout why meeting strangers isn't as strange as you think.
——————————————————-

Gratitude Journal
Sept 23
I am grateful for technology that means I don't have to retype notes or read my super fast writing scribbles.