One of the downsides to Instagram is it takes my wanderlust from around a 70 to about 99 everyday!
And one of the spots that I kept seeing was Lake Powell and the surrounding area, though I didn't realize it because of the trail location tags. This trip gave me an opportunity to enjoy the Lake Powell Resort right inside the national park, boat tours, and a bit of trail time, so I'm sharing here for those who might be looking to fuel their own wanderlust.
Lake Powell Resort
This resort is situated on the lake in Page, Arizona. There is actually a small airport there, so if you aren't road tripping it you can fly in and take a short ride to the resort. You also have the option of camping or a houseboat (I did that in France and it was a cool experience).
We toured one of their newest houseboats and a few of the girls said they'd done it with their families there…and yes my wheels are turning. What an incredible way to spend some summer fun days!
On Site Dining
Since we were just past peak season, The Rainbow Room was the only on site restaurant for breakfast and dinner (we were out and about during the day). Dinner options are high quality seafood, meat, and salad options with a plethora of appetizers that we may have ordered all of one evening!
Breakfast has an omelet bar, buffet and small menu. It's a great standard breakfast option that will work for just about anyone. The dairy free folks like me will be looking to their tasty oatmeal and vegetarians can enjoy the eggs.
Amenities
I mean with the lake and the views, you hardly need much more! Boating, kayaking, swimming, it's literally at your fingertips. But they do also have an outdoor pool and hot tub, along with a small gym with free weights and a couple treadmills.
Luckily this was a trip where I got to run the nearby Rim Trail and simply up the road to the resort where the views were insanely wonderful.
Lake Powell Boat Tours
One of the easiest ways to explore the area is through boat tours! I admit initially, I wondered if all that time aboard would make me motion sick, but the lake is so flat that wasn't an issue.
Really the biggest issue is that I wanted off to hike around everything I was seeing, but that would make a half day trip more like a three day trip. For future trips, I'll be looking more in to hiking local trails and finding ways to explore on foot…you know this girl has gotta move!
Glen Canyon Boat Tour
Day one we enjoyed a tour that's recently returned to the area and allows you to see the famous Horseshoe Bend from a whole new perspective. While others were above taking photos, we were floating through the Horseshoe eating our lunch and then being serenaded by one of the coolest tour guides ever!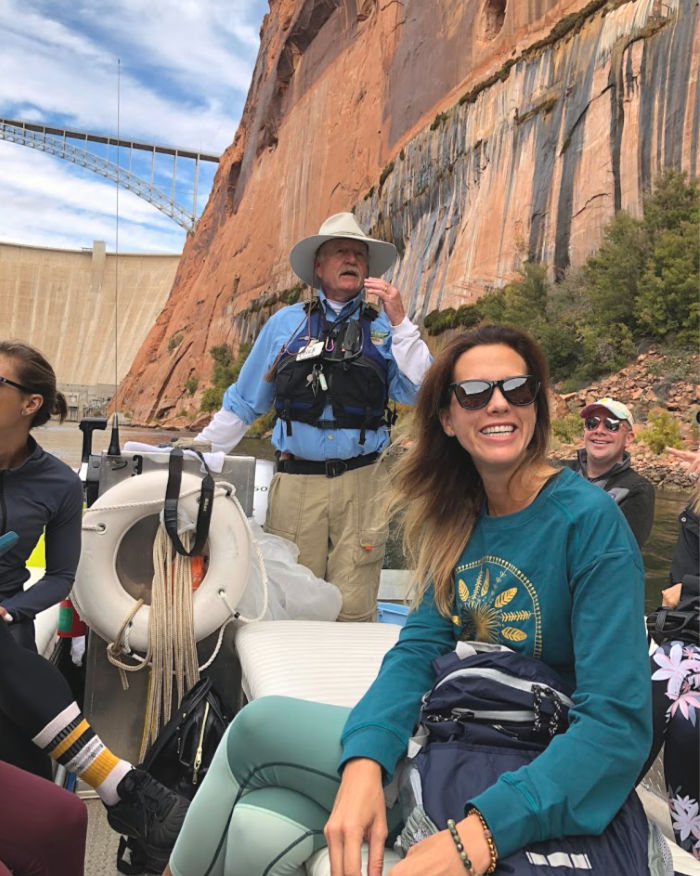 The tour starts at the Glen Canyon Damn and is a easy float on a powered boat along the canyon for a half day trip. You'll see canyon walls up to 2500 feet, stop for a moment to see some petroglyphs and in general be surrounded by incredible beauty.
We were there on a perfectly flat water day, but as you can imagine if it's windy it comes whipping through those canyons and can create some big waves…that would have been a bad day for me!
After finishing the float trip, you'll take a bus back to the drop off point and that's when we did something extra. We drove over to Horsehoe Bend at sunset, so we could see from above where we'd just been floating.
These are definitely some of the iconic photos that keep popping up on Instagram! It's a very small parking lot, so if you go during peak season expect you need to get there early to even get close to it.
After parking, you'll walk just 5 minutes or so to the edge of the canyon where you can then take in this beautiful space. PLEASE be careful here, we all want the epic photo, but this is truly a massive cliff you're looking over and we saw some people trying to get things like handstand photos…eik!!
Also don't be the jerks who set down their chairs in the peak viewing spot to prevent anyone else from getting in there. ha!
I swear even these photos don't really capture how pretty it was every where that you turned on this trip.
Rainbow Bridge Tour
This beautiful site is on Navajo land making it a sacred place and not one that I can share much more of than the photo on Instagram. Once you arrive there is a short hike you can do up to the arch and around to the other side…unfortunately it was close to 3 hours on a boat in the cold each direction.
The entire ride was beautiful…just maybe one that I'd recommend for summertime months. Then you can cruise, stop, swim, play on the water and make your way there over time rather than a straight drive with the shivers.
Of course with our crew, that meant about an hour long dance/workout party on the pontoon boat as we tried to warm up!! These are some great newer pontoons that have 3 stabilizers and ran about 18-20mph.
Antelope Canyon
Now this was a real treat! But I feel like I need to open the kimono a little!
First, the beauty.
You see all the stunning photos splashed across Instagram looking zen and isolated…it's a tour you must take as a group because ti's also on Navajo land and it's crowded the entire time, making those photos kinda stressful to get.
That being said it's 10000000% worth going to see because it's just a unique experience to walk through the canyon with the light shades, the beautiful walls and knowing that it was created simply by nature.
The trip starts in town, where you board a fun little open air vehicle and then off road it to the canyon. Then it's only about a 30 minute walk through the canyon, which mostly involves lots of stopping to oohhhh, ahhh and attempt photos. We had the best tour guide again and he was snapping photos with everyone's phones to show them how to get the most brilliant colors.
Now my biggest regret is that I didn't get to do more hiking, running and exploring on foot. The boat tours are INCREDIBLE, you get to see so much and it's perfect for those who don't like to move, move, move, but I like that more tactile travel.
Have you ever been to this area?
Other ways to connect with Amanda
Instagram Daily Fun: RunToTheFinish
Facebook Community Chatter: RunToTheFinish
Get more running tips: Pinterest