What would a recap of my Hawaii experience be without some of the Ironman stories that melt your heart, break your heart and head out to get your heart pumping.
Missed my other posts, here they are:
Hawaii in 30 Seconds >>
Complete Kona Recap >>
Oakley Radar Review >>
Sweating for Charity >>
Kona is unlike many of the sporting events I've watched over the years. Of course there's a special energy in the air, spectators with signs eager to spot loved one's and medals waiting to be presented.
But there's something else…
After the high of watching elite racers cross the finish line (Rinny crushing her own previous record), spectators disperse in the heat of the day. They're off to hotels to relax and rush back in time to cheer for a loved one, but the cheers are quieter and the crowds smaller as most of the finishers cross the line.
Until roughly 10PM.
Then a renewed energy swells up and descends upon Kona.
Everyone local or visiting, rushes back to the finish line for a PARTY. It's music, dancing, cheering, tears and every emotion in between until that final stroke of midnight when the racers don't turn in to pumpkins, but the no longer get to hear those magic words: "You Are An Ironman".

In many a marathon the final finishers find themselves nearly alone when they have that amazing moment of success, but here the final finishers receive as much or more crowd support as the winners.
Why?
Getting to Kona is a long road for most people. There are usually years of training for the 2.4 mile swim, 112 mile bike and 26.2 mile run.
That's right imagine your marathon training taking up nearly 3 times the amount of hours and effort you already put in and knowing that even with all of that you have to be top 3 in your age group to win a spot at Kona. Then of course you need to save like crazy to afford the sky rocketing hotel prices during the race, the flights and the begging of your family to be at this special moment.
Need some #motivation to push through the tough moments? These #Ironman Kona stories will do it!
Click To Tweet
Then you arrive and it's hotter than any other Ironman you've ever done and the world is watching.
They've earned it.
They have stories.
They are champions for fighting through one of the toughest courses there is.
Get Motivated
Just because the last finishers get the attention, doesn't mean their stories matter more than the person who finishes with plenty of time on the clocking hitting a personal best or achieving a lifetime dream!!
Hence here are stories of both…and I do wish I had some better photos, but it was raining in the final hours and my camera was buried away.
One of the first stories I shared on Facebook, but if for some really bizarre reason you aren't following me there. I shall recap it here!!
The rider in the above photo, was clipped by another bike coming out of the shoot into the 112 mile ride. Her tires swept out from under her, sliding across the asphalt, she sat up grabbing her stinging road rash shoulder. Both she and the crowd were silent with shock.
I had my camera at the ready, could have snapped that painful moment…but I didn't want to.
Instead it was what came next. The crowd rose up with chants "you can do it" "don't quit" "we're here for you". It makes me want to cry now just feeling the emotions that were all being pushed towards her as she rose up and found her bike chain had also come off. She fiddled, she wobbled, she climbed back aboard and with a nod began climbing the hill and heading out for the final 10 hours to finish her day.
Here we have the female Pro winner, Swiss athlete, Daniella Ryf saying her thanks to the crowd around 3 in the afternoon. Of course the elites are finishing hours before the pro's, but it's still and intense and long day for them.
Yet around 11PM, nearly all the Pro winners arrive back at the finish line to place medals around the necks of exhausted athletes. These triathletes have been moving nearly 16 hours at that point and by midnight 17 hours!!
Of course the athletes finishing may not yet know who the winners were, but we all recognize the pro's in our sport and what a moment to shake their hand, receive congratulations and one more reminder that a FINISH is a FINISH no matter the speed.
I've rarely to NEVER seen this in other sports and it's part of what makes this day so magical.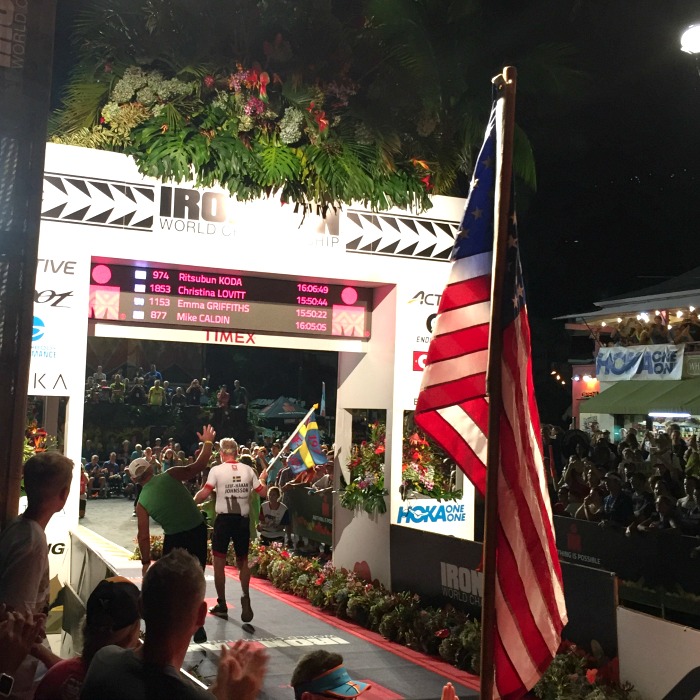 Entering the finishers chute, athletes step upon the red carpet which eventually is covered in the Ironman logo and lead up a short ramp to the point of victory. The carpeted ramp however became slick with rain and sweaty, so by nearly midnight we watched as many finishers nearly slid their way across the line.
Oye hard to watch! Here are a few of the other crazy moments:
A large number of the final finishers were 65-80 years old: Oldest female finisher was 74, oldest male was 83
A few were leaning heavily too one side as pictured above – this appears to be a component of fatigue and heat exhaustion where the body is shutting down
Hector Picard, the first double arm amputee, finished and raised a ton for charity
Turia Pitt was burned on over 65% of her body in a fire, requiring 200 surgeries, but through fierce determination found her way to Kona and finished in 14 hours 37 minutes
One man was finishing his 212th Ironman
Over 5,000 volunteers make this event happen
A female cancer survivor finished and raised over $25,000 (holy hell training and fundraising!)
A father pulling his son, so they can have the experience together. As you'll see below it wasn't their year, but that doesn't make the feat any less incredible
What inspires you when watching others race?
What's the best race you've watched?
Other ways to connect with Amanda
Instagram: RunToTheFinish
Facebook: RunToTheFinish
Get new posts via BlogLovin