Have you ever wondered the difference between all the marathon training plans out there? How do you begin to pick a marathon training plan? Will a free marathon plan off the internet do the trick?
FIRST, Galloway Method, Hal Higdon training or this crazy Low Heart Rate thing that I've been rambling about for years now?
Comparing Marathon Training Plans
I've broken down details on each training method with feedback from fellow runners and coaches to give you not only what the plan is, but exactly how it worked for a variety of runners.
Since plans can run from low mileage with high intensity to high mileage with low intensity and a smattering of things in between, it's confusing to understand what is really the best way to train!
My philosophy is that no "best way" exists, it's about finding the program that WORKS for you and hopefully the following deep dives will help you make the best decision when picking a marathon training plan.
Click on any of the plan names below to see full details:
FIRST method — 3 runs per week
Hanson method — Shorter long runs, all fast
Galloway method — Run-walk method
LHR method – Focus on building base and maintaining hormonal balance, fat burning
CrossFit Endurance – Using CrossFit as base with much less running
Hal Higdon Marathon Training
I did not do a separate post for the Hal Higdon marathon plan or McMillan running plans, which would fall in to your classical training plan program. They follow a very similar patter, which you've likely seen:
5 runs per week
a long run up to 22 miles
one speed workout
limited cross training designed in the plan
There are tons of these marathon plans and they absolutely work. I focused the in depth additional reviews on other plans that you may have seen less to help understand the differences in training methods and why they might work for some people and not others.
For example, my friend Corey thrives on the hard fast 16 miler, while I need the chill of LHR training to make it through months of long runs.
You can assume that 90% of the free training plans you find online are based upon that classical style of marathon training. One that I frequently recommend is from Train Like a Mother, though next March I'll be pointing you to my new book!!
If there is another method you are curious about be sure to leave a comment! The final well-known plan not explored here is Pfitzinger's Advanced Marathon plan, as it's more advanced than I think most runners here need.
Still not sure what plan is right for you? In my small personalized 1-1 coaching, I can help you decide and create a personalized plan to get you to the finish line! Click here for more information.
What is the Best Marathon Plan?
Hopefully an inside look at each method will help you select a plan not just to survive, but thrive during marathon training!
For all of the training methods a few key factors should be considered when deciding which one is right for your body, your training and your goals…just because it works for your running partner or even your coach doesn't meant it's right for you.
Here are the biggest factors to consider when you choose.
#1 Current Running Ability
If you're a newer runner, returning from injury or have recurring injuries then selecting a high intensity plan may be a recipe for disaster. These plans require dedication to proper running form, recovery and nutrition.
#2 Training Timeline
Longer training plans (18-24 weeks) allow your body to gradually adjust to the higher volume of miles, but they also require extended mental and physical commitment.
Advanced runners may find they peak too quickly on a longer training cycle and new runners can burn out.
If selecting a longer plan, try having smaller goal races like a half marathon or 10K sprinkled throughout.
Considering a marathon? A detailed breakdown of the top training plan methods #runchat via @runtothefinish
Click To Tweet
#3 Preferred Intensity
Does the thought of a track workout make you cringe or get your inner warrior fired up? The use of speed workouts is going to appear in every plan, but the intensity level and repetition will vary, so look for the one that matches your preferred method of training.
#4 Running Frequency
Depending upon the other types of training you'd like to incorporate and your injury history this could be one of the biggest factors in plan selection.
If you don't like running 5 days a week, don't feel pressured in to a training plan that requires it.
If you love doing CrossFit as a runner or Zumba to spice things up, make sure your plan involves adequate cross training days.
Many advanced training plans can have up to 6 days of running each week with very little cross training and that's great if it excites you!
Or you can scrap all that and go to a 10 day training cycle like Bart Yasso
#5 Long Run Preference

The crux of most marathon training plans is completing the weekly long run.
Each plan has a different logic behind the number and distance of long runs, reviewing that is important, but it's also crucial to know what will help you mentally feel prepared.
Many runners enjoy doing multiple 20 mile runs because it gives them the confidence they need to cross the finish line, while others simply feel burdened by that schedule.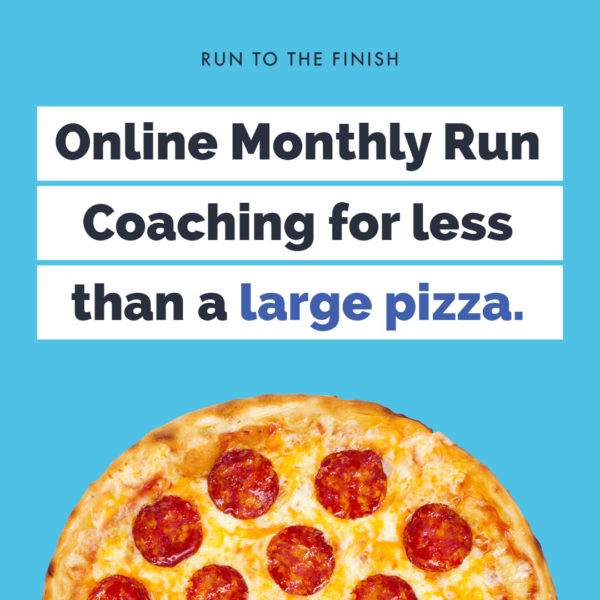 It's also important to realize that one plan my work for many years and then suddenly you find you've plateaued or are injured or simply can't keep it up as life changes.
That's ok and normal! Don't be afraid to explore other options when trying to pick a marathon training plan.
Feel like you've got the right plan, then read more in the Road to a PR Series:
Picking the right race to help hit your goal >>
Choosing your race pace goal >>
Creating your own training plan >>
Why you need a base building phase>>
Safely adding speed work >>
Why you need a peak week >>
How to correctly taper for a race >>
Race day etiquette do's and don'ts >>
How did you pick your current plan?
What matters most to you in a plan?
Other ways to connect with Amanda
Instagram Daily Fun: RunToTheFinish
Facebook Community Chatter: RunToTheFinish
Sign Up to Receive a Weekly Newsletter with Top Running Tips