Have you heard people talking about how to increase mitochondira? And wondered exactly why you should care? Today we're going to give you a better breakdown of what this means and why you'll care
We rarely hear much about mitochondria but it is something that we can take control over and make a big difference in the ability to keep running as we get older.
Let's take a look at what it is and 6 tips that can help increase your Mitochondria.
What is Mitochondria?
They are your running powerhouse, your source of energy.
The Mitochondria takes glucose from your bloodstream and turns it into energy. It is the most efficient way for your body to create energy. More Mitochondria means more energy which means you can run with less fatigue.
It exists in slow and fast twitch muscle fibers but Mitochondria is not just in your muscles. It is your powerhouse for everything- it is found in your liver, lungs, heart, brain. All of the places that need energy from your body look to Mitochondria to keep moving.

We like to pretend that nothing is different as we get older and that we can keep running without having to make any changes to our routines.
A few things we 100% know begin to change as we age are:
Start to lose muscle mass
Bone density decreases
Decline in mitochondria
7 Tips to increase Mitochondria
As we get older the number of Mitochondria naturally starts to decline, if we do not do anything about it our performance is going to suffer.
More Mitochondria means they can work more efficiently and spread out the workload to help avoid fatigue issues.
Add sprint intervals or HIIT running workouts once a week. These help with mitochondria levels, bone density and losing weight
Long slow steady state run. This is where those fast and slow twitch muscles fibers come into play. Keep 80% of your week easy and 20% hard.
Staying hydrated and drinking electrolytes.
Stop restricting your carbohydrates! Glucose is what mitochondria uses most efficiently to create energy for you. If you are removing carbs from your diet you are making much harder for your body to create the energy you need to drive you forward on your runs
Going outside to get sunlight and wearing blue light glasses when using your phone or sitting in front of a computer.
Include more OMEGA 3's in your diet.
Increase your protein intake. A super easy rule to follow is roughly 1 gram per pound of body weight or a minimum of 100 grams a day.
Other ways to connect with Amanda
Instagram Daily Fun: RunToTheFinish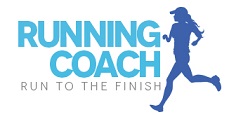 Pinterest to find more Running Tips: RunToTheFinish
Facebook Community Chatter: RunToTheFinish
Sign Up to Receive a Weekly Newsletter with Top Running Tips and Laughs