It's football season, and you know what that means: delicious and easy appetizers, dip recipes, and more. But, if you're like me, you want to enjoy your food but also ensure it's healthy for your family (and you!).
I mean, we all know the feeling when you feel guilty after having those cheesy nachos and dips. And we also know how horrible our insides can feel after that.
And that's why this post includes incredibly delicious game-day food ideas that are also healthy! Yep, who said you can't have the best of both worlds? This way, you'll be able to actually enjoy your food without the added guilt!
Expect to find:
Healthy foods that could be made football themed
Mostly dairy-free
Lots of gluten-free
Incredibly easy-to-make
And so delicious no one will realize that it's not a calorie bomb of the past!
Turns out it is surprisingly easy to take regular foods and turn them into football-themed recipes! Plus, these recipes can easily be doubled (or even tripled!) to fit your crew size!
I've even included easy slow-cooker recipes to ease your workload. Excited? Me too! So let's get started.
PS — GO CHIEFS!!!!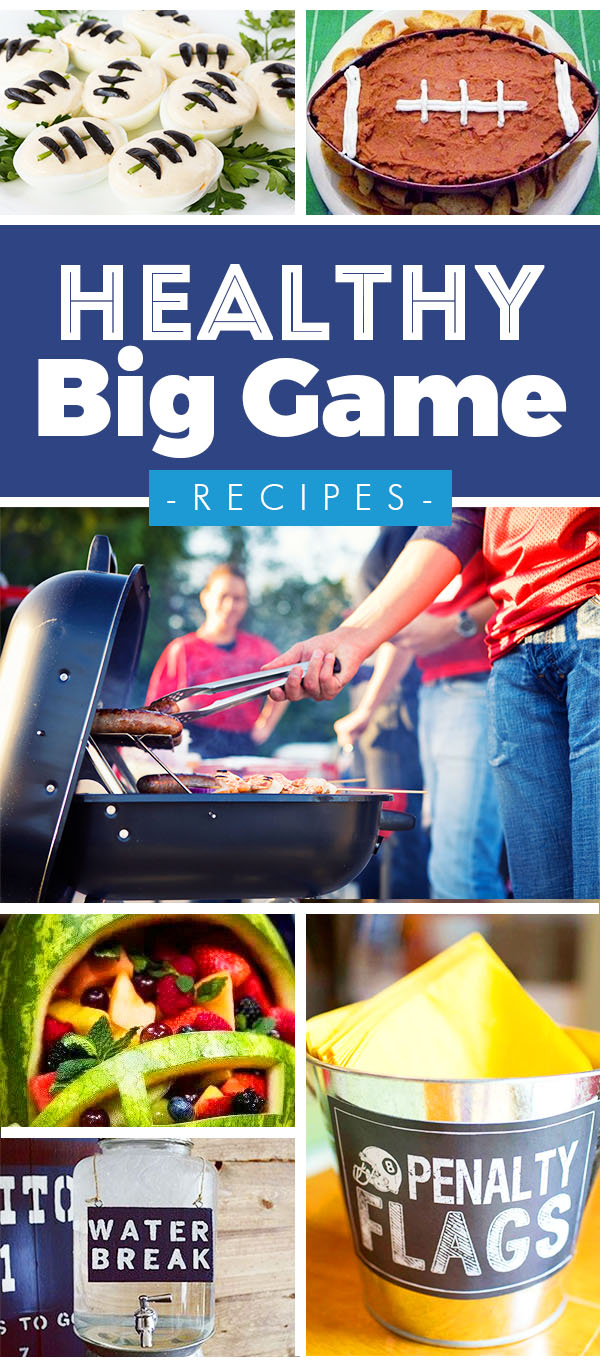 Game Day Food Ideas – Savory Snacks
While I could munch on the sugary stuff all day, I love the balance of some savory snacks and know that's some people's jam! Most are also an easy way to sneak in veggies!
They include everything from delicious dips to chicken wings, french fries, and more! So here are my top picks for savory snacks you can try this football season:
This recipe by Fannestastic Food combines simple ingredients for the most delicious dip ever! To make it into a football theme, I recommend making the top layer of refried beans and then putting Greek yogurt in a Ziploc bag, cutting the tip, and using it to create football laces across the top!
You can also use guacamole and make field lines! This recipe has delicious flavors that work incredibly well together to the point that you won't even be able to guess that it's healthy!
This recipe by Food Pleasure and Health is like having hummus and veggies together but they look incredibly cute, have a crispy texture, and taste absolutely incredible!
It's the perfect savory snack to munch on during a super bowl party and your guests are going to fall in love with this appetizer!
Air Fryer Lemon Chicken Wings by Southern Living
You only need 5 ingredients to make these delicious chicken wings by Southern Living! These Air Fryer Lemon Pepper Chicken Wings feature a butter base that makes the ideal amount of sauce to complement the tangy flavor of the lemon pepper seasoning.
They are the perfect blend of saucy and crispy. It's nearly impossible to have just one! Trust me, these are a total crowd-pleaser every single time!
Speaking of crowd-pleasers, these gluten-free avocado fries are the most perfect creation ever! This recipe by Athletic Avocado definitely stands out from the crowd every single time and what's best is that they're super easy to make!
Dip these in some homemade ketchup (up next!), ranch sauce, or any other dip on the list and you're going to want to make this every single day! Warning: you should make an extra batch because these disappear within minutes!
While you're at it, make this delicious sugar-free ketchup at home, and trust me it's a super easy recipe! As Sweet As Honey definitely created the perfect recipe here, plus it's also keto-friendly and gluten-free.
Dip your favorite fries, chicken wings, and hummus bites in them to have the perfect game night food ever!
Sometimes we just feel like having some good ol' fries, right? And now with this recipe by Munchkin Time, you can have them guilt-free as they're actually made in an air fryer!
What's awesome is that this recipe is incredibly detailed and explains it properly to make sure you end up with the tastiest french fries you've ever had!
Vegetarian Quinoa and Black Bean Nachos by Lemon and Basil
This vegetarian quinoa and black bean nachos is the epitome of everything I love about Mexican cuisine: flavorful seasonings, crunchy tortilla chips, fresh vegetables, creamy avocado, and bold cilantro, all on top of some sort of warm, texturally interesting 'meat' mixture.
And to all the meat lovers out there, you're not going to miss the meat with this one! It's bold, flavorful, and has a meatiness to it that is absolutely incredible. You have got to try this one to know what I mean!
This delicious spicy red lentil dip is one of my own creations and it's honestly the perfect alternative to hummus! It combines all the flavors of hummus, but with a spicy twist, and is made of simple ingredients you can store in your pantry to be ready for game night!
What's incredible is that one cup of red lentils contains 17.8 grams of protein and it's even low in calories! So when you're serving this, you can rest assured that you're having a deliciously healthy dip that'll make you want to have it every single day! Oh, and did I mention it's also packed with antioxidants?!
Serve it with some celery sticks, baby carrots, or tortilla chips for the best game day dip ever!
Spicy and chunky, this avocado salsa is a delicious appetizer. It's a tasty mix of avocados, tomatoes, onions, jalapeño, lime juice, and cilantro, and it's almost like a cross between guacamole and pico de gallo.
It's the ideal game-day appetizer when served with some tortilla chips!
These Avocado Deviled Eggs are a fantastic, nutritious alternative to traditional deviled eggs! They are made without mayo and instead rely on avocado for creaminess.
I recommend using some olive slices or green onions to make it look like a football!
Crockpot Buffalo Chicken Dip by I Am Baker
This Crockpot Buffalo Chicken Dip is about to be a complete hit, thanks to the incredible flavors and ingredients that seriously create some magic on the dinner table! Serve it with some potato chips, carrot sticks, and celery for the perfect spicy dip!
It's truly one of the best game day appetizers that you'll want to make again and again!
Game Day Meal Ideas
When it comes to food, most people are munching for hours, so instead of anything fancy or formal I look for crockpot recipes or things that can stay simmering on low to be ready whenever someone feels the urge.
Here are my top picks for game day meal recipes that you're going to fall in love with:
Baked Turkey Zucchini Meatballs by Baker by Nature
These juicy baked turkey zucchini meatballs are served with homemade marinara sauce! This recipe is sure to please a large group, and it's so simple that you can even make it the morning of the game! It's ready in about half an hour, tops!
To give it a football theme, I recommend shaping them into ovals and flattening them instead of keeping them round like traditional meatballs. Then use some string cheese or crushed crackers to make laces of football.
This recipe by Mom Foodie is a great place to get some inspiration when shaping and decorating them into footballs!
Crockpot Veggie Lasagna by Well Plated
This crockpot veggie lasagna by Well Plated has got to be one of the best lasagna recipes out there! It combines simple ingredients for a flavor-packed meal that's also high in protein and low in carbs!
What's incredible is that it's a no-noodle recipe and the lasagna sheets are actually made from zucchini! But, trust me, no one will be able to guess it and it's going to disappear in no time! I recommend making it dairy free!
One Dish Pork Chop, Broccoli and Stuffing by RunToTheFinish
This pork chop, broccoli, and stuffing recipe is something I created to have the perfect mix of fiber, protein, and carbs but all in one dish! I mean, let's face it, if you have a few runner friends coming over, you're going to need some nutrition because you know they've all been for a run in the morning!
This recipe combines all that and packs with it flavors that are truly unforgettable! It's so tasty that you'll have your guests asking you to share the recipe as they leave, trust me!
Crockpot Chicken Salad Sliders from Cotter Crunch
Whether you're making this to serve as a light meal or a tasty starter, these Mayo-Free Chicken Salad Sliders will hit the spot!
This chicken salad is tasty, tangy, and full of protein because it is made with healthy, gluten-free ingredients. It's super easy to throw together and cook in a slow cooker, or a good way to use up leftover chicken. It's the ideal game-day meal!
If you love chili, you're going to fall in love with this vegan butternut chili by Fitting Into Vegan! Not only is it super simple to make, but the flavor combination is seriously out of this world!
I love how much veggies it combines in a way that no one will know but they're going to keep wanting to have more of it! It's also a great way to get kids to have some veggies while watching the game with everyone.
These spicy black bean burgers by Nourished The Blog are gluten-free and the perfect vegetarian option that won't have you missing meat anytime soon! It's made using oats, canned black beans, garlic, cumin, and a little kick of heat for the tastiest combo!
What's amazing is that they can be ready in just 30 minutes and it'll probably take less time than that for them to disappear off the dinner table! You can top it with any dip, sauce, or veggies you like or serve them alongside the french fries we have on the list!
Get Super Bowl ready with these healthy #football themed foods #eatwell
Click To Tweet
Top Super Bowl Sweet Treats
Of course, I had to add some delicious yet healthy sweet treats to the list! Here are some of the tastiest options that'll satisfy your sweet tooth:
These healthy peanut butter bars are vegan and are made using pantry-staples which makes this recipe by Joy Food Sunshine super convenient to make! What's great is that it comes together in just 30 minutes and is packed with fiber, protein, and omega-3s.
Plus, they're also gluten-free, dairy-free, and even sugar-free! To give them a football spin, bend an empty can to form a football-shaped cookie cutter to cut them out into tiny footballs!
Chocolate Covered Strawberry footballs by Domestic Eats
These chocolate-covered strawberry footballs are so perfect and easy to make that you'll probably want to set them up on the table for every single game this season! But not only do they look great, but they also taste great! I recommend using carob chips to make them dairy-free!
Vegan Coffee Ice Cream by Seven Roses
Coffee and ice cream have got to be the best combination out there, right? Well make it vegan and it's even better! That's what this recipe by Seven Roses will give you: vegan coffee ice cream that's to die for!
Serve it on its own or you can even make some ice cream sandwiches for everyone to enjoy!
This is seriously one of the best recipes on the list! All you need is a watermelon, some other fruits, and a knife to make this incredible watermelon football helmet that's seriously going to steal the show!
Set it up on the table with all your super bowl snacks and meals around it for the perfect presentation.
Fudgey Black Bean Brownies from Hummusapien
Fudgey Black Bean Brownies from Hummusapien
This incredible recipe by Hummusapien is not only inventive and smart, but it also tastes just as good! It sneaks in some zucchinis and black beans in a way that no one will be able to guess!
Plus, it's also gluten-free and vegan! An ideal sweet treat for game day if you ask me!
Healthy Peanut Butter Rice Krispie Treats by Abbey's Kitchen
Who doesn't love some Rice Krispie treats? Unfortunately, they can be unhealthy so many times I don't have them as often. But this recipe changed the game, and now I can enjoy them guilt-free knowing they're packed with protein, fiber, and healthy fats!
So give them one a try for game day and trust me they'll be gone in no time!
Speaking of treats, I created this recipe after wanting to experiment with some healthy ingredients to see how I could make them tasty yet good for you! That's when these red lentil muesli bars were invented in my very own kitchen!
What's incredible is that they're absolutely delicious while being high in protein, low in sugar, dairy-free, and also gluten-free! You have got to try this one!
If you love chocolate cake as much as I do, then this vegan chocolate cake recipe by The Pretty Bee is going to become your next favorite! It's also a gluten-free recipe making it a total winner in my books.
Use white icing to form laces or make cupcakes like those seen below for the perfect football theme on the next game day!
This may not be the healthiest option on the list, but these cupcakes definitely steal the show every single time I bake them!
What's best is that they're easy to bake and even easier to decorate, so you can rest assured that you'll have the best looking cupcakes ever when you try this recipe!
Super Bowl Decor Ideas
Just a few extra fun ideas that I found, which are featured in the main image at the top. I figure if there are a few quick and easy things I can do besides buying bowls that look like footballs I might as well.
Just a few extra fun ideas that I found, which are featured in the main image at the top. I figure if there are a few quick and easy things I can do besides buying bowls that look like footballs I might as well.
This Goal Post Drink idea by Creative Juice is fun and easy to try and it works with any drink that you're serving! The goal post straws are easy and inexpensive to make, and you can draw directly on the plastic cups with a sharpie to make the football field.
Get out the post for some tips and tricks to get it right every single time and trust me you'll have your guests posting pictures with it in no time!
The goal post straws are easy and inexpensive to make and you can draw the football field directly onto the plastic cups with a sharpie – could not be easier! i have a few tips and tricks to getting it just right
These penalty flags are not only fun and but they're going to make every one of your guests chuckle a bit. I love that they can be easily printed so you don't have to do any extra work!
This DIY football field party table by A Night Owl Blog is absolutely ingenious! It's the perfect way to get all your decorations together for the perfect game day theme. The instructions are simple to follow and you only need some simple craft supplies for it.
Ultimate Football Snack Stadium by Upstate Ramblings
Want the perfect way to serve everything? This football snack stadium is absolutely incredible and such a fun way to serve all your food! Trust me, it's going to be a hit during your next super bowl party!
Bonus: Team Popcorn
For this one, all you need to do is take two bowls of popcorn and then toss in M&M's to match the team colors so that everyone can cheer for their team with the appropriate colors!
Football Themed Splurge Options
Ok, these are absolutely not healthy, but too darn cute not to share! They might give you some inspiration for healthy ways to make these over.
Like using a recipe from A Whisk and Two Wands for a pizza that you style like a football or a field, like this one from Babble.com.
Jalapeño Poppers Dip by Delish
If you're craving something super cheesy, creamy, and smoky then this jalapeño poppers dip by Delish is the perfect recipe to try! While you get a kick from the jalapeños, don't worry because it won't send you running to grab a glass of milk!
It's super easy to make and a definite crowd-pleaser every single time!
Not only is this cheeseburger dip delicious, but it's packed with flavor! It has everything you love about cheeseburgers, including some ground beef, cheese, and toppings! Have it all in one scoop with some tortilla chips!
Pigs in the blanket are one of the first things that come to mind when we think of game day food, and so I had to include this incredible recipe by The Pioneer Women on the list!
You just need two main ingredients to throw them together and get some tiny sausages wrapped in warm, buttery bread dough!
One of my absolute favorite appetizer recipes is homemade potato skins! These crispy baked potato skins have a garlic buttered exterior and are loaded with bacon, cheese, and green onions!
You have got to give this one a try the next time you throw a game day party at your place!
These jalapeño popper cheese balls not only look incredible but they taste great too! It's the perfect spin to some jalapeño poppers and is sure to be a crowd-pleaser when you serve them!
If you're looking for a lightened up version, then check out this recipe by Food Crush, and then you can decorate it like this!
Football Fudge by Wilton
This Football Fudge recipe by Wilton looks absolutely incredible and the instructions are great to help you get perfect results every single time! An even easier and healthier recipe option is on The Big Man's World that I'm sure you're going to love!
Well now that I've found all these goodies, all that's left to do is get cooking!
Football Themed Workout
If you do decide to enjoy the splurge or maybe you just have 22 servings more of guacamole than planned, try adding this football-themed workout to your day! I'd LOVE to see just how many of your friends and family you can talk into doing this.
This Super Bowl workout challenge will either be very easy if it's low scoring or a very good workout!
Other ways to connect with Amanda
Instagram: RunToTheFinish
Facebook: RunToTheFinish
Get new posts via BlogLovin