Ever wonder what you really need to cover 13.1 miles? Half marathon gear isn't crazy, but having the right things can make a difference.
The new gizmos, running gadgets, shoes, shirts and such that pop up monthly in magazines make it easy to over invest. Though my list is now longer than when I first started running, only some of it is truly necessary.
Next weekend is my first goal race in awhile, so I thought I'd share with you the list that helps save my sanity.
In the week leading up to the race, taper brain can take over giving you too much time to think and yet not really getting any specific planning completed!
This half marathon gear list will break down everything from your race morning needs, to post race sanity and all the miles in between. Use it to make sure nothing is forgotten and you're on your way to a better race!
What to Bring to a Half Marathon?
After 20 years of racing, I can tell you that it's always worth having a little more than you need. My race packing list is roughly the same whether I'm doing the Jerusalem Half Marathon or the Phoenix Half Marathon!
Make sure you go through your gear checklist ahead of time and get everything packed before so your morning runs smoothly!
Race Morning Needs
Go over the race details beforehand so you know exactly where to be and when.
Directions to the start line
Meet up location at finish
4 safety pins
Bib and timing chip
Gear check bag
Gear check locations
Time spent looking at the details of the race and planning your post race meet up will help to alleviate a ton of unnecessary stress!
Travel Race Needs
Don't forget those half marathon travel extras.
It's easy to forget the little things that on your half marathon list that are still super important to a great day.
Race morning breakfast (your tried and tested foods, don't rely on it being available there)
Bottled water (you must drink while on the plane or in the car!)
Electrolyte drinks or electrolyte tablets
Headband or hat
Ear plugs (helps with sleep and cuts down on air travel intensity)
Post-Race Bag
Pack that post-race bag!
What is everything you'll need when you're done with the race?
Flip flops/extra shoes
Dry clothes
Money/ID
Wet wipes
Phone (unless you're carrying it)
Snack (gotta refuel and you may only want to eat certain things)
Half Marathon Gear
Do you have all the basics?
The list of the essentials you need to (quite literally!) make it through the race. Anything linked below will take you a to a page outlining my top running gear selections and who they work for!
For each of these, I've linked to an article with some of my favorites in case you are still looking for ideas.
Short sleeve shirt
Shorts/capri pants
Phone, headphones
Road ID
Fuel (gels, electrolytes, etc)
Are there extra things you need to make sure your running your best race?
Over the years I've found that while David might LOVE wearing my FlipBelt for me it rides up around my waist and just doesn't make for my happiest day. Instead, there are other things which become key for me like having my wireless headphones!
Headband or hat
Band-aids
We don't want this sign to apply to you!!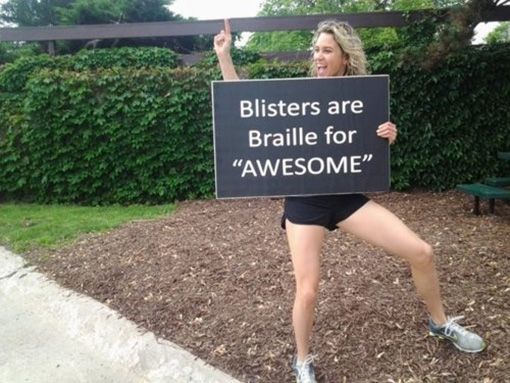 Additional Gear for Weather Issues
Check the weather!
And plan accordingly. It could be below-freezing or even raining when you start the race, and the sun may be shining by the end of it so make sure you have everything you need.
Long sleeve shirt (that you don't mind throwing away)
Throw away gloves (an old pair of socks is great to use)
Rain poncho/trash bag (perfect at the start line of a rainy day, so at least you stay dry while standing around)
Hat or visor (the last thing you want to worry about is the sun or rain in your eyes!)
All Natural Sunscreen (less burning and stinging)
Shoe cleats for snow
An extra shirt in your bag to wear to the start is preferable to waking up and finding it's 30 degrees and you have nothing…then you do things like pick up gloves other people discard (yes this occurred during the Las Vegas marathon!)
Throw away gear is ALWAYS in my bag now. If I don't need it, no big deal. But very big deal to need it and not have it.
I know some of these seem like crazy extras for a half marathon checklist, but this is years of experience talking!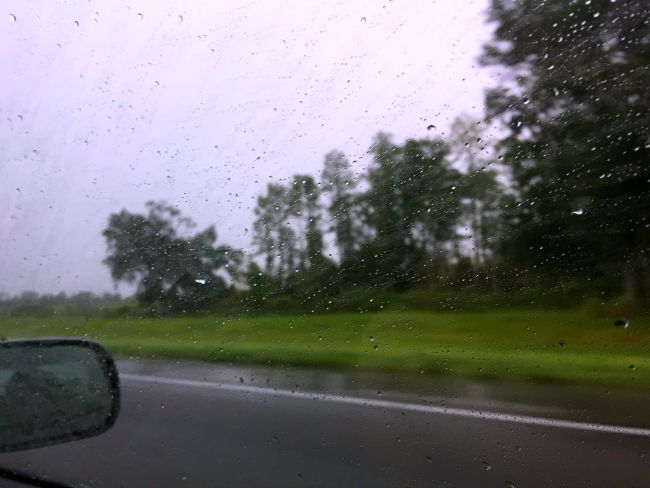 Post Race Recovery Gear
What about when it's time to recover?
You just ran a half marathon, congratulations! Now, it's time to take care of yourself.
Some of these are things you'll easily have at home, but might need to plan ahead for a travel race. Which pieces are easy to pack and which pieces give you the most bang for the space.
Foam roller (often you can find one in the hotel gym)
Epsom salt (a warm bath will loosen up those tight muscles)
Compression tights (I wear them everywhere to keep the adventure going)
Scheduled massage (you deserve it!)
Celebratory time with family and friends (you also deserve this!)
Electrolyte drink (I like this little travel packet!)
Turmeric for anti-inflammatory
Be prepared. Relax. Enjoy the day.
Whether you snag the printable half marathon checklist or make your own, a little prep goes a long way!
Handling Last Minute Race Nerves
If you're to the point of looking for your packing checklist, then you've done the bulk of your half marathon training work. Now there are few key things to help ensure you have your best race ever.
Each of the links below is a full post with info to help you finish this race out exactly the way you want!
Taper the Right Way
Don't try to cram in any last minute miles, follow your taper so that you're feeling fresh by race morning.
Race Day Etiquette
Not only do you want to have a great race, but you want to make sure everyone around you is enjoying it too. Find out some of the common issues that throw people off and avoid them!
Manage Race Day Nerves
Put all that nervous pre-race energy to work and harness it for a great day with these tips.
Race Day Tips to PR
What you need to know about that pre-race pasta dinner and throw away clothes to keep your race day on track.
Half Marathon Pace Chart
Find your goal finishing time and the average per mile or per kilometer pace you need to hold.
Once you've nailed this race and you're ready for a brand new goal, checkout the Sub Two Hour Half Marathon Training Plan!
Other ways to connect with Amanda
Instagram Daily Fun: RunToTheFinish
Facebook Community Chatter: RunToTheFinish
Sign Up to Receive a Weekly Newsletter with Top Running Tips