I know, I know we're talking Christmas gifts before the table has even been set for Turkey…but Colorado snowfalls and Christmas trees everywhere have got me thinking, so it's just that's just too bad! Presents for runners should also be a year round thing right…excuses to buy running shoes.
We're going to start the conversation with stocking stuffers for runners! But honestly, after writing this website since 2007 and testing out products for weekly for brands, I couldn't just contain it to one list…so in case you need additional ideas:
Presents for Runners Under $25
Yup this list has a little bit of something for everyone on your presents for runners list and it won't break the bank if you need to thank a running buddy or just add something fun to the stocking for the one's you love.
Plus, these generally work for anyone in your life who loves fitness.
Personalized Running Shoe Keychain – $13.99
Nothing says I'm a marathon runner, like having symbols on you everywhere you go. A great way to recognize their achievement.
Bomba Socks – $20
Every sock you buy gives socks to others, that's a gift that's hard to beat. A feel good from head to toe, ha!! But truly these are great running socks that are soft and cushioned.

High Density Foam Roller– $15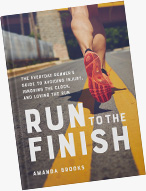 An evil little tool that will reap mass rewards for those achy feet and glutes, especially while traveling.I use mine daily and when it doesn't make me cry, I really love it.
Run To The Finish the BOOK!!! – $12
I mean a little self promotion is ok right?! I know the book isn't technically out until March, but I am offering some freebies for purchasing now. Like downloadable training plans, updates on book tours and a lot more giveaways to come!!
Performance Trucker Hat – $35 (until sale!!)
Cute, stylish and stays in place…if you love someone help stop flyaways.This is the hat that I run in TON, which is why even though price went up a bit I had to include it and watch for sales.
Asutra Dead Sea Bath Salts – $24.99
SOAK away the muscle soreness!! It's 100% worth it. I piled these in the tub after a long run the other day and between the salts and the oils just felt everything relax. Trust me your runner needs a reminder to sit down sometimes too!
Kudos Medal Coasters $20
I just found this fun new way to display medals and know it's a runner love! You can put any medal of yours in the enclosed case and voila they're now displayed as coasters all year round! Bonus because you can easily switch them out as you have new favorites.
Presents for your #running buddies or stocking stuffers! Ideas we'll all love.
Click To Tweet
SaltStick Electrolyte Capsules ($21)
It doesn't make my must have list every year for no reason! Cramps are the foe of every runner and I've seen these help many keep them at bay.
If you have a sweaty runner in your life, they may not even realize how much electrolytes could help them!
Mantra Bracelet ($25)
A lot of great options exist for bracelets, but there's nothing like having a cute, good looking mantra that you can wear to work or with your running watch to keep you focused.
From "keep moving forward" to "I can and I will", you'll find an option that fits.
TrailHeads Women's Headband with Ponytail Holder ($30)
While I tend to opt for a full on beanie usually, that's to hot for many runners who simply want to keep their ears warm. This one is bonus awesome because of the ponytail hole which just makes it easier to wear.
Runner Strength Training Plan for At Home – $27
Love working out at home, but need some ongoing ideas to keep it fresh? This is a great way to find new moves or remind you to work muscles in different ways.
A gift guide for every #fitness lover in your life from runners to yogis to CrossFitters!
Click To Tweet
Flipbelt – $28
I've tested out a few belts and always hated them, until I found FlipBelt. It's wide enough that it stays in place and makes a tight fit for keys, phone, cards and more. Plus you can balance the weight around your body.
Car Run Decal – $3.99
It's true I have yet to put one on my car, but I LOVE seeing them because I always know there is a fellow crazy runner nearby.
Runner's World Magazine – $13.50/1 year
The biggest and most trusted magazine for runners, you'll definitely be on their mind every month when it shows up. This magazine frequently provides training plans and well yes it's featured advice from your's truly a few times!
Do you tell others what you want for Christmas or make them get creative?
OTHER WAYS TO CONNECT
Sign Up to Receive a Weekly Newsletter with Top Tips
Join the chatter on Facebook: RunToTheFinish
Get more inspiration on Pinterest