One Time Custom Training Plans
You've downloaded 20 free training plans and now you've got JPGs and PDF's galore, but still no idea where to start or which one is right for you. You're excited to nail your race goal, but already feeling overwhelmed at the prospect of getting there.
Man am I glad you found this!!!
If you aren't quite ready to commit to a 1-1 coach full time, but you still wish your marathon or half marathon training plan wasn't quite so vanilla, let's chat.
Don't get me wrong, I'm a big fan of vanilla because you can top it with just about anything. But when it comes to trying to get results, well a marathon plan that's designed for the masses might not get you where you want to go.
It doesn't reflect your love of Barre class.
How do you work in strength training and long runs?
What about your travel, work, friends and life?!
Every runner is different, which is why finding a free online marathon training plan usually gets us started with excitement, but quickly leads to frustration.
Training should be where you focus all of your efforts, not trying to figure out how to massage a schedule to work for you! Let's make that easier by creating a custom half marathon or marathon training plan just for you.
After running over 22,000 miles, coaching hundreds of runners, reading hundreds of running books and writing 2000+ articles, I've got a lot of knowledge to pull from in creating something that will work for you.
Stop Googling away your days and comparing free plans or changing mid-way through training when you realize it's simply too much. Get a running plan designed for you and start moving towards your goal race.
Ready to Run to the Finish?
Setting a goal is not the main thing. It is deciding how you will go about achieving it and staying with that plan.– Tom Landry, Hall of Fame football coach
Maybe you've been telling yourself that you don't yet deserve a coach? Aren't coaches for those crazy fast people?
Ahh my dear runner friend, let me tell you that as someone who once felt that way myself, it's nonsense! Coaches are for anyone who is ready to hit a new goal and wants some guidance to go about it the right way! Around here we love working with people who are tackling their first attempt at a new distance, breaking the Sub Two half marathon or the 6 hour marathon!
In fact, while we have helped runners crush a 1:30 half marathon, that's not really who we help the most. Many of our runners are using the run:walk method, low heart rate training or coming back from an injury. Which is why we're here!! To help you progress, while having a boatload of fun and staying injury free.
What you need to know before we go any further.
Training plans can be customized for any pace and we'll talk about setting realistic goals.

We'll create the plan, but you still have to do the work to get the results.

You aren't signing up for monthly coaching, it's a one time purchase to get you rocking and rolling
Give yourself the gift of believing in your potential.
I already believe in you and we may not have even met yet! How can I say that?! Because I've coached hundreds of runners and talked to thousands of runners over the last two decades. I know you're likely able to do more than you ever imagined with the right plan in place.
Nitty Gritty
Let's breakdown exactly what you'll be getting from a customized training plan. Because I do love a good bulleted list to keep me on track.
30 minute coaching call to answer questions and design your plan

Customized training plan (built around your life, your goals, your body)

Plan includes strength, core or injury prevention work as needed

Guidance on pre-hab, cross training

Plan delivered via spreadsheet or Final Surge platform for better tracking

Discount on future 1-1 coaching
Every minute you spend in planning saves 10 minutes in execution; this gives you a 1,000 percent return on energy!– Brian Tracy
Sign Up for Your Custom Running Plan
Step 1
Pre-pay for your custom training plan: $180
Step 2
Once payment has been received you'll be sent a confirmation email with the initial information I need to prepare for your call.
Step 3
After the information has been returned I'll reach out to schedule your call as quickly as possible! If your information is received the same day, calls are usually done within less than a week.
I will review all provided information in advance so we can spend the call time getting right in to the heart of your questions and making change happen.
Ready to start training?
Purchase Your Custom Plan Now
Within 48 business hours of purchase, you'll receive an email to schedule your coaching call. This allows us to gather additional information and get your training plan in the works as soon as possible!
Coaching Team
Due to the HUGE volume of requests, RunToTheFinish now has a team of coaches, all operating under Amanda's philosophy that there is no perfect plan, only the plan designed for you, your life and your goals.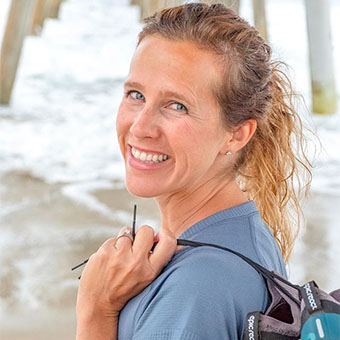 Amanda Brooks As the owner of RunToTheFinish, head running coach, Amanda is involved in the training plan of every runner. She has over 17 years of running experience and 7 years coaching runners from a run/walk of their first half marathon to hitting an injury free training cycle for a 1:31 half marathon. Amanda is a certified personal trainer and keeps her roster small to provide individualized attention.
Alexis Fairbanks Alexis is a long time runner, former collegiate middle distance runner and passionate about helping people enjoy running in a healthy, injury free way. Alexis has experience coaching runners of all levels and often finds herself helping runners define what goal is best for them right now. She brings her experience in creating custom plans to life for those trying to find consistency and those trying to just squeeze a bit more out of their next race.