Cross training for runners used to be something that you only saw occasionally on a training plan for someone as they worked in to more mileage. Which was perfect for our mentality…
I just want to run.
My life is busy and if it comes down to my run or strength training, I'm always going to run!
I hate the gym.
Admit it, at least one of statements have passed your lips since becoming a runner!
Personally, I used every single one of those for many years to avoid strength training, let alone pre-hab or stretching!! Sure I would do yoga here and there or remember to hoist up a weight once in awhile, but it lacked: CONSISTENCY.
The key to progress in running or any fitness endeavor is consistency.

What is Cross Training??
I've heard many folks lately say that we should stop calling it cross training for runners and just call it training. Fair enough, if you really want to run right on in to old age, then you need to do more than run.
Cross training for running is utilizing your muscles in a variety of ways to help:
Tips to Stick With Cross Training
For those like me who may not LOVE cross training, but understand the benefits here is some of what I've found over the years to help make it part of my routine…
Until there is a benefit big enough to overcome your cross training excuses, you'll continue to find reasons not to commit.
BONUS: Read my post on how to stop relying on motivation!
Best Cross Training for Runners
Let's be honest with distance running there are only so many hours or energy left in the day for cross training.
I love the following methods because they improve our running, which I find keeps many of us motivated to stay on track.
Strength Training for Cross Training
All of my athletes now know that strength training is no longer an optional part of their plan.
It's a requirement because there is too much evidence supporting it as the best cross training for runners. It's how we develop a stronger core, speed, endurance and well injury prevention. Plus, I know a lot of you start running with weight loss as a goal and nothing is going to help that as much as strength training.
You don't have to suddenly start Olympic lifting to get results!!
I'm always sharing more of my gym sessions in my Instagram Stories because I think it helps to keep getting ideas and see that other runners really are doing it!!
Yoga for Cross Training

Try a Vinyasa style class where the continual movement helps runners keep from feeling bored when initially transitioning to this slower workout style. Additionally, the focus on breathing can help you expand your lung capacity and keep you from feeling winded on runs.
I'd also highly recommend Yin Yoga for truly resolving tight hips.
Read more on how yoga improves your running >>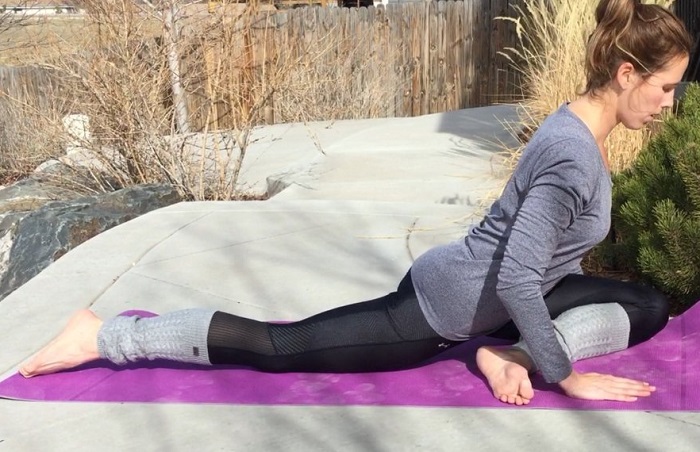 Biking for Cross Training

Focusing on a cadence of 90 RPM will help you become a better runner by increasing your foot turnover. 90 RPM mimics the desired 180 steps per minute recommended by most running coaches because it decreases time contacting the ground, increases your speed without allowing you to over stride!
Head to a spin class, hop on a stationary bike to watch a TV show you wouldn't otherwise or get some extra motivation by heading outdoors. I don't love biking, but finding some places with great views got me far more excited to stick with it.
Physical Therapy as Cross Training
Most runners think of physical therapy exercises as a way to recover from injury, but I've found that by adding many of them to my routine I can stay out of the doctor's office!
Here are some of my favorite moves for the IT Band and hips, which are the two most common reasons we end up with knee pain:
Swimming for Cross Training

Another fantastic way to improve lung capacity and create core stability, which will help you run longer with better form. The low impact cross training can be an amazing way to stay on track during most injuries or to get in a cardio workout when you might need a break from intense run training.
How to Cross Train for Extra Running Benefits #runchat
Click To Tweet
Pilates for Cross Training

These workouts develop strength, flexibility, muscular endurance, coordination, balance, and good posture — with a much lower chance of injury than with other forms of exercise. The discipline emphasizes correct form instead of going for the burn.
With so many exercise variations and progressions, you may have a hard time getting bored with Pilates. I've personally found massive benefits from doing to reformer focused classes. It's really teaching me to engage my core and glutes, along with activating muscles we don't always use.
Circuit Classes for Cross Training

I admit to not being a fan of group classes for a long time, but lately I've started to realize that with the right instructor I love them.
Feeling strong is very empowering and of course we need to get our strength training on to keep the hips strong, create arms that power us uphill and a core that will keep us from hunching over as we get tired during long runs.
Life is Cross Training

That's right your entire day can be part of cross training! From using a standing desk, to taking the stairs, to enjoying a hike or trying something new like paddle boarding. All of this keeps you from sitting, our enemy, and helps you engage different muscles.
Depending upon my current goals, the number of days I cross-train varies, but I like to do a full body strength training session three times a week in the beginning of a program and then reduce that as intensity increases. All other cross-training activities are added in a few times a week, also depending on program intensity.
Embrace At Home Workouts
One of the things which I have found to work best for MANY runners is doing it a home!
The plus side is you save time from traveling, no excuses about weather and you can control the intensity of your workout, which I think is key when it's being done during race training plan.
However, if you don't have some instruction you might find yourself doing the same body weight exercises or TRX exercises repeatedly….which is why I'm such a fan of tools like DVD programs like P90X or online programs like yoga!
To get going at home, checkout these posts:
How often do you cross train?
What's your favorite cross training?
Other ways to connect with Amanda
Instagram Daily Fun: RunToTheFinish
Facebook Community Chatter: RunToTheFinish
Sign Up to Receive a Weekly Newsletter with Top Running Tips and Laughs