When a lot of your friends are food and fitness bloggers, or gahhh healthy living bloggers, it's easy to feel a little like the black sheep for not spending more time in the kitchen creating beautiful master pieces from nothing but food that you foraged in your own backyard.
Every time I plate up a new meal for visiting family, I see shock and a hint of fear as they wonder what exactly it will taste like.
I don't blame them, there have been some spectacular failures! Like the brownies I made without eggs that resulted in a pan of fudge (umm still delish) or the pie crust I set on fire over Christmas. Plus, they tend to assume that if I've cooked for them then I shall be requiring them to "burn it off" with me later at the gym.
And so with those two confessions of my poor baking skills already out there, let's have a few more…
Confessions of  Fitness Blogger
I still manage to eat plenty of veggies by creating power bowl meals, but I'd also say my lack of cooking is why at some point every week I fall in to the "nothing sounds good" mode and just eat cereal instead. Usually about that time I'm scrolling through Instagram seeing the fabulously plated meals of my friends and feeling like ughhh I'm a fake.
But I'm not, I'm just real.
I Have No Idea What to Say when You Ask "what do you do"?
I hate the term influencer to be honest and never describe myself that way…but I do know that a person who talks non-stop about working out and eating well as their job, probably falls in that category. And honestly, there's nothing wrong with that when we're coming from a place of honesty!
I'm a researcher, a writer, a book author, a running coach, a speaker…and yes all of that gets wrapped in to working with brands and creating content that drives traffic.
Undramatic Weight loss
I didn't have a massive 50lb weight loss in a few short months by cutting out an entire food group. Instead, I made little changes that helped me to create a new lifestyle, slowly losing weight over the course of years. The result being a weight loss maintained for over a decade without angst.
In fact, I detail it all in the Running for Weight Loss Guide.
I don't stretch after the run
While I am fanatical about the pre-run warm up, I basically suck at everything after I finish running and then walk for 5-10 minutes. My post run meal isn't always 100% perfect, which is why I appreciate things like Core Power for a big hit of protein in a green smoothie or by itself with a big handful of Cheerios.
I do however, foam roll all the dang time and when I'm not exhausted, I stretch in the evening!
Sweaty Chic
Related to the previous statement. Working from home means that my day begins with a run and leads directly in to writing, checking social media and responding to emails. You might notice there was no shower in that process. I'm in such a productive mindset after my workout, that I often don't shower until I take a walk in the afternoon!
So, while I try to pull myself together for Instagram Stories or for a brand photo, usually I'm in my sweaty clothes or in sweats and I couldn't be happier about it.
Chocolate is Required
I can't count the press trips I've been on, where people seem enthralled by my choice to enjoy dessert daily. "Are you going to tell your readers you eat that?!" Um yes. There is no dogma around here about perfect eating, just focusing on 7-9 servings of veggies daily.
It's also why I frequently share on Instagram my weekly slice of pizza. I'm not a perfect eater and I'm not really trying to be one. However, I am working on upping my nutrition game in 2020!
Tired of feeling like you need to make perfect meals? Kill every workout? Confessions #fitnessblogger
Click To Tweet
I Hate Following a Plan
When I first started losing weight, I tried following the 30 Day Ab Diet and then I played with low carb and now I tend to focus a bit more on high protein. But honestly, I've never once been able to follow a meal plan or a training plan.
I don't like being told what to do I guess! My training plans change day by day based on my goals and how my body feels. When it comes to food, I've learned that eating intuitively just feels better and less stressful. So yes, I'm over here creating training plans for runners, but I don't actually like following one.
Cereal is Dinner
I know breakfast for dinner is a totally normal thing, but usually that's referring to eggs or bacon. But honestly a lot of days, I'm just not terribly hungry in the evening and nothing sounds as delicious as a bowl of cereal…yes my weird cereal, carrots, nut butter concoction.
I will give myself credit that in the pas year, I've had made sure this cereal life is always accompanied by protein and that's certainly boosting my recovery.
I Don't Care About Your Workout
OH MAN that sounds really harsh, but it's the truth. As soon as I say I'm a runner, (in any non-running event) I notice the uncomfortable shifts as people start to toss out all the reasons why they don't run. I'm not judging anyone for not running, it's hard!!!
I don't care if you want to Zumba, CrossFit or sit on your couch. That my friends is all up to you, I'm just here to love what I get to do.
Plyo Who?
I will happily run for hours over being asked to do a 20 minute HIIT workout. I don't enjoy it. I don't feel good after it. I need a lot of recovery from it and I don't feel one tiny bit bad about it. These workouts are GREAT for so many people, but I've learned they don't work for  me and I've reached a point where I don't feel the need to pretend I like them.
I will do box jumps or skaters or other small plyo movements during my strength training sessions, but always less and to a lesser degree than HIIT.
Doesn't a jumping photo count for enough? I mean there's always 800 takes.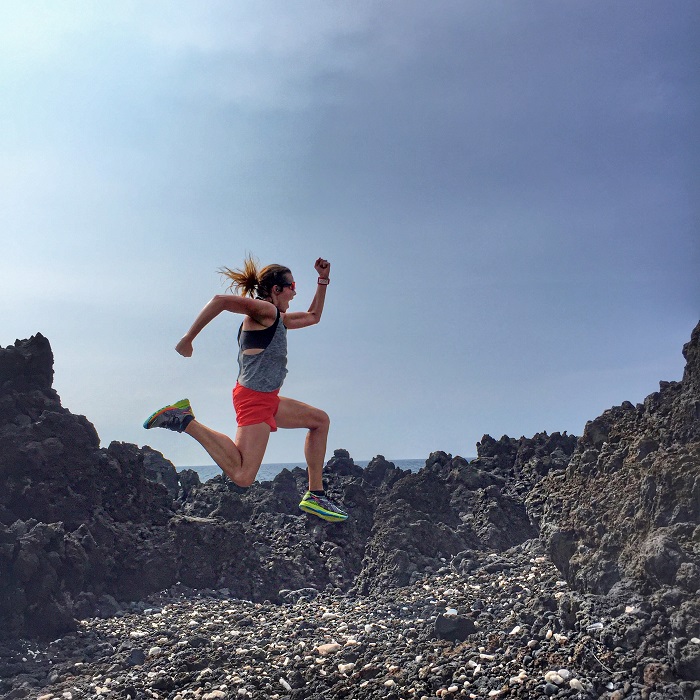 Hidden Food
Soooooo in our kitchen we have a cabinet of "David's food", which used to keep me from eating his less than healthy treats. Now I find myself sneaking in there occasionally and yes still hiding some of my good stuff to keep him from eating it! He can't tell the difference between my expensive gluten free cereal and that cardboard stuff, so yes I hide it rather than offering it up to make him healthier.
Ab Envy
It's true, I still get ab envy. I've learned to love my body thanks to running and hey I know I've got some rockin' calves, but yup I still find myself thinking "oh man, maybe I'd have more followers if I looked like that". It's just always a reminder to me that none of us are perfect or have it all! Every blogger I've talked to sees something in someone else they wish they had from abs to a puppy to a kitchen.
I'm Ready for Early Retirement
David would tell you that I should probably as for senior citizen discounts as I eat dinner before 6 and fall asleep promptly at 9 to arise sans alarm clock at 5 am. Yeah that means, I'm not out partying and showing off crazy times with friends, but dang I'm getting seriously good sleep every night!
Are you great in the kitchen?
Did this make you feel better in anyway at all?!

Other ways to connect with Amanda
Instagram Daily Fun: RunToTheFinish
Facebook Community Chatter: RunToTheFinish
Get more running tips: Pinterest