Am I the only one who used to make batches of cookie dough and freeze it?? I never actually baked the cookies and while a delicious college treat, not super ideal with eggs and all. Introducing my high protein edible cookie dough (aka chickpea energy bites!).
A lot of days, it still takes some finagling for me to figure out how to eat enough protein to maintain muscle. Largely because I don't particularly crave protein or large meals and simply eating by calories alone, my protein intake wasn't nearly high enough for my goals or to help my body go in to major repair mode.
What I am always able to eat enough of is chocolate.
Which means this is a dessert that's helping me hit all my goals, WOHOOOOO.
Why not make my chocolate even better by recreating that cookie dough taste using BEANS!!!
No dairy
No eggs
No gluten
I swear if you haven't ever tried this, you'll be floored. Why it tastes like cookie dough I can't even explain, I'm a runner, not a chef remember. It's heaven.
I have zero control around heaven.
Thus I decided to turn that edible cookie dough in to bites, so I would automatically be portion controlled.
Edible Cookie Dough Chickpea Energy Bites
I made a massive batch and to be honest, I'd recommend smaller, ha!
I thought I was saving time, so I'm sharing here a half recipe of what I made.
These freeze ok, but not as good as other things we've made.
Ingredients
2 Cups chickpeas
4 TBSP applesauce
1/4 cup salted almonds (chop first in processor)
1/2 cup almond butter
1/2 tbsp himilayan salt
1/2 tsp cinnamon
1 scoop vanilla plant based protein powder
2 TBSP maple syrup
Optional: 1 tbsp cocao butter
1 cup Enjoy Life Dark chocolate chips (to keep it dairy free)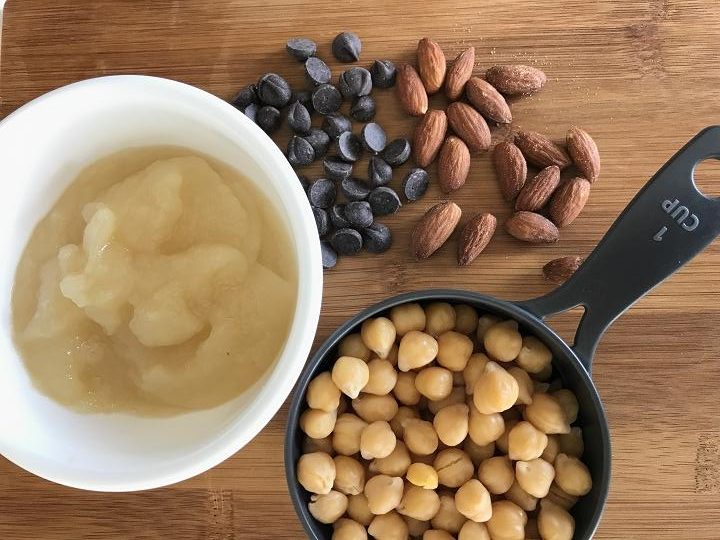 Directions
While I used the Vitamix for these chickpea energy bites, it would again have been easier in my food processor…I was being lazy.
Add almonds to food processor and chop away (can skip this and use salted almond butter)
Remove almonds and pour in the chickpeas
You don't want to create a soup, just getting the chickpeas blended
In a large bowl, combine all ingredients and stir
Place in fridge for 20-30 minutes, you know enough time to go read a few blogs
Using a cookie scoop, scoop them out and on to wax paper
They aren't perfectly round, but it's easy and really…well I think you've seen the trend here
You can layer them in a Tupperware container with wax in between
Keep in the fridge
Nutrition Info
Makes roughly 30 balls using the scoop
60 calories
3.7 grams fat
9.8 grams carbs
3.6 grams protein
Looking for more high protein ideas?
Have you ever made a dessert with chickpeas?
Are you a lazy cook? Just me?
Other ways to connect with Amanda
Daily Running Talk on Instagram: RunToTheFinish
Running Inspiration on Facebook: RunToTheFinish
Get more sports nutrition on Pinterest