When trying to find your perfect running shoe there's always a question of which brand is right for you. Brooks vs Mizuno running shoes is another comparison of proprietary technologies, fit, and feel.
Both brands have a long history, things people love and things people dislike.
And like every running shoe brand they tend to have moments where they seem to be the dominant running shoe. This has a lot to do with marketing or getting lucky with a superstar athlete wearing their gear on a main stage performance (Olympics, NYC marathon, etc).
When it comes to these two brands, I think it's key to know that both have continued to change an adapt. So if you've tried one previously without luck, you might need to be willing to test a new model.
Main Differences Brooks vs Mizuno

Nike and New Balance have a similar range of shoes, but a very different fit and feel. Maybe some of the difference is simply in the way that they market, which makes you feel differently about the gear.
I break down the differences in more detail below, but here's a quick overview:
Brooks Running Shoes

Traditional running shoe with 6mm-12mm heel drop (a LOT of models at 12mm)
Exclusively designs running shoes, with a huge variety of models
Science-driven to accommodate rather than correct gait
Has more fun holiday styled shoes than any other brand (Christmas, 4th of July, Thanksgiving, St Pat's)
Increasing focus on performance apparel
Mizuno Running Shoes

Overall shoe fit is in line with other traditional shoes like Asics, Brooks
No shoes lower than 8mm heel drop
Has stuck to some tried and true models
Famous for the Wave technology
No trail running shoes
Well known across a variety of other sports from golf to swimming to volleyball
Brooks vs Mizuno Feature Comparison
Both brands have been around for a very long time and are leaders in running shoe design. They both offer various technologies to aid with comfort, support, stability, and cushion.
They differ in both fit and technology.
Here is a breakdown of each shoe based on the components buyers need to consider when purchasing a running shoe.
It's gonna get a little TECHY…so you can just skip on down to the specific model comparison if you want, but personally if I'm shelling out $150 for shoes, I kinda want to know why.
Durability 
The lifespan of shoes from both companies is fairly comparable.
Brooks shoes have a life expectancy ranging from 300 to 500 miles, or three to six months, depending on your monthly mileage.
Mizuno says a casual runner of 20MPW should get about 6 months out of the shoes
Determining when to replace running shoes, of course, all depends on your gait, weight, and whether you run mostly on trail or road.
Shoe Fit
Brooks shoes have a wider toe box than other traditional models, which makes them a great choice for runners with wide feet or bunions. The brand recommends that buyers go up a half size from their everyday shoe.
Brooks does a great job with online fit, the Brooks shoe fit finder will give you an idea of what to look for in a running shoe when you do visit your local store.
Mizuno has a very traditional fit and might be described as a little more narrow.
Cushioning
Brooks uses two types of cushioning in their designs, which allows for a wide variety of cushion from plush to more minimal.
DNA LOFT – Soft cushioning, that adapts to a runner's profile, stride, and speed
BioMoGo DNA – also adapts to runner's profile, stride, and speed, providing a more balanced experience with a bit of spring.
Mizuno is all about their Wave Technology. In fact, it's visible in every shoe when looking at the midsole from the side. According to the brand, here's why it's so amazing "The basic structure of the Wave allows the cushioning midsole to disperse the impact forces of running by spreading it out more evenly through the shoe.
Dispersal of the impact forces over a wider area, allows for a smoother heel-toe-transition and because of the Wave, the foot doesn't sink into the midsole, allowing for energy savings."
They actually have 3 different wave styles depending on the desired amount of support or cushion.
Stability
Rather than "fix" the way someone runs, Brooks technology helps to stabilize your stride based on how you naturally run. So in essence, both brands have the same take on stability. Just different technology.
Whether that's a little bit more support in the arch or through the midline of the foot it helps hips, knees, and joints to move naturally, offering support when needed. Neutral runners may only require them to kick in when their stride is off.
Mizuno also utilizes the Wave technology to provide support to the shoe. They simply change the type of Wave.
As you may know, I'm not a huge fan of stability shoes for most runners. I am not finding a big difference in brands, they are all focused on preventing that foot roll and often feel a little stiffer.
Affordability
Brooks running shoes prices range between $110 to $150, while Mizuno start at a slightly higher price at $140 to $170.
The most popular models for both brands are priced toward the higher range. Carbon fiber shoes and often trail shoes will go beyond those rates.
You'll notice that every brand offers a range and this is indeed due to a difference in technology and where they sell the shoe. They know that the big box store can sell the shoe with less in it, while the local running store needs to be best for dedicated runners.
Mizuno Vs Brooks Running Shoe Models
Now that you know more about each brand, let's look at their top models in each of the main categories. There's no winner declared here because all are great shoes, it's just about which one is best for your foot.
Did you notice I even said the brands in reverse order this time…seriously no favorites, I have run in both brands many different times over the years.
Stability Running Shoe
This is one of their long time shoes, which has changed some with technology, but not a ton. It's a firmer feel as you might find in many stability shoes. This is a stability shoe where you will notice the firm plate helping to keep you in alignment.
Reviewers have said that this shoe provides a slightly wider feeling to the forefoot. It's designed to be a daily trainer for distance runners. Though you may find the weight and moderate cushioning not ideal for marathon long runs.
12mm drop
 9.1 oz women's, 10.7 oz men's
$140
The brand's most popular road running shoe (GTS stands for go-to-shoe) just turned 20 and comes in a swath of colors. This supportive shoe is best for a medium to high arch, and is part of the cushion line.
This was one of the very FIRST shoes that I bought at a running store! I thought it was so incredibly cool my name was on the shoe…ha!!! But yes they were super duper bright white (as you'll see below).
12mm drop – on the higher side, good for those with Achilles issues
9.0 oz women's, 10.2 oz men's
$140
Neutral Running Shoe
If you haven't caught on yet, they stick to what works. This shoe is currently on it's 25th model.
Those who are looking for a little cushion and just a smidge of support are the fans that keep this shoe going year after year. Instead of forcing you in to any type of strike, the platform simply helps provide a little more stability.
This can be great for newer runners or those coming back from injury who need to continue building hip and glute strength. It's not a plush ride, but has enough cushion to make it comfortable for long runs.
12mm drop
 8.1 oz women's, 10 oz men's,
$140
The Ghost offers smooth transitions and soft cushioning for road running and is best for those seeking neutral support. Runners' World has awarded this shoe several Editor's Choice Awards.
I personally was so intrigued by those awards that I snagged myself a pair last year and they are nearing the end of their life, but have served me very, very well.
They are 12mm drop, which is not something I recommend for most runners. We know it can increase heel striking.
Bonus that the shoe is net zero emissions! We runners need to take care of our planet to keep enjoying those runs.
The other similar shoe I've used is the Brooks Levitate and you can see my full review here.
12mm drop – again higher than I recommend for most runners, we see more overstriding and IT Band issues.
 9.1 oz women's, 10.1 oz men's,
 $140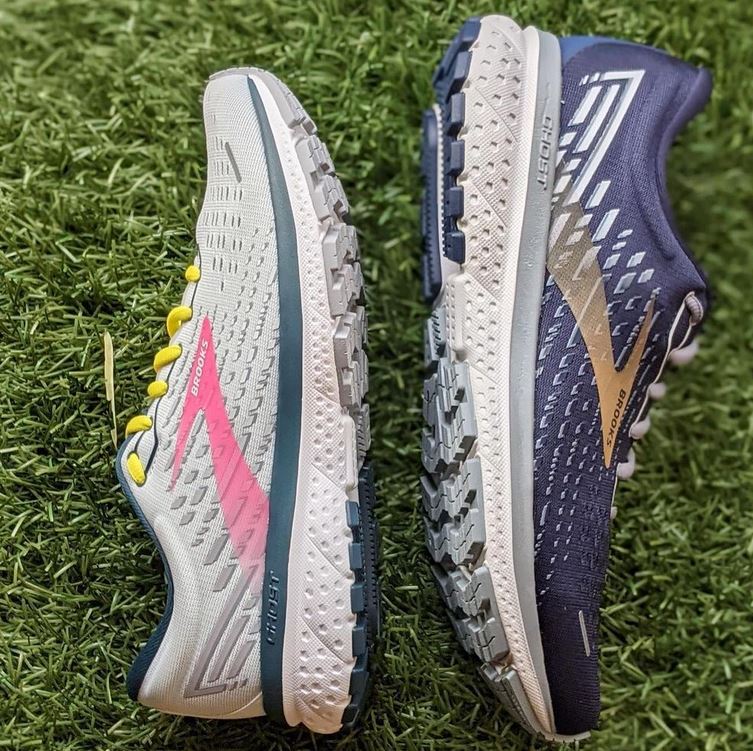 Cushioned Running Shoe
The Sky would be considered one of their newer shoe models with just 5 models. Yet, it's one that many runners are enjoying because it provides so much more cushion while maintaining the stability they have long loved from Mizuno.
Some reviewers found the fit to be a little more narrow on this shoe than other models. It also has a lot more traction on the sole than other models.
8mm drop
9.1 oz women's, 10.7 oz men's
$170
The plushiest model in the Brooks line features plenty of DNA Loft foam, plus the Ortholite sock liner. This is designed to be the plushest ride they have with not only their signature DNA, but a new nitro infused midsole.
Let's be honest, most of us don't understand all the technology, but what we do know is how it feels. And folks have been raving about this shoe long enough to get all the way to a version 20. Many say it's ideal when you need to be on your feet a long time.
It's a little higher heel and weight than some shoes, but when a shoe feels just right to you those are very small differences.
10mm drop
 9.1 oz women's, 10.1 oz men's
$160
Carbon Fiber Plate Shoes
Are they cool new technology, yes. Do they last as long as your other shoes nope.
So if you want to test these out use them for speed work and then race day!
Watch my detailed video on how Carbon Fiber Shoes work.
More About Brooks
Believe it or not, Brooks started out in 1914 making ballet slippers and bathing shoes. Since then, they have made everything from baseball and football cleats to roller skates.
It wasn't until Frank Shorter won the marathon at the 1972 Munich Olympics that Brooks considered limiting its focus. The first running shoe debuted in 1974 and their most popular running shoe, the Adrenaline GTS first hit the market in 1999.
In 2001, Brooks decided to focus solely on running.
They introduced the Transcend in 2013, a shoe that used new biomechanics technology to create a GuideRails technology, allowing runners to run naturally without trying to correct their gait.
The Seattle-based company is also well known for its commitment to sustainability and giving back. Brooks donates time, gear, and money to companies that align with their values around diversity, equity, and inclusion and staff receive paid annual volunteer time.
More Mizuno Running

Rihachi Mizuno and his younger brother Rizo actually started in 1906 as a store selling things like baseballs in Osaka, Japan.
1910 through the 1970's they continued to build in the baseball and golfing industries. Finally becoming large enough to enter the stock exchange and open additional factories.
It was in 1981 that the Mizuno Run Bird shoe was first introduced. They continued to have growth including some great success on the track, but the company was still predominantly focused around golf.
In the early 90's they were focused on setting themselves apart and getting back to simplicity. "This Wave technology was the opposite of what Nike Air was," continues Le. "Nike Air was a big air bag that cushioned the impact of running but the Wave Plate stretches out upon impact and propels the runner forward as it returns to its regular waved shape."
The brand continues to focus on sports performance and what they call sports style.
How to Choose Mizuno or Brooks Running Shoes?

Mizuno and Brooks are two extremely well known running shoe brands, but more important than brand is the fit of the shoe.
Your gait and feet will change over time and you may need to change shoes.
This is also why I recommend rotating through several pairs of shoes at once.
And remember, just because these are two of the most well known brands on the market, there are still plenty of other shoe brands to select from if neither Brooks nor Mizuno has the right shoe for you.
Keep in mind that shoe design can change, even with the same model, so always assess how the shoe fits every time you replace a pair.
For more help selecting the right shoe for you, don't worry, I've got you:
Other ways to connect with Amanda
Instagram Daily Fun: RunToTheFinish
Facebook Community Chatter: RunToTheFinish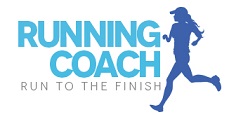 Sign Up to Receive a Weekly Newsletter with Top Running Tips and Laughs