Do you ski? A natural first question when someone finds out we moved to Denver. Nope. However, I've fallen in love with snowshoeing for beginners and that's my way of embracing our winter wonderland.
In fact, I found this fun workout in 2011 with a trip to Snowbird, Utah!
The dry air and lack of wind on the mountain makes the 20 degree temps feel just fine. Of course I'm bundled up in a base layer, soft shell jacket and insulated jacket. But I'll say that after 8 years of living in Florida, I adjusted pretty darn fast.
Snowshoe Tips for Beginners

I understand that skiing and snowboarding are WAY cooler spots, so part of me really wants to hit the slopes.
However, the truth is I have tried it in the past and didn't really care for it. I'm not a daredevil, I am a klutz and I definitely have no desire to repeat knee surgery!
So whatever your reason might be, these snowshoeing for beginners tips are going to get you out in to the snowy winter wonderland with a big smile!
Thus I was REALLY excited (yes capital letters excited) when I found out snowshoeing was an option.
And as my friends get older or go through their own injuries, I find they are pretty darn stoked about this way of enjoying winter with a little less risk.
Snowshoeing is a great workout because it provides cardio, strength and balance all at the same time. It's a highly recommended cross training tool for endurance athletes.
And in fact, the calorie burn can be quite high due to the combination of all those components. 400-1200 calories per hour depending on how hard you're working!
Getting Started
Consider going on a guided excursion the first time. This will help you with fittings and feeling comfortable going up and downhill.
Walk forward with normal steps (no need to swing legs out to the side)
Use poles for extra stability on hills and to test out ground you're unsure of
Absolutely grab waterproof layers (more gear below)
Remember you're out to have fun!
What is Snowshoeing?
Before we get in to gear, a quick primer. Snowshoeing allows you to walk on top of the snow thanks to a webbed shoe that looks a bit like a tennis racket on your foot.
By dispersing the pressure of your weight, you'll stay on top rather than sinking down as you would taking a step in your boots.
Snowshoe Gear
The first few times you go, feel free to rent gear! I gives you a chance to see how different shoes might feel on your feet.
It helped me realize that I really do need women's snowshoes because of my narrow feet. It ensures the bindings stay tight enough that I don't have issues with my feet moving too much on the snowshoe.
Wear a base layer to keep you warm and wick away sweat (you will sweat)
Wear your snow boots or waterproof hiking shoes as your feet will be getting wet
Use ski pants or another waterproof outer layer, largely useful in case you fall or simply are having fun in the snow
Layer up, don't forget sunglasses due to the glare off the snow
And wear a hydration pack! You will need to stay hydrated, often want snacks due to the effort and can stash any layers as you get hot.

Picking Snowshoes
Snowshoes have three basic parts:
Frame/Webbing – this is the flat portion of the snowshoe which determines the size and weight
Bindings – similar to skiing, you will see bindings to attach over your shoe and keep you on the frame
Crampons – on the bottom side are spikes that help to provide traction when you step
Snowshoe Size Matters
A larger frame is designed for lightly packed snow to help keep you on top and also useful for a larger person (height or weight).
Smaller frames are ideal for more tightly packed snow, trails that have already been packed downs some and often a better fit for female feet.
Buying Snowshoes
We eventually bought our own snowshoes to make it easy to run out when a good snow falls. Because we aren't yet super experienced or competitive, we started with some budget versions.
They're working great, though I think we will likely upgrade in the next year or two!
This beginner set came with poles and offers different sizes and met our needs. Here's how you pick size:
14 Inches : 30 – 70 lbs – young kids

21 Inches : 70 – 150 lbs – older kids or shorter adults

25 Inches : 120 – 180 lbs

27 Inches : 175 – 225 lbs


30 Inches : 180 – 250 lbs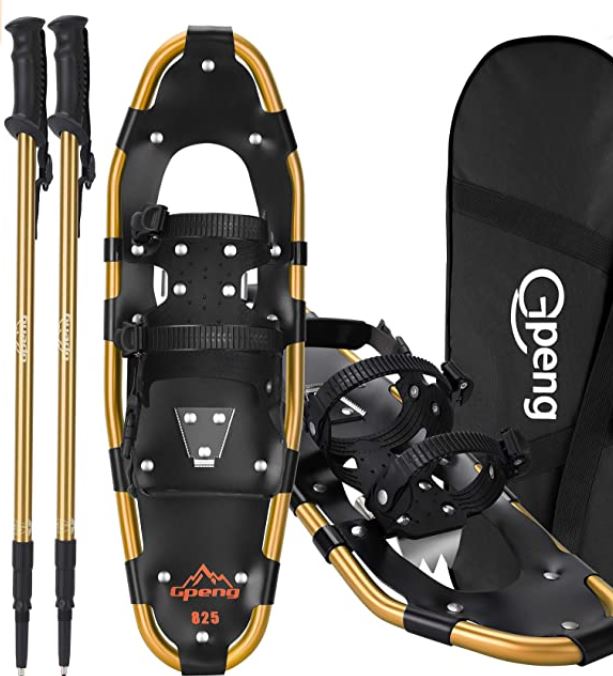 Can you Run in Snowshoes?
Yes! There are plenty of snowshoe races, but for the average person you may like what I started using last year.
This rocker style from Cresent Moon made running much easier (though note it's still a workout!). These are made from foam, so slightly different than traditional snowshoes, but I'm a big fan! And the foam makes them quite a bit cheaper than other options.
Where to Snowshoe?
In Colorado, we have admittedly gone right out our back door when there's over two feet of snow. But if you're looking for something a little more groomed then most ski resorts have areas set aside for snowshoeing.
Start out on the cross country areas offered by many resorts
Checkout local trails (we use ones near our house and help pack things down for trail runners)
Local and state parks are a great place to play around
Don't be afraid to forge your own trails in new snow (just make sure you aren't in avalanche prone areas)
Where to snowshoe in Colorado?
As noted above we have often gone on trails near our home, but a few other favorites:
Rabbit Ears Pass near Steamboat
Estes National Park
Brainard Lake – this is high on my list for this year, but note it's often very windy
Golden Gate State Park
Basically all of the big resort towns like Winter Park, Vail, Aspen
Snowbird Utah
This is where I first learned to snowshoe and it's a great vacation spot.
About 45 minutes outside of Salt Lake, Snowbird is a full service resort with a variety of places to stay, eat and activities — heated outdoor hot tubs, snowshoeing, the Snowbird tram that goes up to 11,000 ft, skiing, snowboarding, heli-skiing, TONS of instructors and then of course all the great summer activities.
For hard core skiers/snowboarders, I can't imagine a better place to go. There are runs everywhere, but without the chaos and lines you find in Colorado.
We were lucky enough to have a guide on our snowshoe tour who told us a little more about Snowbird.
Fantastic place for hiking in the summer
Their water is 99% pure, it barely gets filtered before drinking…man it tasted great
Mining tunnels still exist from the 1800's from silver ore
Over 89 total ski runs
Other ways to connect with Amanda
Get each new post in your inbox — talk about speedy service
Facebook: RunToTheFinish
Get more inspiration on Pinterest