Ever feel like you're one of the last kids to the party? I tend to the be person who is dubious of anything that becomes a massive hit. Take Harry Potter, I didn't read it until all the books had been out for at least a year…then I read, devoured, loved and wondered why I waited so long.
I guess Beautycounter fell in to that category as well.
The mere thought of an MLM (multilevel marketing) is usually enough to send me running in the other direction and in fact, I'd been emailed by about 100 people to try their products before I ever really gave it a thorough look.
Which was unfair because after all, I fell in love with essential oils once I tried them…though I still won't sell them.
But with good ol' Courtney Kardashian bringing clean products to our attention, what better time to finally check out this brand.
Current laws leave the federal government powerless to screen personal care products for chemicals that have been linked to cancer, harm to the reproductive system in both men and women, and severe allergies, among other health effects.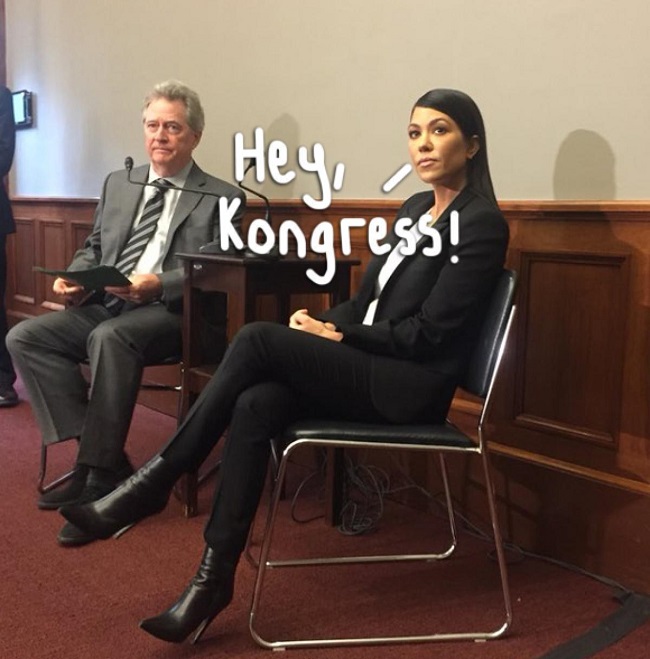 If I can't win you over with science, I'm not above stooping to use the Kardashians, haaaaa. Thanks Perez for the photo…it's Kool.
But back to a Beautycounter review specifically as this was the natural line that kept popping up around me because they have everything from skincare to make up to sunscreen. So many great notes on all the ingredients they DON'T use…but was it worth it?
My first thought was hmm this looks pricey, but I'm really intrigued by what the company is doing to make products safer. That lead to me selecting a few products to test out so that I could finally decide for myself if it was worth all the fuss.
All of this of course lead me to doing my normal testing, research and finally this full on Beautycounter review for anyone else trying to decide if it's right for them.
What is Beautycounter?
In case like me you've heard rumblings of this brand, but not really checked them out. Let me give you the skinny, after all that's my goal around here. Doing the hard research to save you time.
Beautycounter was founded in 2013 by Gregg Renfrew as a natural, safer alternative to conventional beauty and skincare products. The idea was to clean out some of the biggest offenders in skincare which can harm our endocrine system and overall health.
We know that our skin absorbs 60% of what we put on it…so why aren't we as careful with those choices as we are with what we put in our mouth??
What skincare ingredients should we worry about?
Did you know that no federal regulation regarding personal care products has been passed since 1938?! I mean we pass bills on all kinds of things and ban foods and other products left and right. Which means right now it's up to us to be educated to make better choices. Parabens: mimic estrogen and disrupts your endocrine system, which has linked them to breast cancer and fertility issues
Phthalates: a chemical used to make plastic more malleable, which also can affect your reproductive system. Interestingly, Congress has actually banned several types of phthalates already from children's products.
Oxybenzone: found in sunscreen, it too acts like estrogen in the body, alters sperm production in animals and is associated with endometriosis in women
BHT: Used to extend shelf life has also been show to mess with hormones and potentially liver function
Formaldehyde: Yupppppp you read that right, it's in body wash, shampoo and even those fun bubble baths, but is also linked to asthma, neurotoxicity, and developmental toxicity
Beautycounter is trying to take care of your full body skin care needs, which means face wash to body wash to makeup for you and the men in your life.
While their products are cleaner that MOST products out there, I do think it's worth noting that they aren't perfect or always the most clean. Some can have a longer ingredient list than other organic or natural options out there, so this is a personal choice about how intense you want to be in your selection.
You know I'm a baby steps kind of person, so I'm trying to just keep making incremental progress towards cleaner products by replacing things as a I run out of an existing option with something better.
It's like opting to eat the steamed broccoli even if it's not organic because it's still a better choice than the cheesy broccoli.
Again like Courtney says, (seriously I'm laughing in my head so hard, but she's right):
I just feel like once I know something, I can't go backwards and pretend like I don't know it.
What else makes Beautycounter stand out?
Part of what I wanted to include in my Beautycounter review is about other things they're doing to stand out. Because one of the other things that I care about is our planet and I recycle everything I can…and yes carry my bags to the grocery or opt not to take a bag at all, I like their sustainability practices.
A few of the things they are working on in the coming years.
More glass packaging; eliminating over one million plastic components.
Partnering with factories closer to the US to save over 5,000 miles of travel, reducing fuel and related emissions from transporting across the ocean.
Removing non-essential parts like overcaps, liners, and spatulas, which ultimately eliminates 800,000 plastic parts.
Removing secondary packaging where possible to reduce waste.
Want to learn MORE about safer skin care and home care?? I've got a weekly newsletter with tips!
JOIN HERE >>
How does Beautycounter Work?
Now that I knew more about the company, I liked the missions…but was still interested in how this worked. Was it women setting up in their friends homes to sell things?
Well yes, sometimes it's exactly that. Some people take it old school and it works like a charm to create their side hustle. Others operate more like I do, as you'll see below.
Do you need to sign up to buy stuff?
Nope you can click through the links I provide around here and you'll be making a purchase just like when I tell you about something on Amazon. It's a little affiliate link where I get a couple of pennies from your purchase, which is like a "Thank you Amanda for turning me on to this product and for the 1000 other free articles on RTTF".
At least that's how I look at it because my job around here isn't ever to sell you things. I'm just providing you with information and things that I personally love! Technically you don't have to buy through anyone, but why wouldn't you help support another woman??
Do they autoship?
Nope, you can totally try a product and then move on. It's not something that locks you in to an ongoing purchase.
Do I save more if I sign up?
Yes. They have a Band of Beauty program where you get lots more discounts and free shipping on orders. This makes sense if you like products and will be ordering throughout the year…because well who doesn't need to replenish their face wash multiple times.
Yes, also if you decide to sign up as a "consultant". I'm not sure I love that term, but I don't really love being called an influencer either, so take what ya get. As a consultant you're getting significant discounts of 25%, plus other specials, earning products and then able to share about products you love and earn back affiliate amounts like I noted above.
They actually have some of the better payouts I've seen with any company because they pay you MORE for things you sell than needing to say build out a team. 25-35% of your sales is commission.
If you're loving everything about this brand and interested in joining a team drop me an email amanda(at)runtothefinish.com and I'll walk you through what it is and why, so you can see if it fits you. Because of course it's not for everyone.
What is a Beautycounter Consultant?
As noted, this is when you move in to choosing to share products to earn affiliate commissions or maybe you do choose to set up an experience at a friends home. Joining as a consultant is $98.
This helps cover your own website, marketing materials and customer support (which is awesome) + marketing they do on your behalf, e.g. emails they send out. You also get Beautycounter swag + a FREE Overnight Resurfacing Peel ($63 value) and a FREE Sheer Lipstick ($32 value). So, you get $81 in free products that covers most of that cost – and that's not counting the free totes and other goodies you get.
Beautycounter Product Reviews
Based on all of the above, these are indeed affiliate links because I support the products. Much like my Amazon affiliate links it throws some pennies my way if you find the information useful!
So whewwww after all that information, let's dive in to some products!! This will be a list I continue to update as I test more products because this is an ongoing thing for me!
Volumizing Mascara
My first thought was huh this looks more natural. Which is a plus and a minus right?? My lashes were separated and certainly had more volume, but not that huge fat plump I was getting from say L'oreal. But I also wasn't getting the carbon black in most mascaras, which is a carcinogen.
So this one is a win for me, but you might have to decide if you just really want that fatter look. As a side note, this one never flaked or rubbed off as I was sweating or at the end of the day, none of that on my face.
Overnight Resurfacing Peel
The idea of a peel did not immediately appeal to me (oh the pun). But this is a very mild product which is going to help make your skin brighter, take care of dark spots from sun or acne and minimize pores. It did not dry me out or cause me to have flaking skin as some harsher peels or scrubs have in the past.
Countercontrol Toner
Toner is a 100% must as we age, so I initially started with the Countercontrol version because it's supposed to also help control excess oil which is what causes breakouts. Since I use this after workouts a lot of the time, I really wanted to clean my skin well. But it did cause me some breakouts (though it did not in anyway dry my skin), so I'm switching over to the standard toner that's available.
Lip Sheer
This was some seriously beautiful color and it stayed on all day long! Honestly, I don't wear that much lipstick, but using this for a few days to test it out made me start wearing some again. It just makes you look put together! Plus it served as a hydrater for my lips, so less time spent rummaging around my purse for my natural lip balm.
Lip Conditioner
Speaking of lip balms. I basically have them stashed everywhere because my lips always seem to need them. So I was intrigued by their lip conditioner. My initial choice was the peppermint version and while I love that smell, it wasn't right for my lips. It was definitely a noticeable smell, which is great if you're looking for something to keep you energized because the feeling was actually pretty good.
All right those are my current tests, but I've got more that I'll be adding. As you can see, there were some hits for sure and some that weren't 100% on. I still think they're good products though.
Any other questions about Beautycounter?
Topics on safer skin care you'd like to hear about?
Other ways to connect with Amanda
Instagram Daily Fun: RunToTheFinish
Sign Up to Receive a Weekly Newsletter with Natural Skin Care Tips