I had a really insightful post on running today, but can I be honest…comfort food sounded much better after the emotions of the last 24 hours. Instead of eating our way through a bag of dairy free chocolate chips as we ponder the new president, let's eat FRIES!!!!
Spaghetti squash and I have become very good friends. It's kind of cathartic to scrape it out. I love it way more than I ever loved pasta!! And of course it's healthier, gluten free and versatile.
But I still held it's cousin acorn at arms length. Previous recipes had left me dissatisfied and let's just say, I'm not one to waste time in the kitchen.
I've been saying that I need to cook more though and so, with my trust in Pinterest I decided it was time to branch out from sweet potato fries.
Gasp I'd use a whole different vegetable!!!!
Acorn Squash Fries
While I am not a fan of cutting squash, I am super fan of this nutrition packed veggie. So as with running a little extra effort to get the results we want, right?! I love this little chart from Organic Facts, which shows all the benefits of this funky looking veggie.
Overall it's a great option for anyone, but especially runners who need to find ways to bump up our nutrition anywhere we can!
INGREDIENTS
1 acorn squash
1-2 tablespoons coconut oil
1 tbsp garlic powder
1 tspb chili powder
salt and pepper to taste
Time to swap out your sweet potato fries with a new nutrition packed veggie! Grab the #recipe
Click To Tweet
DIRECTIONS
Preheat oven to 400°F
Cut the top off acorn squash, then cut in half
Scoop out seeds
Cut into 1/2 (or thinner) inch thick slices –I like them thinner to get crispier and more chip like
Spray baking sheet lined with foil
Mix olive oil, garlic powder, chili powder, salt, and pepper in a small bowl
Put slices in bowl and mix with hands
Arrange slices with plenty of space so bake, but don't steam
Roast for 20 minutes – I ended up doing about 35 to get the crispy chips I wanted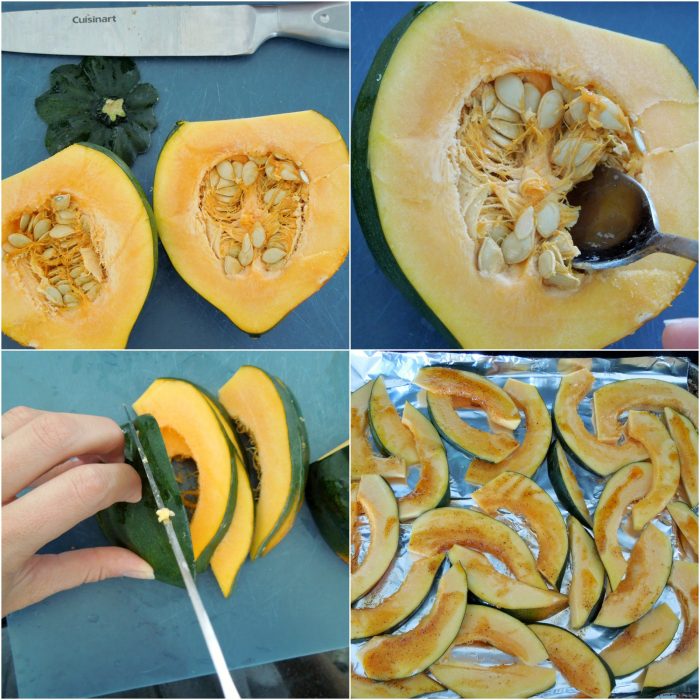 Looking for some other acorn squash ideas?
Stuffed Acorn Squash
Roasted Acorn Squash with Pomegranate and Pistachios
Acorn Squash Veggie Burgers
Chorizo Stuffed Breakfast Acorn Squash
Double bonus, I attended an event with Sprouts and the Colorado Beef Council this week, which showed me not only some great cooking tips, but how perfectly acorn squash goes with a well cooked rib eye!
As most of you know, I'm not an advanced chef.
This was an opportunity for me to learn more about what types of meat are best done with my trusty sidekick the crock pot and which really need a grill. It was also a weight off my mind to know that the meat I'm buying from Sprouts is always hormone free, antibiotic free, never frozen, sourced locally and I do go extra for the grass feed to get the omega's!
While we don't eat red meat daily, I have found including it sometimes seems to help with recovery. Which makes sense because it's filled with iron which helps me use oxygen better, filled with protein for muscle recovery and when picking right it can be as lean as a chicken breast!
What's your favorite veggie to turn in to "fries"?
How often do you eat red meat?
Other ways to connect with Amanda
Instagram: RunToTheFinish
Facebook: RunToTheFinish
Get more inspiration on Pinterest