I started this blog in 2005 technically, but I've been posting at least 3 times a week since 2007! While now 95% of what I share is educational, once a year I like to keep up with a little bit of the personal.
Because let's face it… I'm still the one running this show even if it has gone from a hobby to a full fledged business with lots of people helping out in different areas behind the scenes.
2021 was a phenomenal year and a weird year….and so here we are.
2021 Continuing to Build
I think it's no coincidence that my middle name starts with C as it should have been Consistent.
I run roughly the same mileage year after year without really meaning too.
I post the same amount of new articles year after year.
I just keep going, adjusting, adapting and for the most part enjoying the ride!
RTTF now has 9 running coaches providing 1-1 personalized training plans
My book passed 10,000 copies sold
Virtual Run Club continued to grow, but I also started selling those courses stand alone which was another business shift
The website continues trucking along and competing with Runner's World to provide (I hope) great tips and tools
The RTTF team grew with a few more freelancers to help me with admin tasks, graphics, editing and the never ending SEO process
Pretty sure I was a guest on at least 20 podcasts and man is that fun!
I'm genuinely amazed every single year that I get to do this and that this business continues to grow and flourish.
2021 The Sweaty Highlights
It felt like 2021 was going to be such a huge shift from 2020 and it was….but also wasn't.
Running Triumphs

After 8 years, I decided it was time to go for the marathon goal again!
I've completed 9 now and had no doubts about my ability to finish.
But I wanted more than that.
I wanted to prove that after knee surgery, after 40, after so many years I had a PR in me. But what turned out to be the best thing was I truly enjoyed my training. Like the most fun I've ever had working towards a marathon.
So that was the triumph because the 80 degree Chicago marathon start line, just didn't put a PR in the cards for me.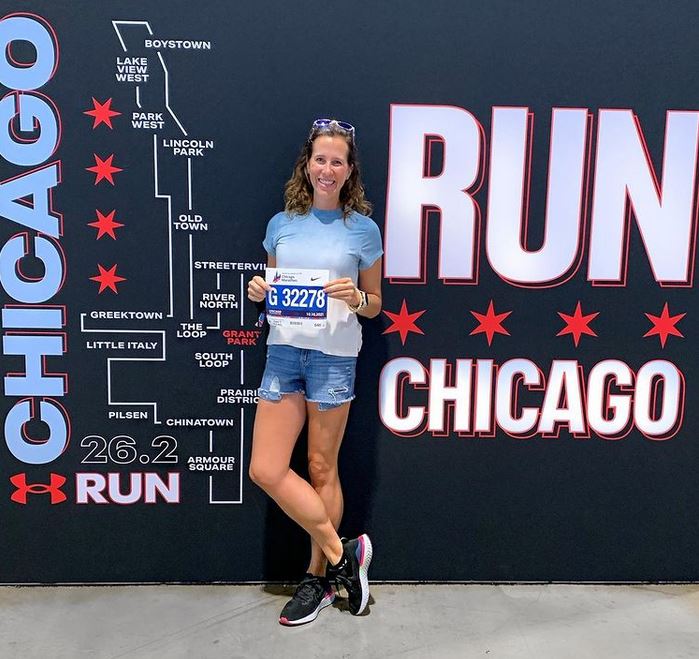 Colorado Adventures
David and I went all out this year just enjoying places in Colorado that we've wanted to go, but simply haven't previously made time to do.
For our anniversary we sat down and plotted out a couple places for each month from May – Sept and then we actually stuck to it!
Onward to Moab (Ok I know this is Utah)
Camping in Winter Park and Cheyenne
Vail weekend of trails and a mountain top wedding
Horseback Riding near Blackhawk
Trails upon trails nearby and far flung
Friendship
One of my goals in asking David to put down roots in Colorado was long term, amazing, genuine, trustworthy friendships.
This year proved me to that we have found that.
For my 40th birthday, I gathered a group of those women to go do something silly and fun with me at an aerial class. Then for Thanksgiving we had a number of other couples without kids or family nearby over to celebrate.
And just all the little moments throughout the year when a friend called, wanted to walk, brought over homemade beef stew (hey Katrina). They made me feel more at home than I have in our previous moves and I'm excited to stay in in the house that I continue to love!!!
PAST PERFORMANCE (the miles)
Linked years are a recap from that year! Unfortunately, I didn't start digitally tracking til half way through 2007, which means I'm not 100% of my numbers for the first 5 years of my running career. I'd love to know what my true total is (but know it's over 28,000 miles)!
As noted before I don't look at monthly or weekly mileage until December hits then I become curious.
2008: 1423.3
2009: 1277.7
2010: 1600.3
2011: 1600.3
2012: 1458.5
2013: 1618.3
2014: 1603
2015: 1571.5
2016: 1626.2
2017: 847 (knee surgery)
2018: 1364.2
2019: 1576
2020: 1900
2021: 1750

Highest Month: July – 175 – started peaking a bit too early for that October marathon I think.
Lowest Month: October – 106 – time off to recover from marathon. Number should be lower, but I thought I might try another marathon soon and was throwing in some long runs to test it out.
| | | | | |
| --- | --- | --- | --- | --- |
| | Biking | Cardio | Walk/Hike | Strength/Yoga/PT |
| 2021 | 2 hours | 5 hours | 675 miles | 55 hours |
| 2020 | 14 hours | 7 hours | 795 miles | 75 hours |
| 2019 | 20 hours | 2 hours | 930 miles | 83 hours |
| 2018 | 40 hours | 8 hours | 1033 miles | 62 hours |
| 2017 | 100 hours | 5 hours | 820 miles | 180 hours |
| 2016 | 14 hours | 20 hours | 790 miles | 110 hours |
| 2015 | 12 hours | 70 hours | 730 miles | 118 hours |
| 2014 | 45 hours | 5 hours? | 690 miles | 90 hours |
| 2013 | 58 hours | 13 hours? | 560 miles | 120 hours |
| 2012 | 70 hours | unsure | 620 miles | 100 hours |
| 2011 | 42 hours | 29 hours | 980 miles | 137 hours |
| 2010 | 13 hours | 30 hours | 1068 miles | 86 hours |
Not sure why strength looks lower, other than I did less yoga and stretching. Which if I'm being honest had to contribute to the previous years because no way I did more than now.
I also paid attention to heavier lifts and even more intense strength training workouts. I definitely thinks that's part of why I felt so good after the marathon.
My reduction in walks is 100% blamed on our new neighborhood having the worst cell phone service. I used to take walks and call people to catch up…so it's also made me worse at that!
States Run in: 5 (CO, UT, MO, IA, WY, IL) – this is so bizarre to not see a bunch of states all over or at least 1 other country
Longest Run: 26.2 miles – Chicago Marathon
Most interesting run:
Gotta be Moab, it's just beautiful. I wanted to just keep going to explore the landscape and enjoy being out of our neighborhood! We've been planning a Moab trip for years, but someone was always injured.
So it was awesome to make it happen and of course completely exhaust ourselves with trail after trail.
Most exciting #runnerd moment:
Getting to work on an app with Kara Goucher and Matt Fitzgerald that is now launching. I really respect these two and it was truly an honor to be included with them.
How did this year compare?
I feel strong.
I feel healthy.
I feel really excited about what's possible.
I am also really annoyed at spending so much time marathon training to have it not come together.
Best race: Well Chicago was the only real race, but I did do a 1 mile downhill with David on July 4th and it was super fun. Not the want to puke part, but the running with him.
Favorite gear: I got a new Nathan hydration pack with two flasks that made it easy for me to carry both water and electrolytes on long runs and it turns out I loved that.
Goal for next year?
Why do I always struggle with this? Some of you have races all planned out and I'm just hoping my business keeps going and I keep running.

Embrace short speed and don't let up on the lower body strength
Keep all of my running coaches full with runners
Find 5-6 long term brand partners (I have a few already) and truly feel excellent about sharing them
Continue allowing RTTF to evolve and not be stuck to what's worked in the past
Connect with more runners in person
Ok 2022…let's do this!
Other ways to connect with Amanda
Instagram Daily Fun: RunToTheFinish
Facebook Community Chatter: RunToTheFinish
Get more running tips: Pinterest