Chinese language commentor and random linko commentor...whatever that doesn't really bother me...but the Anonymous comment...what a cheap way to get your kicks!
Do anonymous comments bug you? Get under your skin? Or do you just laugh and let them go?
I generally just laugh...like this one: "
So you're basically bribing people with a giveaway so they'll add you to their blogroll? Isn't that kind of like buying your friends? Or having your Mom bring the best birthday treats in the 5th grade so more people will like you?"
I mean really...really...REALLY?! So if a company gives you a coupon...possibly even a free sample, I guess they are just like a 5th grader?
No friends it's called marketing
. I wish I had the power to force people to do things, but I learned long ago everyone makes up their own mind.
MORE GIVEAWAYS
MyReasonToRun
Running Skirt
(4/29)
Upstate Rambling
Cedars Hommus

---------------------
Gratitude Journal
April 16
I am grateful for salads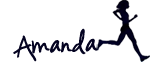 I am grateful for crisp cucumbers
I am grateful for sundried tomatoes
I am grateful for clean air
I am grateful for bright blue skies