All right gentlemen, this post probably is not for you...then again I believe men get PMS too...it's the only explantion for some of the mood swings I see.
Anyhow, this is related to running and PMS. I don't pay all that much attention to my cycle, things are so light it comes and goes and just is...BUT my body clearly lets me know when that time is approaching through completely horrible, sluggish, can't move my body runs...followed by one or two days of running that is off the charts it's so wonderful and easy.
Ladies am I alone?
Does anyone else see swings in their energy and running? Does this change after kids, change with age?
---------------------------------
Gratitude Journal
Feb 05
I am grateful for Aleeve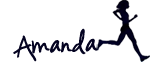 I am grateful for heat packs
I am grateful for hot, hot showers
I am grateful for leaving tea at my parents
I am grateful for solid bottles so no one can see and eww at my smoothie